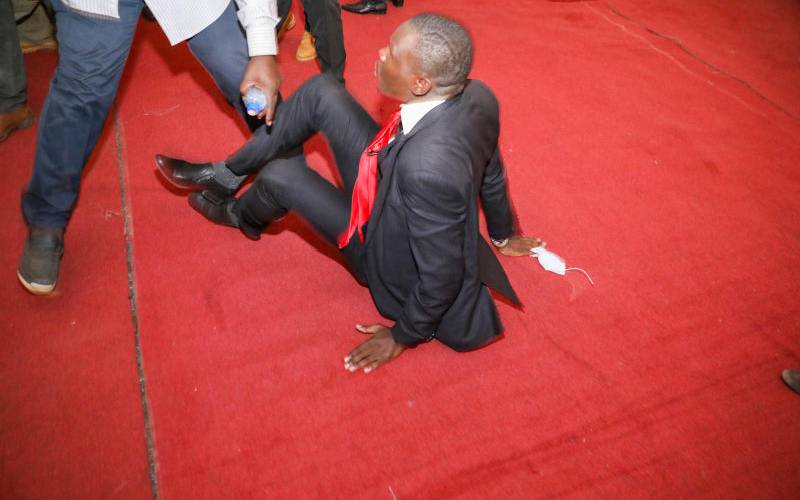 An ardent campaigner for Deputy President William Ruto in Gusii region, South Mugirango MP Silvanus Osoro is facing a tough battle to retain his seat in the August 9 General Election.
Five aspirants, including ICT expert Dennis Makori who gave Osoro a run for his money in 2017 before the MP won with a margin of 734 votes, have shown interest in dethroning him.
The vocal Mr Osoro was elected on a Kenya National Congress (KNC) ticket in the 2017 polls and is serving his first term in Parliament.
Mr Osoro, who is DP Ruto's close ally and pointman in Gusii region, has switched to the United Democratic Alliance (UDA) through which he will be defending his seat.
He believes his track record for the past five years will earn him a second term in office and asked his competitors to prepare for a gruelling battle.
"During my first term in office, we have seen tremendous improvement in our schools' infrastructure, opening up of rural roads and equitable distribution of bursaries to needy students.
"I believe I still have some unfinished business with my people. That is why I am seeking a second term," said Mr Osoro.
The youthful legislator, who identifies himself as a 'poor orphan who has risen against all odds to be where he is' believes that he will comfortably win a second term in office.
Dennis Makori, popularly known as Sonko is seeking the South Mugirango parliamentary seat on a ODM ticket and is confident that unlike in 2017 this time round he is going to win.
Mr Makori who is an ICT expert emerged second behind Mr Osoro in the 2017 election with a margin of 734 votes between them, after which he filed a petition in the Kisii High Court challenging Mr Osoro's election citing some malpractices. However, he lost.
He said he will ensure value addition for soapstone and sugarcane which are the main economic mainstay for locals but which have remain unexploited.
"The people of South Mugirango Constituency have assured me this time round they are going to elect me as their MP since the current MP has failed to deliver on key promises made to the electorate in 2017," said Mr Makori.
Interior Cabinet Secretary Fred Matiangi's personal assistant, David Onyancha, has also joined the race for the seat on a United Progressive Alliance party ticket.
Mr Onyancha, who is a career national government administrator and has previously served as a Deputy County Commissioner, said South Mugirango residents were tired of Mr Osoro's leadership and wanted change.
"There is a lot of work to be done in the constituency. I am going to ensure we have modern schools, well-equipped medical facilities and good roads to make life comfortable for our people," said Mr Onyancha.
Gideon Moreka, an engineer by profession, will be contesting for the seat on a Ford-K party ticket. He says he stands a better chance of being elected given that he would be contesting for the seat for a third time.
Mr Moreka said South Mugirango is known for the world-famous Kisii Soapstone and that residents require value-addition programmes to maximise on their profits.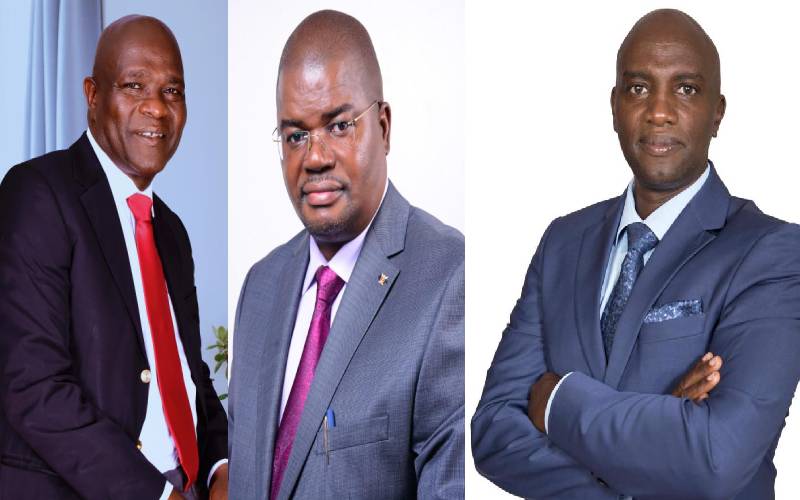 "The people of South Mugirango want a leader who will give priority to soapstone and sugarcane. We need factories for value addition. The person to spearhead this is none other than Gideon Moreka," he said.
Tabaka Ward MCA Daniel Apepo is also vying for the parliamentary seat on a Jubilee Party ticket and believes his experience in elective politics in the last nine years puts him ahead of the pack.
Mr Apepo said he has been on the ground and understands locals' needs, adding that they require a leader to provide ample opportunities for them to actualise their dreams.
"Our people are very hardworking. They have very basic needs that need to be attended to in order to empower them economically. I am ready to champion that if elected," said Mr Apepo.
Dr Willis Omwoyo is also keen on unseating Mr Osoro through the KNC ticket and believes he is the change that the people of South Mugirango have been yearning for.
Dr Omwoyo, who has worked as a medical officer in Homa Bay and Kisii Counties said he will ensure locals are empowered economically to achieve their potential.
"I will ensure women and youth in South Mugirango constituency are empowered through various initiatives since most of them need support to achieve their potential," he said.
For several years now, South Mugirango Constituency has been regarded as the hotbed of Kisii politics.
It is in this constituency that Deputy President William Ruto was forced to flee with armed youths baying for his blood when he showed up uninvited for a meeting organised by former Gusii community spokesman, Simeon Nyachae, in 2006.
It is in the same constituency that in 2000, then Minister for Health Sam Ongeri, who is now Kisii Senator, was attacked and seriously injured when he turned up to represent the government during the burial of area MP Nyankieya Magara who died in a road accident.
The constituency, which was created in 1988 following the subdivision of South Mugirango/Wanjare Constituencies prides itself in having produced the first MP of the larger constituency at independence, Omweri Kibwage.
The constituency has 67,345 registered voters as per the 2017 IEBC register, with Tabaka, Bogetenga, Moticho, Boikanga, Getenga and Chicago-Borabu wards.
Kisii County Assembly Speaker David Kombo was elected as the first MP for the constituency in 1988 and served for one term, after which he was defeated by Reuben Oyondi during the 1992 election.
The late Nyankieya was elected as the area MP during the 1997 vote but died in a road accident along the Kisii-Kisumu road two years later, leading to a tough contest between the ruling party Kanu and the opposition in efforts to replace the deceased legislator.
In the ensuing by-election in 2001, a fierce contest between the ruling party which supported Mr Kombo, and the opposition which supported Omingo Magara, a brother to the deceased was witnessed.
Mr Omingo was injured while in the campaign trail before carrying the day. Mr Nyachae was instrumental in his election.
The constituency is home to Interior Cabinet Secretary Fred Matiang'i and it will be interesting to watch who he will be supporting in the August 9 polls, as a number of hopefuls work to catch his eye.
Related Topics