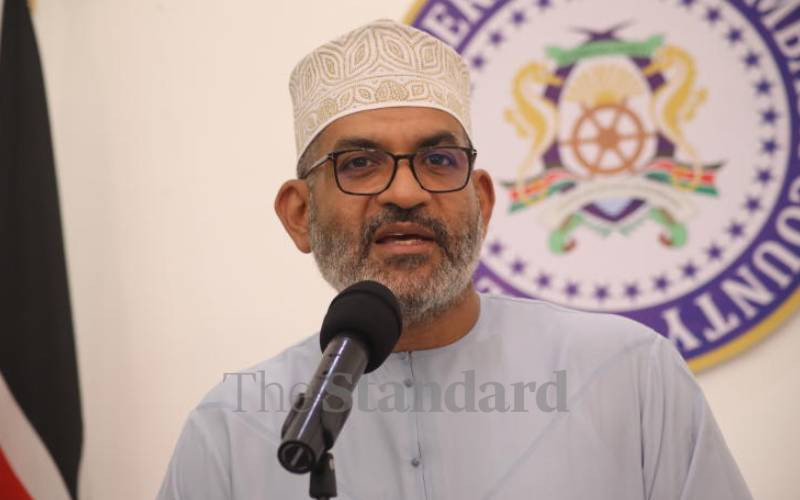 Mombasa Governor Abdulswamad Nassir has denied claims that his administration has stopped donations to public institutions or residents.
The governor, however, called for order from donors in channelling funds.
This comes amid claims that some county officers are taking advantage of the confusion to fleece the public.
The Nassir administration had issued a directive that all donations to Coast General Teaching and Referral Hospital and other health centres be systematic and recognised by Mombasa County.
On Thursday, Nassir stated that his county was not targeting anyone but there was need to streamline donations, and that donors should follow the right channels.
Nassir explained that the order was in fact an internal communication informing the hospitals that if anything is needed in the hospitals, they should let the county know. And if donors are needed, then the county will reach out to the donors.
"No one is crazy to stop donations. We just asked for an orderly way of doing things. In fact we are grateful for the donors who pay bills for the less fortunate," said Nassir.
He added, "We cannot allow hospitals to just write to these donors asking for things. There has to be order and as the county leaders we have to know if anything is needed then we can reach out to donors if need be."
Mombasa Cement, which is owned by philanthropist Hasmukh Patel aka Hasu, has indicated that its charity efforts are being frustrated by the Nassir administration.
The letter from the county government did not however mention Mr Patel or Mombasa Cement.
Withdraw support
Officials of Mombasa Cement Limited, which has rolled out multi-million shilling corporate social responsibility programmes in Mombasa and Kilifi counties, have threatened to withdraw its support.
The officials said they were planning to focus their philanthropic work in Kilifi County where they were welcome by Governor Gideon Mung'aro.
The firm's representatives Samir Bhaloo and Imtiaz Sayani said they will remove the animal sculptures from Mombasa city and take them to Kilifi County following the standoff.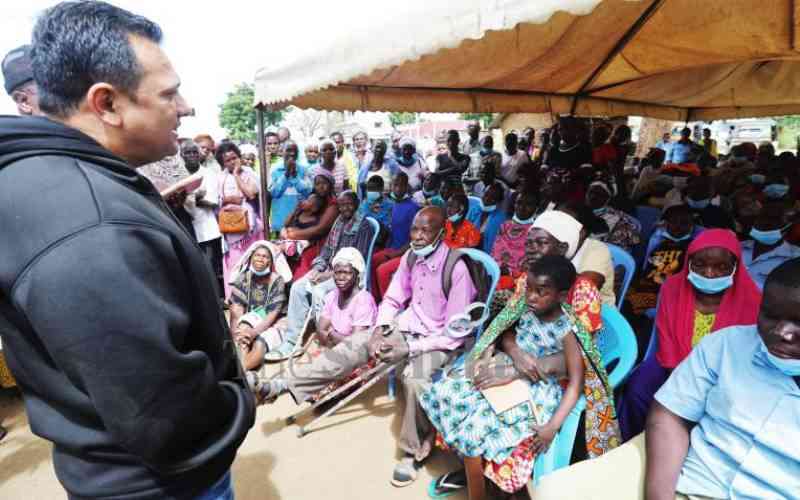 "We are going to remove our animals and take them to Kilifi because Mombasa has no 'water'," they warned.
The Mombasa Cement factory is located at Vipingo in Kilifi County. The company runs a school for children with disability in the county.
In Mombasa County, Mombasa Cement rehabilitated the Kibarani dumpsite and beautified it at a cost of about Sh700 million. It also runs clean water distribution programmes to slums.
The firm has also been paying huge hospitals bills, supporting education in Mombasa County and running a feeding programme for thousands of residents of in Mombasa and Kilifi counties.
The county directive has also been met with protests from local residents who said the owner of Mombasa Cement, Patel, had helped many poor families through his hefty donations.
Nassir said his administration will invest in digitalisation of the hospitals to ensure that best services are provided to the residents.
This system will also adapt a digital transaction and electronic money system which will create an audit trail for the revenue collected.
"This system will give me real time report of how the patient was attended to at the hospital, how long it took and even if they got the medicine prescribed," Nassir stated.
Nassir also explained that his administration will set up a Sh6 million fund to support patients from poor background particularly children at Coast General Hospital.
Mombasa Health Executive Swabah Omar clarified that the letter that was in circulation was an internal memo intended to streamline the operations of health facilities, some of whom have been approaching some individuals for donations.
He said his department appreciated the assistance from Mombasa Cement not only clearing hospital bills for patients but also in infrastructure support.
"As a department of Health Services, we welcome all corporate donors like yourselves and any other individual wishing to assist in clearing hospital bills.
"The communication that has been in circulation was an internal memo intended to streamline the haphazard nature the facilities have been approaching some individuals for donations. I am hopeful with this clarification that we can continue working together for the benefit of the patients that we serve," said Dr Omar.
Weighing in on the standoff following the circulation of the memo, East African Legislative Assembly (Eala) MP Hassan Omar launched a broadside against Nassir, claiming the county boss was still held hostage by forces that controlled his predecessor Hassan Joho.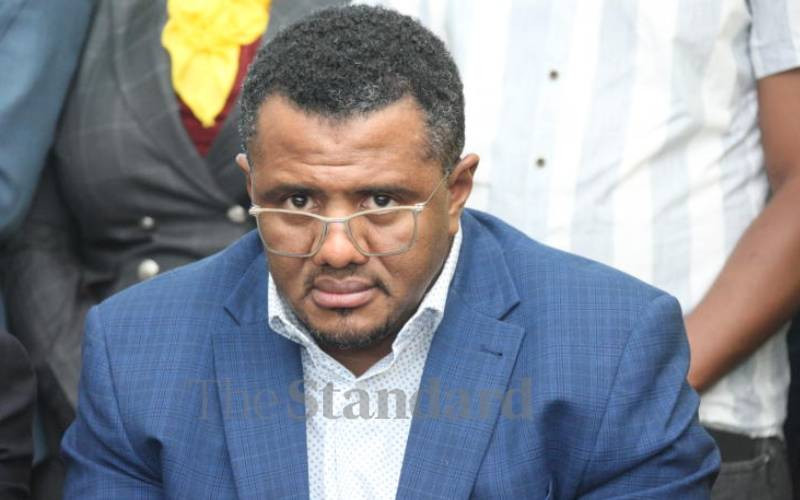 This is despite the growing bromance between Nassir and President William Ruto.
Omar who was flanked by UDA nominated Senator Miraj Abdillahi slammed Nassir over the alleged plan to block philanthropist Patel from helping the needy particularly clearance of medical bills.
He spoke during the launch of Voice of Mombasa movement steered by the United Democratic Alliance party.
"You cannot stop people from philanthropic work. Hasmukh should continue paying bills for the needy," Omar said.
Omar maintained he was closer to President Ruto than governor Nassir, accusing the latter of always taking pictures with the head of state whenever they meet to portray they were close.
One-term governor
Omar claimed Nassir will be a one-term governor, saying UDA was making in-roads in the Mombasa and the Coast region previously perceived as an ODM zone.
Omar came second to Nassir (ODM) in the 2022 General Election.
Omar said Nassir was being insincere with the people of Coast region who have been dependent on Mombasa Cement for aid.
Patel, popularly known as Hasu, has gained admiration from many people in Mombasa and Kilifi counties through his philanthropic work.
He has been feeding over 40,000 weekly at the Sahajanad feeding centre in Mtwapa, Kilifi County since 2012.
He has also been feeding people in Mombasa and proving clean water trucks from Monday to Friday in Mombasa slums.
He also runs the Sahajanad special school in Mtwapa in Kilifi County which has more than 1,000 children.
In 2017, the cement firm partnered with Mombasa county government to rehabilitate the Kibarani dumpsite at the Makupa causeway that has been transformed into a recreational park.
There was a time the cement firm provided trucks that collected garbage in Mombasa County, during the reign of Governor Hassan Joho, but the vehicles were withdrawn after a standoff.
Related Topics