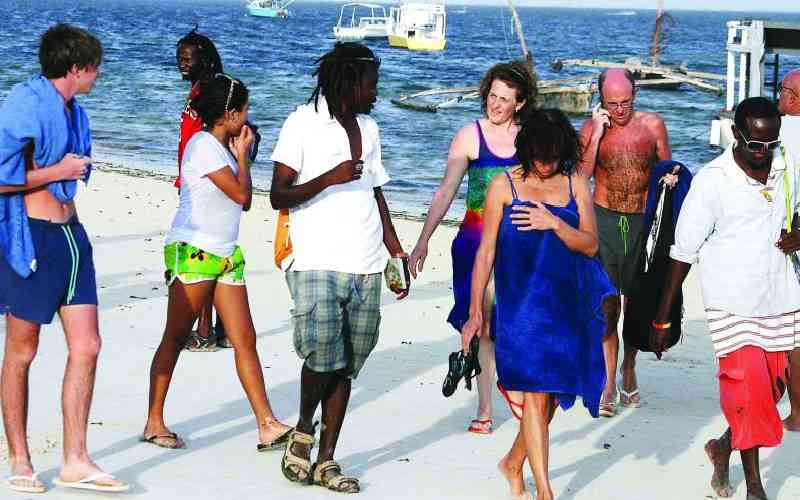 Flashing a dazzling smile and body built like an Olympic basketball star, 24-year-old Joseph (not his real name) says he has slept with more than 50 women, most of them 30 years his seniors.
"When I go into the clubs and walk around the beaches; those are the only women I look for now," he tells The Nairobian. "I get to live like the rich mzungus who come here from foreign countries, staying in the best hotels and just having my fun."
Joseph's latest catch is a 56 -year-old woman, but this time he's not dating a mzungu. Instead, she is a rich man's wife who resides in Nairobi.Joseph earns roughly Sh30,000 per month just by sexing and staying loyal to his woman Stephanie; and on top of that, he is living in a fully-furnished apartment on the outskirts of Kilifi town.
"More than sex, she is seeking a tenderness that the husband is not giving her," says Joseph."It's a social arrangement. She pays my rent and upkeep and she gets what she wants, which is good sex of course. How is that different from a man buying a young girl dinner?"
She is older, wiser, incredibly intelligent, and very rich
Joseph met Stephanie along the beach during last year's Christmas holidays when she visited with her family.
"I fell deeply and passionately in love with her. She is older, wiser, incredibly intelligent, and very rich. It is exciting to be in a forbidden relationship, one that even my closest family and friends don't know about," he says. "Human nature dictates that we want things we perceive we can't, or are not supposed to have."
The married mother of four apparently rented a plush two-room apartment in Bofa for her Romeo. The woman coughs up Sh20,000 per month for the single-bedroom apartment.
"She visits me at least once a month, but most times she pays my air tickets and books me a hotel in Nairobi because she is staying there with her husband," he adds, saying that they keep the fully-furnished plush apartment for their sexcapades away from public scrutiny.
The apartments, popularly known as 'Spinster pads' or 'bachelorette pads' are quickly replacing high-end lodgings where the fear of getting caught is high. Such apartments have for years been associated with married men.
Using the money he gets from his lover Stephanie, Joseph has now opened a restaurant along one of the beaches in Kilifi town and the business is doing well.
Expand horizons
"I was craving for a woman who could expand my horizons and make me feel protected in a way that a younger woman could not. Not to mention the thought of being the beneficiary of many more years of experience in the bedroom."
In Kilifi, where more than 70 per cent of the population lives below the poverty line, hustling on the beach is the only way that some young men can feed themselves and their families.
Most often, married women and white visitors begin "dating" beach boys because they are lonely. The men usually play along because they live in dire need of cash. Playing along can guarantee the men a comfortable bed in a hotel, gifts and, sometimes, cold-hard cash.
Most of the local women are from Nairobi, Nakuru and Kiambu and they are usually older, wealthy, and overweight. Most of the time, however, the women are aware that both are 'using' each other - one for companionship and the other for economic security.
Joseph says in many cases, money is handled discreetly so that the women can preserve the fantasy of the romance. Other times, it is far more explicit, with women paying the men directly for sex.
Mpango wa kando
According to the women we interviewed, they always decide to enter into a 'mpango wa kando' after their marriages become boring. Most of the men who enter into these arrangements are those who dropped out of school because of one reason or the other and started hustling.
"Malindi is a town they say is just full of big young boys who like us older girls," says 45-year-old Alice. Hard figures are difficult to come by, but locals estimate that as many as one in five single women visiting the coast for holidays are in search of sex.
Sherry and David -- who both declined to give their full names -- said they planned to spend a whole month together.
"We both get something we want, where's the problem?" Sherry asked in a bar later, nursing a strong, golden cocktail.
Sherry, 73, is an Italian citizen who jetted recently into the country for a one-month holiday.
"They are so wonderfully flattering. They make you feel like a real woman. I don't mind paying for their drinks and meals if they stay the night," says Sherry.A lot of white women talk about how 'big' black men are and how they can go all night.
Women who feel rejected by men in the West for being 'fat and old' find that in Kenya all this is reversed.
In many cases, those dating the whites are looking to secure a way out of Kenya to Europe by blinding their lovers through fake love and top-notch bedminton.
Lucrative business
In Malindi , beach boys can earn up to Sh50,000 for sex with a female tourist or Sh100,000 for oral sex, which the locals usually regard as taboo.Many others are hired as tour guides and throw in sexual services, often just for as little as a meal or a place to sleep. Some beach boys also date rich wazungu, and they make a lot of cash.
"It's not evil," says Tsuma Nzai, the director and custodian of the Mijikenda traditions at Magarini cultural center.
We ask for his opinion on the practice of rich older women travelling for sex with young men at the Coast.
"It's certainly something we frown upon," he adds. Some locals believe that the beach boys use 'kamuti', a street name for love potions sold by medicinemen, to attract the rich women.
Some hotel managers say they are do all they can to discourage the practice of older women picking up local boys, arguing that it is far from the type of tourism they want to encourage in the country.
Related Topics