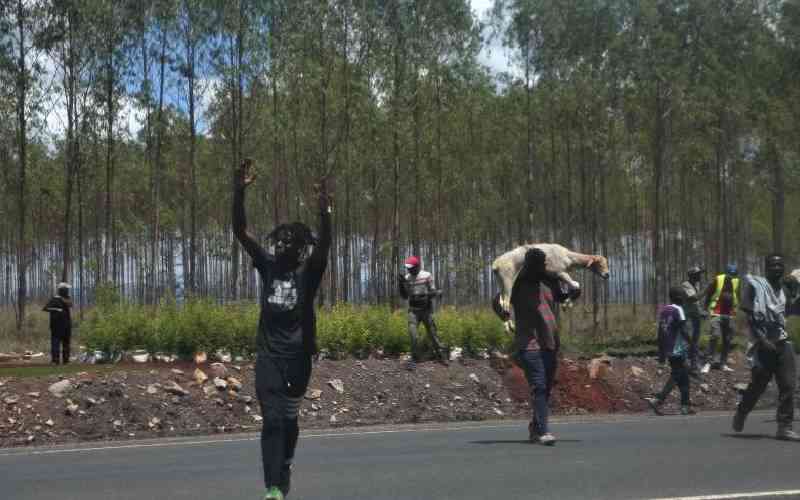 Rifts among Mt Kenya elected leaders following the invasion of Kenyatta family's Northlands farm in Ruiru continue to widen even as police announced a probe is underway to arrest the culprits.
During the March 28 invasion, the goons stole sheep and goats, cut down trees and attempted subdivide of huge parcel of land and erect semi-permanent structures.
An almost 24 hour delay by police to visit the scene has left the government with egg on face and reportedly infuriated President William Ruto, who was on a tour of Germany at the time.
It did not help matters that key Kenya Kwanza politicians and senior government officials had threatened to mobilise invasion of the property of former President Uhuru Kenyatta, claiming he was the sponsor of the mass action called by Azimio leader Raila Odinga, which they said had let to destruction of small businesses.
Dennis Itumbi, who was appointed Information, Communication and Technology (ICT) Chief Administrative Secretary, for instance, had on the eve of the invasion tweeted 'Northlands' and later deleted.
Trade Cabinet Secretary Moses Kuria similarly tweeted 'Maguta Maguta' loosely translating to oil, a term that is largely used to advertise fertile lands which are strategically situated, connected to electricity and water and in the proximity to towns.
National Assembly Majority Leader Kimani Ichungwah, a harsh critic of the Kenyattas, had also warned the former President to keep off 'funding Azimio activities' or else his property is invaded.
"When a Kenyan's property is invaded, then we will also invade your land and have homeless Kenyans to settle on them. Don't think that only the ordinary Kenyan will lose their property. Even you will have a price (to pay) if you continue to instigate violence in this country. That is my message to none other than Uhuru Kenyatta," he said at Kianyagah High School on March 18.
He has, however, since disassociated himself from the invasion, saying he was available for questioning by the police and went ahead to condemn the act.
While the government has moved to protect properties owned by the Kenyattas as witnessed during Thursday's protests, a governor from Mt Kenya region, who did not wish to be named, said the attack exposed the Kenya Kwanza administration as 'vengeful'.
"We find ourselves getting embarrassed to talk about it amid numerous calls from our constituents because the absence of police the whole day gave a window to inferences as to who could have planned the whole thing," the governor said.
According to the governor, continued attacks on the former President was making him a political martyr, which may fuel his 2027 plans.
Murang'a Governor Irungu Kang'ata last Sunday also criticised the Kenya Kwanza leaders over their continued onslaught against Uhuru, saying doing so would earn him sympathy from Kenyans.
According to Kang'ata, the government should counter Uhuru 'silently' without going public since his alleged support for Azimio protests cannot be proven.
A Woman Rep from the region also said she was taken aback by the act and warned that it may haunt the elected leaders.
"There has been anger in the region against the Kenyattas but it has never been about their property but largely political. That is why the invasion and arson acts has backfired and we fear that the act may have political consequences on those elected on UDA ticket, God forbid," she said.
According to the MP, the resentment against Uhuru has been about his decision to burn counterfeit and illicit goods worth Sh1.5 billion which had been exported Nyamakima traders in 2018.
Although the move was unpopular, Uhuru said he was protecting Kenyan industry and consumers. After that decision, he was labeled an enemy of his own people.
"Some of us may have thought that they would gain mileage by sponsoring attacks on the former president but I can tell you, it has gone south," she said.
Church leaders who have been in the forefront of supporting the Kenya Kwanza administration have also gone with only a few gathering the courage to condemn the incident.
Royal Priesthood Church of Christ Bishop Peter Gitahi laid the blame squarely on the government, saying it failed to protect and secure the Kenyatta property.
"This is not just any another Kenyan, he is a senior leader having been the Commander-in-Chief of the Defence Forces and the absence of the police exposed the current office bearers. It seems like we don't have a government," he said.
"We can't be people who repay good with evil. Uhuru's contribution to Mt Kenya region cannot be underestimated even when we compare with his ills," he said.
ACK Diocese of Mt Kenya Central Bishop Timothy Gichere said the invasion of the farm was regrettable and called on investigative agencies to fast track their probe.
However, Nyeri Senator Wahome Wamatinga said those who stormed the farm could be angry Kenyans who are upset that despite the destruction of public property during protests, the organisers and funders of the protests were running their affairs with little disruptions.
"If you rattle a snake, you must be ready to be bitten. How lucky can Azimio leaders be to have their cake and eat it? Kenyans could have been irritated by their actions and decided to storm the land and although we don't support it, it should be a lesson to them," he said.
The Sunday Standard has learnt that in a bid to contain and manage public perception, the leaders plan a fightback.
"We must manage our people because the narrative which is taking shape is that Kikuyus are fighting their own while those from different camps during the campaigns are not fighting and this might be a blow to us," an MP said.
Mathira MP Eric Mumbi and his Nyeri Town counterpart Dancun Mathenge claimed that Kenya Kwanza had evidence implicating the Opposition in the attack on the Kenyatta farm.
"As we call for the police to arrest those culpable, we also want to see Raila arrested for masterminding the protests that have led to mass looting of private property. We must protect businesses," said Mumbi.
Senate Deputy Speaker Kathuri Murungi took a cautious stand. "For now, let us wait for police to conclude investigations," he said.
Related Topics