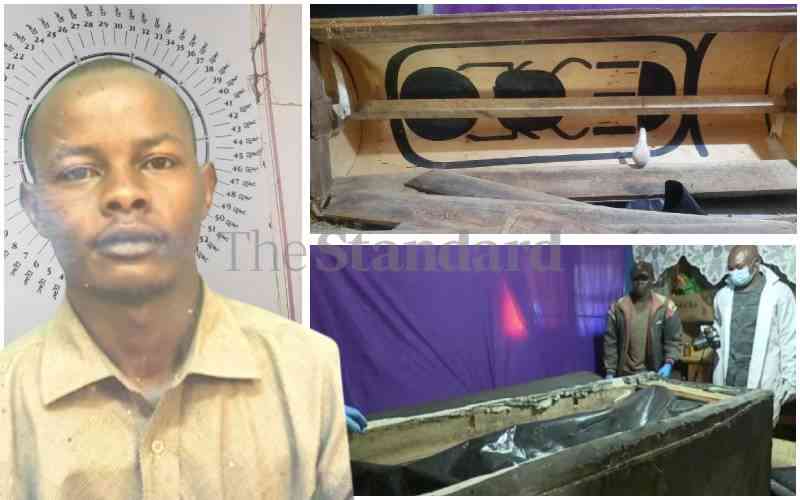 A concrete dhow-like coffin, a scarab-inscribed flag and a dark horse of a man are pieces of a jigsaw investigators are struggling to piece together in a puzzling case that has shocked a village in Nyeri.
On Thursday, the sleepy Ihururu village in Tetu was awakened by a strange discovery at a rental residential unit.
Joseph Gathogo, 45, who had been reported missing since December 19, was found inside a concrete coffin covered in plywood and a black flag.
At the trading centre, residents huddled together trying to come to terms with just what could have happened to the teacher of Biology at Muhoya Secondary School.
Described by villagers and town residents as simply a good man, Muhoya seemed to possess a double personality. On one hand, a shopkeeper at Ihururu who sold him cigarettes described him as a 'social person, but his landlord Kariuki Njama said he was a loner.
Other residents we spoke to said he loved indulging in political and football banter, but others said he kept to himself. Others spoke of a smart gentleman who ironed his clothes well, and for the 19 years he lived there he did not quarrel with anyone.
"But one strange thing is we never saw him with anyone, not even a girlfriend," said a local.
Inside Gathogo's house are pinned-up printouts and notebooks that contain Egyptian hieroglyphs.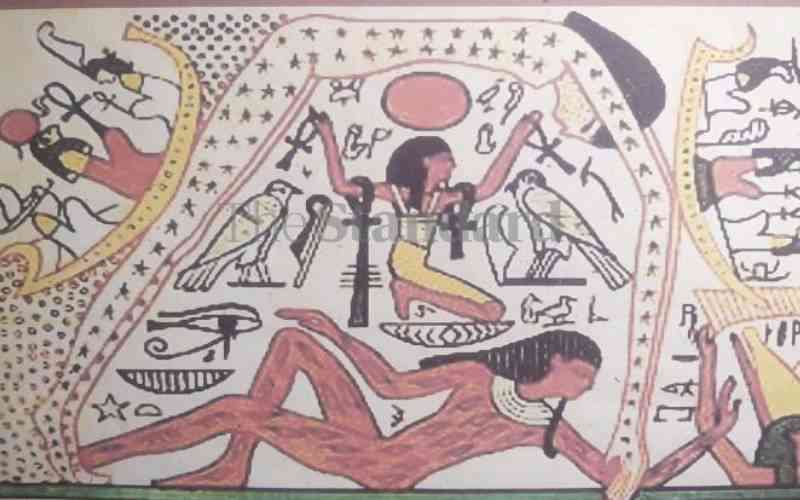 These are a series of symbols that were used as the formal writing system in ancient Egypt.
Locals believe that Gathogo started building his coffin back in 2019, when he was seen carrying timber into his house. An elder brother to the landlord, Nderitu Kiama said he saw him with timber a few years ago.
"Back in 2019, I found some well-finished timber outside the house. When I asked him about it, he said he wanted to make a wardrobe. I never asked him about it again," he said.
Now the same timber is strewn all over the one-roomed house, having been used to prop up the concrete coffin-like structure Gathogo built for himself. This is the image police stumbled upon when they broke into his house on Thursday. A variety of chemicals lay close by.
In the morning, eight members of the family came to the house but did not want to talk, saying they will wait for the police to complete their investigation.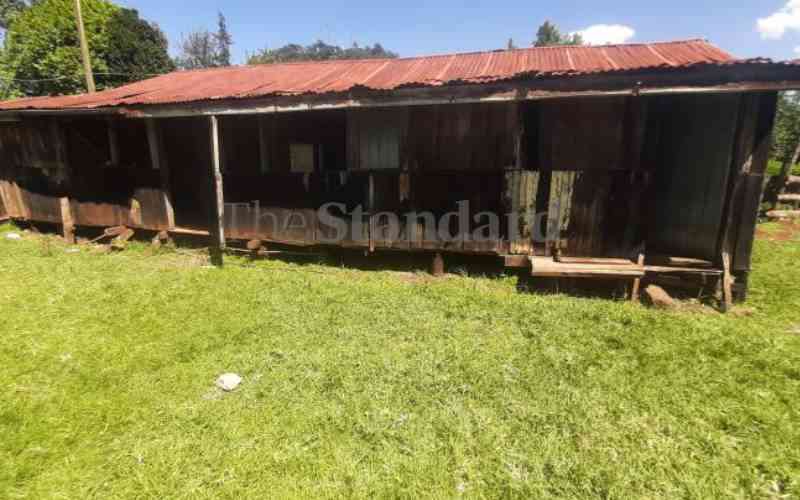 "The coffin was made of concrete but covered with plywood. There was a black flag with mysterious drawings and writings. I have never seen such a thing in my life, very shocking," said Njama.
Njama described Gathogo as a 'very intelligent' person who never allowed visitors into his house. "He was very neat and organised," he said.
Gathogo's brother Kiama said a few days before the body was discovered, he was digging a hole behind the teacher's house but did not find anything amiss.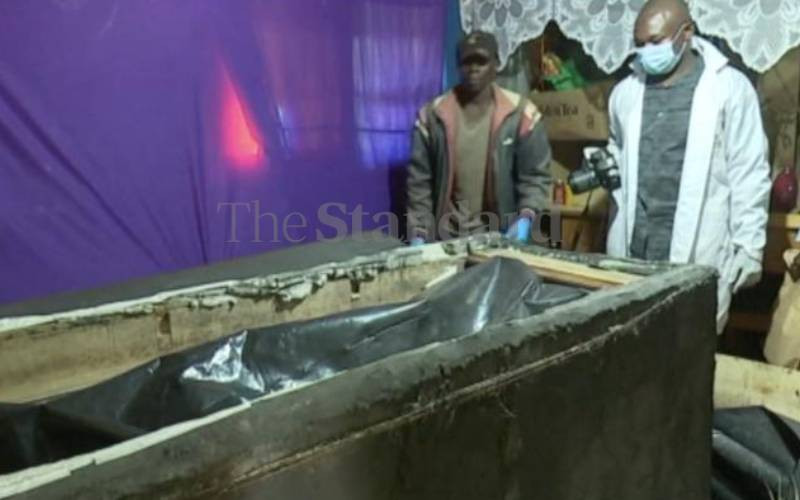 "There was no smell and since the house has two doors, one was locked from the outside while the bedroom door was locked from the inside," he said.
Ihururu OCS Philip Mwania, who had inspected the scene, said police are treating Gathogo's death as suicide, but were awaiting a postmortem that could be conducted on Tuesday next week to determine the exact cause of death.
Related Topics