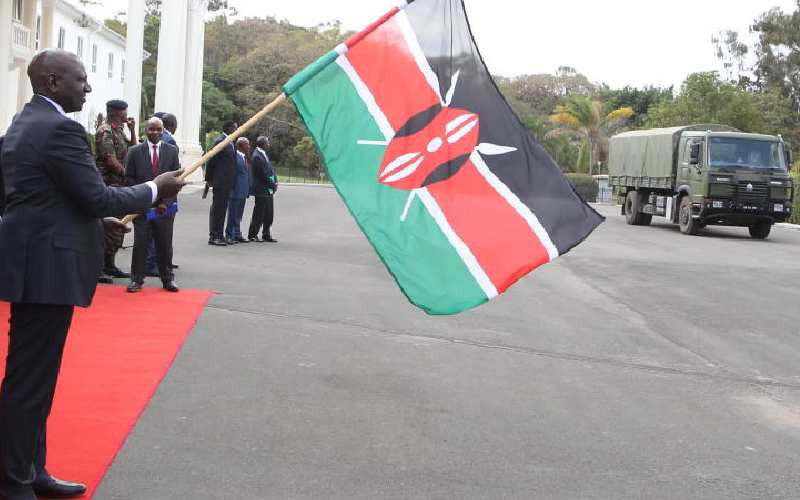 As drought ravages parts of the country, residents of Kiawara village in Kieni constituency are among populations identified as being in dire need of food.
The area is known for mass production of horticultural crops such as french beans, chamomile herbs, onions, cabbages and vegetables.
The main source of water is Ngareng'iro River where farmers practice irrigation farming, a move that has led to the area being productive.
But the National Drought Management Authority (NDMA) has said the village in Mugunda ward and three other wards - Thegu, Endarasha and Mwihoko - have 55,750 people in urgent need of relief food.
NDMA noted that schools in the four wards have been adversely affected by the drought as parents rely on sale of food crops to pay school fees. "There are 37 secondary schools and 300 Early Childhood Development (ECD) centres affected," said Nyeri County coordinator Lordman Lekalkuli.
The NDMA's county drought early warning bulletin also indicated that the general livestock body condition deteriorated during the month under review compared to the previous month attributed to poor pastures and increased distances in search of water and pastures.
"Access to water deteriorated during the month under review compared to the previous month. Water levels in the open water sources are very low compared to normal, rivers are flowing at the minimum base level. Water rationing by the various water projects has intensified with households receiving water twice in a fortnight," read the report. Lekalkuli has warned that livestock death will be inevitable this month if government will not provide livestock feed as they embark on distribution of relief food to the affected people.
He said they need Sh835 million to support hunger victims from this month to December following the weather man's warning that there will be depressed rains.
"Each home should get at least Sh5,000 on average. At 50 per cent ratio each person needs 12 kilos of maize per month, six kilograms of beans and one liter of edible oil," said Lekalkuli.
But residents of Kiawara have lamented that if government had constructed scheduled Narumoru and Karemenu dams and others like Chania, Tinga, Kamburaini, Waiwa and Ngare Ng'iro they would not have been classified as those in need of relief food.
Narumoru and Karemenu dams were to be constructed at a cost of Sh13 billion but the project did not take off despite the tender having been advertised. Karemenu dam was expected to have a water storage capacity of 4 million cubic metres and to irrigate about 1,000 hectares. Naromoru dam was to have a storage capacity of 10.5 million cubic metres and an irrigation command of 2,900 hectares.
Other dams were identified in a 2013 feasibility study on making Kieni agriculturally viable.
"It's sarcastic and a sick joke that the area which is supposed to provide food for Nyeri and Mt Kenya region at large is one of those relying on relief food for survival. Sometimes we feel that these problems are cosmetic for us to remain beggars," Suleiman Njoroge said.
The situation in the potential food basket of Nyeri is so dire that some parents are boiling stinging nettle for their children.
Regina Nyambura, a resident of Kang'a village, said theft of food and petty things like soap was on the rise in the village while some residents have resorted to prostitution to feed their families.
"The long-term solution to us is water for irrigation since our only source Ngareng'iro river is depleting and this will be a time bomb," said Nyambura.
Nyeri businessman Thuo Mathenge who donated food stuff to families Kang'a village called on government to prioritize issuance of relief food to save lives as opposed to subsidized fertiliser.
"We need practical solutions to the hunger victims, they can't afford bus fare to Kiganjo depot leave alone Sh2500 for the subsidized fertilizer. The urgency requires that government open the National Cereals and Produce Board (NCPB) and give our people food," said Mathenge.
Mathenge who donated floor to more than 1,000 families also called on well-wishers and investors to donate food stuff to the affected families.
"Devolved unit must also move swiftly and start construction of water pans and boreholes for us to get water for irrigation even as we wait for President William Ruto led administration to fulfill its promise of reviving Karemenu and Narumoru dams," he said.
Related Topics