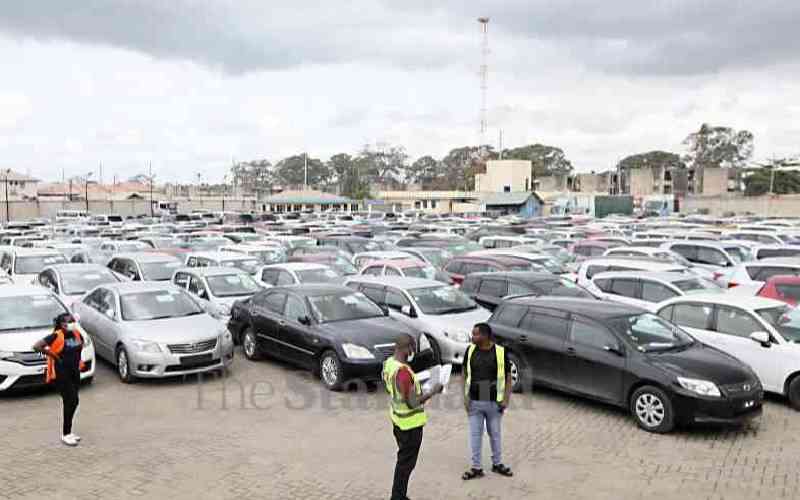 Kenya Ports Authority (KPA) and Kenya Revenue Authority (KRA) boards have ordered their chief executives to appoint a committee to craft a framework on how to dispose of abandoned cargo at the Mombasa port.
The order was issued by KPA Chairman Benjamin Tayari and his KRA counterpart Ng'ang'a Mwaura after a joint meeting of the two State agencies' boards at KPA headquarters.
The two boards resolved to have the abandoned imported goods disposed of through auction or destruction depending on the state of goods lying at KRA warehouses at the port.
Most of the abandoned goods belonged to several importers who were issued with exorbitant bills by KRA, KPA and shipping lines beyond the cost of their imported cargo.
The abandoned cargo which includes luxury cars is usually auctioned at KRA but others continue to lie at the port for various reasons.
During late President Mwai Kibaki reign, hundreds of cars abandoned at the port were crashed because they were too old for the Kenyan roads.
According to the two chairmen, the goods facing the hammer have overstayed but are still viable while transit goods with missing documents for clearance are to be reshipped to the country of origin.
They said the cargo was due for destruction and should be destroyed within two weeks.
"Overstayed, condemned cargo that is due for destruction must be destroyed with the help of KPA and KRA officials," said Mwaura.
However, members of the Kenya International Freight and Warehousing Association (Kifwa) claim that the goods are abandoned at the port because some shipping lines do not want to give waivers.
They complained that despite KRA and KPA being considerate whenever an importer delayed in clearing his goods resulting in demurrage, the shipping lines were adamant. "We appreciate what KPA and KRA always do for the importers by waiving demurrage but shipping lines are always adamant that an importer must pay the demurrage," said a Kifwa member.
The meeting was attended by KPA Managing Director Capt William Ruto and KRA Commissioner General Humphrey Wattanga.
It was also resolved that the boards will be having quarterly meetings and exploring ways of settling existing tax disputes out of the courts as had been directed by President William Ruto.
"The two CEOs to explore settlement of existing and future disputes out of court as directed by the president," said KPA and KRA boards' chairmen in a statement.
During the meeting, it was agreed that both agencies should revamp their communication departments to be able to disseminate the correct information to the public.
They also agreed that scanner technology, which has been a burning issue in the port, be resolved by acquiring modern equipment and installing an integrated modern Information Communication Technology (ICT) system to serve both corporations efficiently.
Related Topics