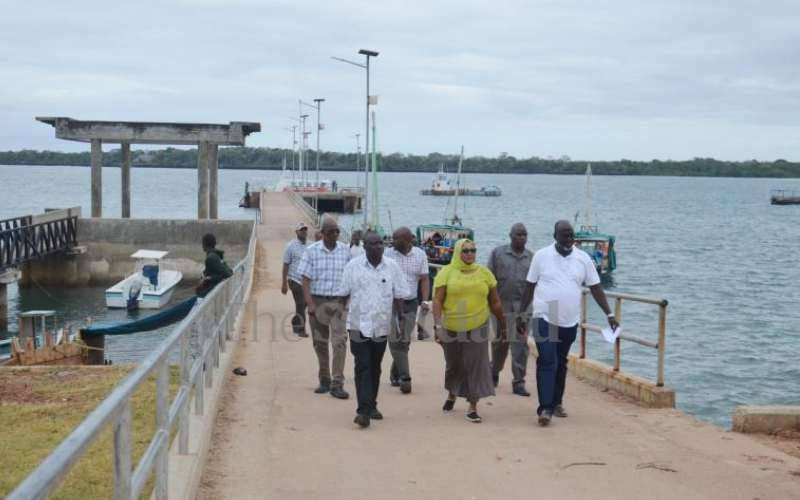 The Sh2.6 billion Shimoni Fishing Port in Kwale County will be ready by June next year.
Shimoni fish port project coordinator James Rai said President William Ruto had directed Kenya Ports Authority (KPA) and the contractor Southern Engineering Company Ltd to complete the project in time.
"KPA is determined to deliver the first integrated fishing port on schedule. The project will be done in two phases," said Rai in an interview.
The project adjacent to the famous tourist site Kisite-Mpunguti Marine Park is taking shape fast.
The facility encompasses a modern jetty measuring 75 metres by 30 metres with a causeway measuring 135 metres long and 7 metres wide.
Rai said that other amenities at the facility, include a power substation, water storage tanks, a perimeter fence, a main ablution block, a fish meal plant, a bio-digester, and a waste-water management processing plant.
"But the entire new fishing harbour is likely to be completed by June next year and would be a game-changer for development. It will improve socio-economic conditions for the people of Shimoni and Wasini islands, who are traditionally fisher folk," he said.
KPA estimates that the project is 38 per cent complete. The construction of the main marine facilities shall commence before the end of this month.
The port construction company has assembled marine onshore and offshore equipment and is reclaiming land to build quays and breakwaters in the new port area.
"The construction of the Shimoni port, anticipated to have an annual throughput of 50,000 metric tonnes, is at 38 per cent complete, and it will be ready for use by October next year," he said.
The project is part of President Ruto's plan to unlock the fisheries potential in the Indian Ocean to improve income and food security, and create jobs for locals.
During his last tour of Coast, Ruto directed KPA and the Kwale county government to acquire 200 to 300 acres more for the fish processing infrastructure.
According to data from the Kenya Fisheries Service (KFS), marine fisheries contribute only 26,000 tonnes of fish annually, about 17 per cent of the total national fish production.
This is way below the potential of 150,000 to 300,000 tonnes per year, said KFS, adding that in 2020, fish caught in the marine landing dropped by seven per cent from 27,740 tonnes in 2019.
Despite the vast fishing area and availability of fish, the marine sector lags behind Lake Victoria, which accounts for up to 60 per cent of the national fish production.
According to Mining, Blue Economy and Maritime Affairs Cabinet Secretary Salim Mvurya, 70 per cent of fish in Kenya is from freshwater and 13 per cent from aquaculture.
"Only 17 per cent of the fish in Kenya come from marine waters. Marine fishery has the potential to produce between 150,000 and 300,000 tonnes," said Mvurya.
A team chaired by Kwale County Commissioner Meru Mwangi has been meeting to track the progress of the project.
Related Topics