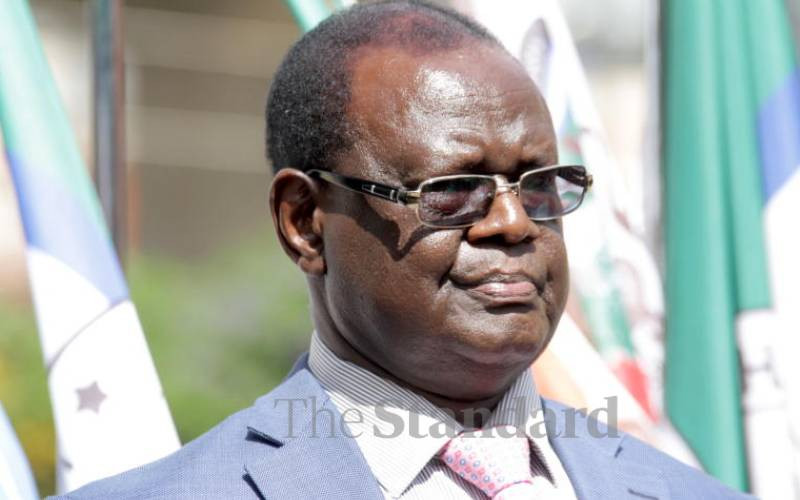 National Oil Corporation of Kenya (NOC) Chairman Kiraitu Murungi has called on President William Ruto to invest in oil production, saying it is the answer to the current debt crisis.
Kiraitu said the country stands to get more than $8 billion from the Lokichar basin alone, which is enough to cut aid dependency and lift millions of Kenyans out of poverty.
"Experts tell us that the Lokichar field asset is quantified at 472 million barrels recoverable," he said.
"With the State's carried interest of 22.5 per cent stake in the production sharing contract, the country stands to earn USD8 billion at the current rate of USD80 a barrel. We can do a lot with this kind of money," he added.
Tullow in May submitted its revised Field Development Plan to the Energy and Petroleum Regulatory Authority and is now under review.
Kiraitu, who is a former Energy minister, hit out at the Uhuru Kenyatta's administration for neglecting the oil sector despite the precious resource being discovered more than 10 years ago.
"Kenya's upstream oil and gas sector has stagnated because of lack of passion, official neglect and lack of investment by the previous government," he said.
"We cannot leave development and exploitation of the oil reserves in Lokichar to Tullow alone. As NOC we shall seek government support so that we can accelerate production and generate resources to pull our people out of debt and poverty," he added.
The chairman was speaking at NOC headquarters in Nairobi when he received delegates from nine countries attending the 8th African Petroleum Data Management Forum in Mombasa.
Countries participating in the conference are Norway, Somalia, Tanzania, Zanzibar, Uganda, Angola, Mozambique, Ghana and South Africa and Kenya.
Kiraitu noted that the key to Africa's energy independence and rapid socio-economic transformation lies in the sustainable exploitation of vast oil and gas resources.
"There is talk about energy transition from oil and gas to renewables, but that will not happen soon. We still need oil and gas to fuel our energy and development needs.," he said.
NOC Chief Executive Officer Leparan ole Morintat said partnerships are key in exploiting Africa's oil and gas potential.
"We are instance, open to partnerships including on our state-of-the-art core and laboratory facility, improving clean energy access through National Oil's gas-to-wire and green energy initiatives, and equipping our National Data Centre to achieve data transparency and enhanced security features," he said.
Related Topics