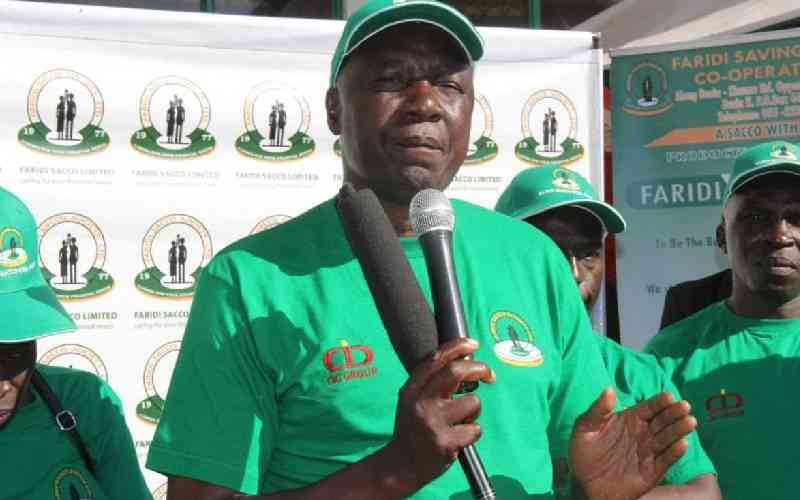 With the unprecedented rapid change in the world of finance, Savings and Credit Cooperative Society (SACCOs) are now encouraged to transform and embrace digital technologies to stay in Business.
Digital loan apps have disrupted the market thus challenging traditional players such as banks and SACCOs to rethink their strategy.
Sacco's entrance into the digital lending space is seen to protect their interest and prevent members from relying on other sources for short term loans. The ones that have embraced technology in their service delivery have the competitive edge in the market.
The most recent to adapt the much needed change is Faridi SACCO, a Busia based SACCO which has unveiled a mobile app that's set to enhance service delivery to its members.
The 46-year-old SACCO was started by teachers to aid them in saving and improving their livelihoods through loans, but has now been opened to the public.
Speaking during the app launch, Faridi Sacco CEO Dismas Esamai said the Covid 19 pandemic was an eye opener and pushed them to sort for technological solutions to enhance service delivery.
He said the Sacco has members from all over the country and some in the Diaspora who could not access services during the pandemic, which pushed the sacco to restrategise on ways it could cater for the needs of its members.
"I strongly believe that with the mobile app in place, we will be able to spur growth of our SACCO and break beyond our geographical limits, "he said.
The Faridi Sacco App will enable members to access all the services needed online rather than having to physically visit their offices.
"Our customers can now borrow and pay loans at the comfort of their homes through the mobile app. The mobile banking also allows them to track their loans status, "Said Esamai.
Lilian Luta a teacher from Siaya and one of the long time members lauded the move to digitise operations saying before it was mandatory to physically visit the offices to apply or pay for a loan but the app will minimize both paper work and long queues.
"The app allows members to apply, pay for their loans and even track their loan progress by the touch of a button, that is time saving, "She said.
She notes that the move will make the Sacco more competitive and continue serving their members effectively in today's fast paced financial environment.
"We were at risk of losing more of our members to more tech savvy competitors but with this move, we are on the right track," she posed.
Her sentiments were echoed by Philip Oditi praised the milestone taken in embracing technology saying members will now be up to date with the new products being offered by the Sacco.
"Before it was very tiresome and costly to make trips to the offices to access services. We hope that by taking this step our Sacco will attract more members from all over the country and worldwide," he added.
The SACCO has also revised their lending terms to allow members borrow three times their savings with a prolonged repayment period.
"Joining our SACCO is absolutely free and after three months of consistent saving one becomes eligible for a loan. We give three times one's savings as their loan limit with an interest rate of only one percent which is the lowest interest being offered in the market," the CEO said.
The SACCO boasts of having the shortest lending time of 24 hours from the time of loan application where one can take a loan worth millions.
Chairman Godfery Saidi, urged boda boda riders to join the Sacco and cultivate a saving culture saying the societies have a lot of benefits for small businesses.
"Instead of going to creditors to take a motorbike on loan of up to 300,00, why not join a SACCO like ours and enjoy discounted loans of Sh150,000 with very little interest charged," said Saidi.
Saidi said the Sacco currently has an asset base of Sh2 billion with a loan book of Sh1.6 billion.
He further hinted on a plan to give back to the society through sponsoring bright but needy students in their next financial year.
"Apart from issuing loans to traders, teachers, farmers and civil servants, we shall also be giving back to the community by paying fees to bright but needy students, "he explained.
The Sacco is regulated by the Sacco Society Regulatory Authority (SASRA ).
Related Topics