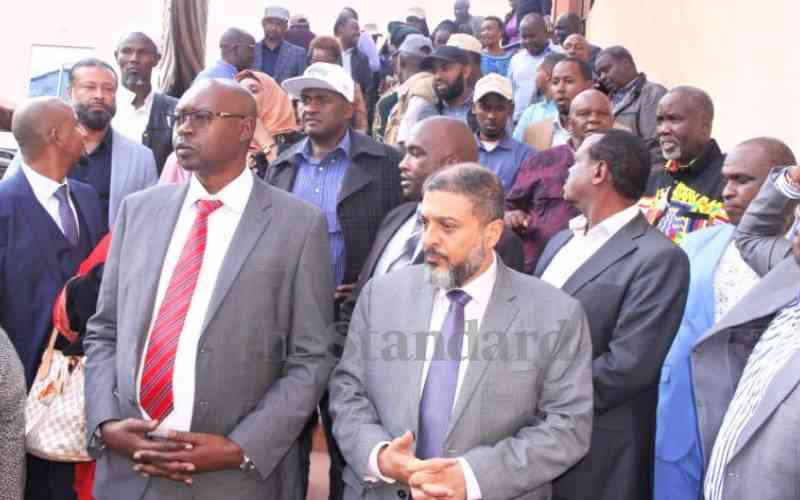 Mombasa Governor Abdulswamad Nassir and Eala MP Suleiman Shahbal have thrown their weight behind Kenya National Chamber of Commerce and Industry (KNCCI) national vice chairman Eric Rutto.
The two are also supporting Mombasa chapter chairman Mustafa Ramadhan.
Dr Rutto is seeking to oust KNCCI president Richard Ngatia who is defending his seat. Mr Ngatia has picked Coast businessman Abdulwalli Shariff Ahmed as running mate.
KNCCI will hold its elections on June 8. Key politicians have shown interest in the polls.
Mr Ramadhan is a key ally of Nassir and played a key role in the selection of county executives. Ngatia, who two weeks ago campaigned in Coast region, is an ally of former President Uhuru Kenyatta.
Speaking during the KNCCI Coast region delegates meeting at Kilua beach resort at the weekend, Shahbal endorsed Rutto and Ramadhan. He said the previous leadership had failed to execute the mandate of the chamber.
"It is time to try new leadership. My call for a change of leadership in the chamber is advised by the challenges that both big and small businesses have encountered in the hands of the previous regime.
"I am a patron member of the chamber, but I have little to speak about on the benefits I have had or seen for either big businesses or micro, small and medium enterprises (MSMEs). Change must come," he added.
Shahbal, who is also the chairman of the Eala Committee on Trade and Investment said the role of the chamber was to support both big businesses and MSMEs.
He urged the new leaders to take responsibility of offering the required support.
"I have made strides in business, but my relationship with the chamber and support I get is zero. If a businessman like me is not recognized by the chamber how about the small business people in the grassroots? The chamber must change leadership," he said.
He said he supports the call by the government to ask for small businesses to pay Sh5,000, but added that they must get value from the money they will be paying.
He added that the chamber collects Sh12 million, which should help its regional chapters.
"In my capacity as Eala chair for trade and investment I promise my support to the chamber to enhance regional trade," he added.
Rutto said once elected, his priority would be to support the small traders and work on trade ties in the region.
He said he would upscale the relationship between the national chamber and the regional chapters and increase capacity building within the business lobby.
Related Topics