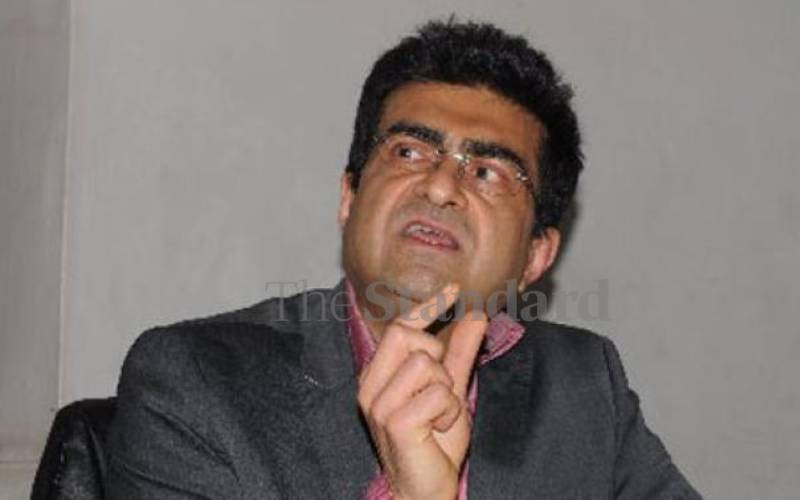 Kenyan tycoon Kamlesh Pattni accused of being the architect of a scandal that nearly ruined the economy has been implicated in a similar scandal in Zimbabwe.
Pattni, who was behind the Goldenberg International firm allegedly used in the 1990s to siphon an estimated $1 billion (Sh130 billion) from the Central Bank of Kenya (CBK), was last week cited as the mastermind of a similar gold smuggling scandal.
Al Jazeera's Investigative Unit (I-Unit), in a news report published on Thursday, said Mr Pattni has been operating a similar gold smuggling operation between Zimbabwe and Dubai. The Goldenberg scandal in Kenya led to charges of corruption against Pattni and senior government officials. Pattni was later acquitted after years of prosecution. Pattni, who later became a television preacher and parliamentary aspirant, adopted the name, Brother Paul.
He is now said to be running a similar scheme in Zimbabwe from his base of operations in Dubai, according to Al Jazeera expose. The revelation is part of Al Jazeera's Gold Mafia, a four-part series investigating some of Southern Africa's largest gold smugglers and money launderers.
The expose implicates Pattni alongside officials of the Zimbabwean Central Bank, the local mining lobby and an ally of Zimbabwean President Emerson Mnangagwa. Pattni and all his associates denied any wrongdoing. Undercover Al Jazeera reporters pretending to be Chinese criminals were allegedly offered several options by Pattni to launder more than $100 million (Sh13.1 billion).
He would do this by effectively laundering illicit money into proceeds of gold that is exported from Zimbabwe to Dubai, where Pattni said he owns several gold-trading companies. The reporters, in interviews with Pattni, said they establish that he exports gold bars from Zimbabwe through his company Suzan General Trading, which gets paid an incentive by the government to sell gold overseas. The plan Pattni suggested would mean the dirty money, in US dollars, would be flown to Harare, where it would be declared as the proceeds of the gold exported by Suzan General Trading.
That money is then used to buy more gold in Zimbabwe, which would then be exported to one of Pattni's Dubai-based companies. Owning the exporter in Zimbabwe and the importer in Dubai gives Pattni the opportunity to launder the money, which would then be paid into a Dubai bank account and would appear to come from legitimate gold trade. Pattni himself would take a 10 per cent commission.
During the secretly recorded conversations with Al Jazeera reporters, Pattni claimed that the country's president, Emmerson Mnangagwa, was aware of his gold-smuggling and money laundering operations.
When asked about Mnangagwa's involvement, Pattni said: "He knows of course, yes. But he can't, he will not talk too openly." The Standard could not immediately reach President Mnangagwa over the claims. Pattni was a youthful tycoon in Kenya at the time behind the Goldenberg International firm -- the vehicle in the 1990s through which a fortune in central bank funds was siphoned out of the country in Kenya's biggest graft case. The Goldenberg scam, which produced no convictions years after Pattni's initial arrest, involved government payments to his firm for gold and diamond exports which Kenyan prosecutors say never happened. Pattni insisted they did, and that Goldenberg was designed to bring needed foreign exchange to Kenya by using the country's strategic position near mineral-rich but conflict-ridden countries like Congo and Sudan.
The drainage of funds from the central bank spurred inflation, and devaluation of the Kenya shilling.
As in Kenya at the time, the latest scheme is meant to help Zimbabwe secure large amounts of US dollars, a hard currency the country can then use on its internal and international markets at a time when its own currency has lost much of its global standing because of hyperinflation.
Since the 1990s, Pattni boasts he has cultivated close ties with several leaders all over Africa, and was quick to boast of that proximity while speaking with Al Jazeera's reporters.
He showed them photos of himself with former Libyan President Muammar Gadaffi, former Zimbabwean President Robert Mugabe and Kenya's Mwai Kibaki.
Pattni recollects in the interview how his rise to fame and fortune started in Nairobi at a tailor's shop.
The son of jewellers who emigrated from India to the port of Mombasa in the 1940s, Pattni testified at a Goldenberg Commission of inquiry in 2004 that he did no wrong. Following the Kenya scandal, Pattni had said he still had a gemstone mining business and a jewellery factory and had vowed to reopen his gemstone and gold export business.
At a time when Western sanctions were strangling Kenya's economy in the 1990s, Pattni was quoted saying that he bumped into an unnamed head of intelligence in the country while looking for a suit.
This is when he recounts he offered to bring in revenue in exchange for gold. Pattni's company, Goldenberg International, was granted an exclusive licence to export Kenyan gold, but instead, he allegedly smuggled gold from what is now the Democratic Republic of Congo.
That gold was then sold abroad, while Pattni's company allegedly charged the government a 35 per cent commission. On Al Jazeera's investigation, Pattni denied any criminal wrongdoing in Kenya and emphasised that he had never been convicted in relation to his activities in Kenya. He denied involvement in laundering, as well as employing anyone to smuggle cash.
He said that when he met with Al Jazeera's undercover team, he thought he was meeting with an investor who wanted to buy a stake in hotel businesses and "to divest of a portfolio in China into gold buying and mining in Zimbabwe".
Related Topics