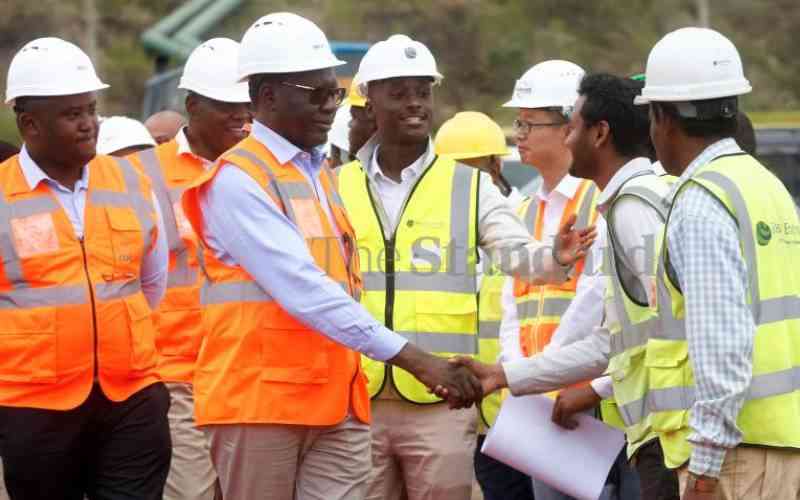 A local independent power producing (IPP) company is set to generate 22 megawatts of electricity from the Menegai geothermal wells by next month.
Speaking during a visit to Menengai geothermal fields on Friday, Energy Cabinet Secretary Davis Chirchir said three companies, including Sosian Energy, Globeleq, and Or Power 22, will harness 105MW of electricity from steam generated at the wells.
Mr Chirchir said Sosian will generate 35MW of electricity and revealed that documentation for Globeleq is being finalised and the company will start operating soon.
"We are quite impressed with the developments. We have inspected what Sosian is doing and they have a commercial operation date at the end of June, but they are ahead of time and they should be able to deliver in a short while some 22 megawatts of electricity," said the CS.
Geothermal exploration at the Menengai Crater started in February 2011 but since then, no power has ever been harnessed. Sosian Energy is, however, on the verge making history, having been the first IPP company to harness power from some 50 wells drilled at the Menengai site.
Chirchir, who was in the company of Energy Permanent Secretary Alex Wachira, Bahati MP Irene Njoki, and officials from the Kenya Electricity Transmission Company Limited (Ketraco), said come end of June, Sosian Energy should be able to deliver all the 35MW as planned.
"In fact, we do have some 10 extra megawatts which they have developed that we should be seeking to see how to accommodate on the purchase agreement that we signed with them," said Chirchir.
The CS said Kenya's geothermal power is at 92 per cent on the renewable energy grid.
"Geothermal power has maintained the grid of our country and the government is putting a lot of emphasis on it," said Chirchir.
He said the government will work with the investors in Menengai under a public-private partnership (PPP).
In the partnership, the State-owned Geothermal Development Company (GDC) will develop and build a steam pipeline, and sell the steam to the three companies who will then convert it to power.
He said the Ministry will deliver competitive tariffs to Kenyans in efforts to spur industrial growth, which currently stands at seven per cent GDP.
Chirchir said they will be prudent while working on the cost of power, noting that hydrology has been poor over the years, hence affecting optimum delivery.
"Hydrology has been fairly poor in the last five years, and whereas we are supposed to be delivering 30 per cent power at 4 US cents, which is the hydro-generation, we have instead been delivering 11 per cent," he said.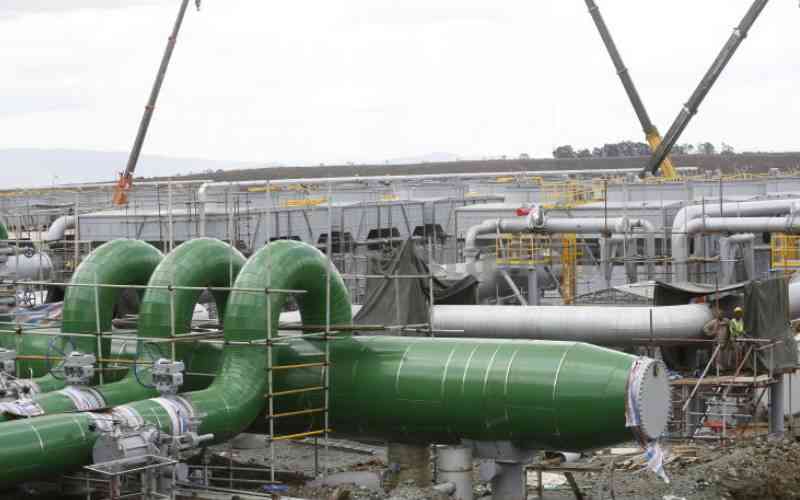 The CS said as a result, diesel generation has over time been used to supplement the grid to provide power. But he said with the onset of the rains and geothermal power in place, Kenyans will access cheaper power, especially green energy.
He revealed that the government is rehabilitating Olkaria 1 that had been retired, noting that an additional 63 megawatts will be realised from Olkaria 1 units 1, 2 and 3.
He said the government is also improving the performance of Olkaria 1 units 4 and 5, and Olkaria 4 units 1 and 2 to get an additional 10 megawatts per plant, as the ministry moves towards retiring the use of thermal power.
He said already, Kipevu 2 has been retired, while Kipevu 1 will be retired in June. Muhoroni is also in line to be retired.
"Geothermal is quite a competitively-priced power because we deliver it at approximately seven US cents, and with all these initiatives coming on board to support the poor hydrology and the retiring of thermal powers, we will see more of the cheaper power," he said.
He further noted that Kenyans will now access green energy, replacing heavy diesel-generated power, which has been causing the high cost of electricity.
Kigen Moi, a director of Sosian Energy Power Limited said they are committed to lowering the cost of living for Kenyans by providing cheaper power.
"Sosian is the only Kenyan company in the steam companies field and we are quite proud that we will be the first to complete," said Kigen.
He said the projects will help government to reduce tariffs, adding that by the end of April, they will have produced 22 MegaWatts of electricity.
Sosian Energy liaison officer, Philemon Kimeli, said they are working closely with the surrounding community and providing them with employment opportunities. He said the company has over 300 employees, with over 200 coming from the local community.
Kimeli said the company also supplies water to neighbouring schools and intends to empower them more with the commissioning.
Related Topics