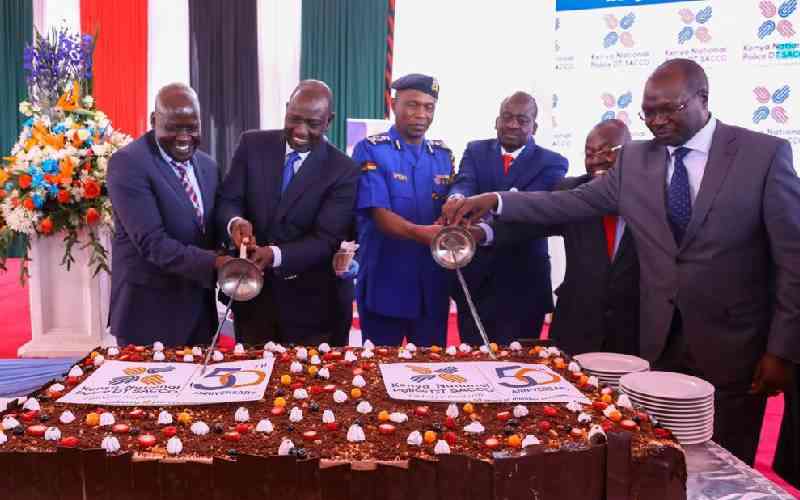 The government says the Hustler Fund loans of up to Sh2.5 million for small and micro enterprises will be ready by end of the month.
The loans will be disbursed through saving and credit co-operative societies (Saccos) and commercial banks, said Co-operatives and SMEs Cabinet Secretary Simon Chelugui.
He told a Nairobi forum of Saccos organised by the Co-operative Bank of Kenya that Saccos will be able to participate in the disbursement of the Sh50 billion Hustler Fund.
"The second phase of the Hustler Fund microloan product that we shall roll out at the end of February will have borrowers access between Sh100,000 and Sh2.5 million and done mainly through banks and Saccos," said Chelugui in a statement.
"This will run parallel to the Hustler Fund and as you lend we deduct. We will agree on the percentage of deduction."
The CS challenged Saccos to ride on the Hustler Fund but also come up with innovative ways to finance members' business, housing and other project needs.
"The Hustler Fund is relatively easy to borrow and offered at low-interest rates of eightper cent per annum and has no requirement of the provision for collateral from the borrower," he said.
"This is very much like what Saccos have been doing for a long time and it is important that Saccos and government work together to actualise the Hustler Fund."
The two-day forum in Nairobi was attended by top Saccos' chief executives in the country to make them better equipped to compete in the marketplace.
Under the first phase of the Hustler Fund launched last November, borrowers can access up to Sh50,000 and a minimum of Sh500.
The loans are priced at 8eightper cent per annum on reducing balance.
Chelugui said the Hustler Fund has so far disbursed Sh16.8 billion to about 18.5 million customers with repayments of Sh8.49 billion.
Savings, on the other hand, stand at Sh844 million with about 5.8 million Kenyans being new customers.
"By leveraging on such programmes and initiatives, Saccos can provide even more support to MSMEs and help them access the financing they need," he said.
President William Ruto's administration says it will use the fund to lift millions out of biting poverty.
"We will commit Sh50 billion a year to provide MSMEs with 100 per cent access to affordable finance through Saccos, venture capital, equity funds,and long-term debt for start-ups and growth-oriented SMEs," the President said earlier.
He said the model will benefit millions of Kenyans who are unemployed as well as small and medium enterprises.
"Bottom-up is anchored on deliberately promoting investment and financial instruments targeting the millions who are unemployed, hustler enterprises and farmer groups," he said.
Dozens of unregulated microlenders - many backed by Silicon Valley venture capital firms - have invaded Kenya's credit market in response to the growth in demand for quick loans.
Their proliferation has saddled borrowers with high interest rates, which rise up to 520 per cent when annualised, leading to mounting defaults and an ballooning defaulters who have been adversely listed with credit reference bureaus.
With their exorbitant interest rates and conditions, microcredit from online lenders has plunged many borrowers into a debt trap.
Related Topics