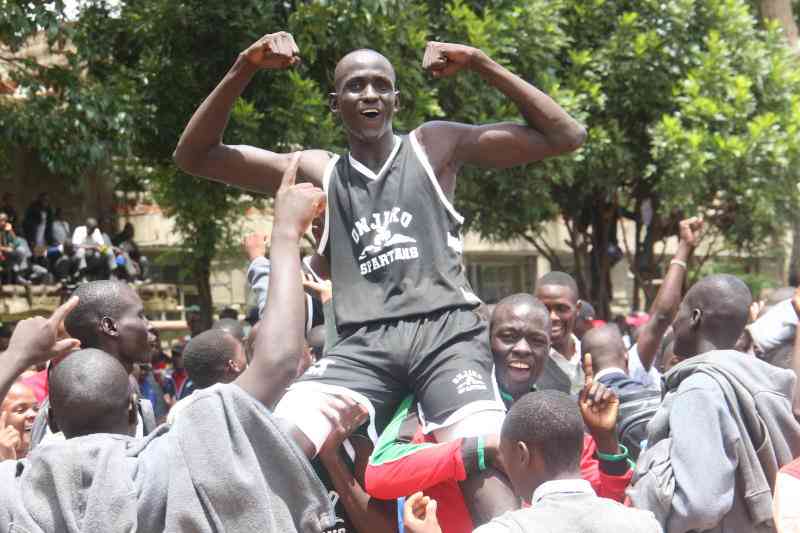 Onjiko High School are no strangers in the Kenya Secondary School games basketball arena.
In fact, when you mention the name Onjiko to schools from Kisumu County including giants Maseno School, rivals scatter in fright.
For the past two years, Onjiko have taken over the basketball throne, not only in Kisumu County, but also in Nyanza region.
The Ahero town-based outfit announced themselves last year when they defeated Kisumu's basketball royalty Maseno School in the Term One county finals.
Led by their principal Joseph Were and former Maseno coach Gordon Ogutu, Onjiko edged out Agoro Sare at the regionals.
This year, it was the same story as they reduced former giants Maseno and Agoro Sare to whipping boys last term.
Next week, Onjiko High captain Alvin Otieno said they want to extend their dominance to the basketball 3x3 when they face Kisii School and Kanyawanga in Group D of the Nyanza Region Secondary School games that begin at Maranda School on Tuesday.
Otieno said Onjiko have been preparing for the games in the inaugural Lukos Energy Basketball League that tipped off on Saturday at Jaramogi Sports grounds last month and are more than ready for another show in Siaya County.
The Nyanza Regional Secondary School Term One-basketball champions swept senior sides Vihiga Titans and Hashira with ease despite being the only secondary school basketball team in the league.
Otieno dropped 23 points to lead Onjiko past Hashiras 85-45 before thrashing Vihiga Titans 92-51 in a game that Byron Onyango led with 21 points and eight rebounds.
Speaking to Standard Sports, Otieno said the new league offered them the perfect space to not only gauge themselves, but also prepare well for the regional games.
Otieno believes the Lukos Energy Basketball League will make them stronger next year since they will be playing against some of the established senior clubs and learn from players currently playing in the KBF Premier League like Silar Awuor (Lakeside) and Trevor Gari (current champion with KPA).
"It is a good league for us Onjiko. Here, we will get the opportunity to mature. It has been two years of joy and heartbreak where we have dominated locally but failed at the national games.
"I believe if we continue with the league, we will be far much better than any high school team," said Otieno, who led Onjiko to winning the Kisumu County basketball title for a second year running.
"At the moment, I believe we are at a better position to win the games and qualify for the nationals again because we are fitter, faster and more hungry."
Chianda from Siaya lead Group A and will play Nyansiongo and Ototo, while Agoro Sare from Homa Bay entertain Usenge and Ekonyoro in Group B.
Maseno School will play Nyanchwa and Migori Boys in Group C.
Related Topics