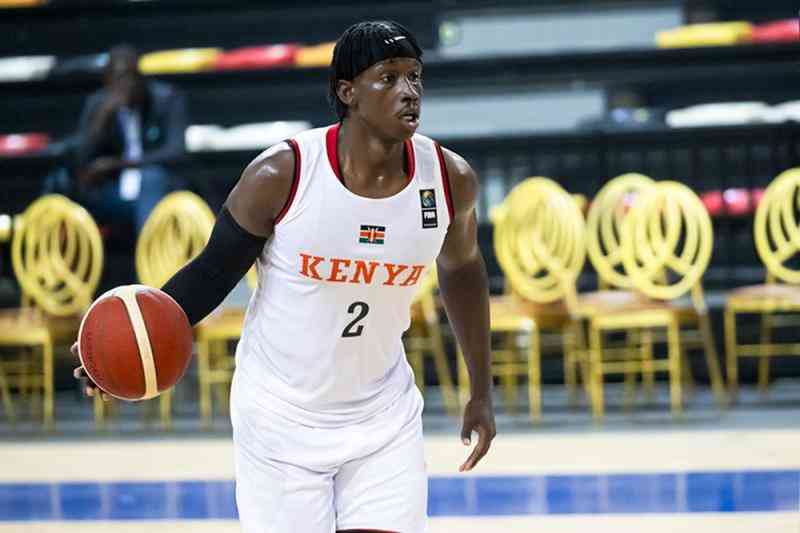 Morans new star Derrick Ogechi believes Kenya can go all the way and win the 2023 FIBA AfroCan tournament, ahead of their match against Gabon today Monday from 12:30pm.
Ogechi dropped 19 points and eight rebounds to inspire Kenya Morans to an important 62-52 win over Ivory Coast in their opening Group A match played at the Kilamba Arena in Luanda, Angola last Saturday.
Morans now need a win against Gabon today to be sure of a spot in the last eight and debutant Ogechi believes Kenya has the ability to do it.
Speaking after their victory over the West African nation, Ogechi said if they play according to plan and execute their defensive and offensive tactics well, they will be good to go.
"We dominated the rim and rebounds against Ivory Coast and that is what we need to do even better against Gabon. We showed the African continent that we are a good team and now we have to continue the job," said the US based player.
"We are going to take it a game at a time and I believe we can win it. We have the quality to go all the way to the final again, but this time, come back home with the crown."
The Midwestern State University point-guard made three 3-pointers in eight attempts, four two pointers and two free throws to guide Morans past the West Africans.
Griffin Ligare followed with 13 points as Tom Bush Wamukota commanded the rim with a huge 19 rebounds and eight points.
Kenya Basketball Federation (KBF) Premier League champion and Most Valuable Player Eugene Adera, who was also making his international debut, scored eight points and five rebounds as Fidel Okoth added four points while Bryan Sivachi Makutwa and Eric Mutoro bagged three points each.
Morans led the first quarter 15-10 before taking a seven point half time lead after a 19-17 second quarter performance saw them lead 34-27.
In the final half, Morans were forced to a 15-15 tie by the end of the third quarter but closed the game with a 13-10 final quarter show to win 62-52.
Kenya now leads Group A with two points ahead of their second and final pool match against Gabon.
Ulrich Mohamed Kra was Ivory Coast's top scorer with 14 points followed by Yacouba Sanogo, who sunk 13 points.
The teams that finish in the first places of Groups A,B,C and D, qualify for the quarterfinals.
The teams that finish in second and third places of each group will have a second chance to remain in competition by playing in the qualification round to the quarters, where the losing teams will be eliminated.
The four semifinalists will qualify for the 2027 FIBA AfroCan, while the losing teams at the last eight, will compete in the Classification Round.
Related Topics