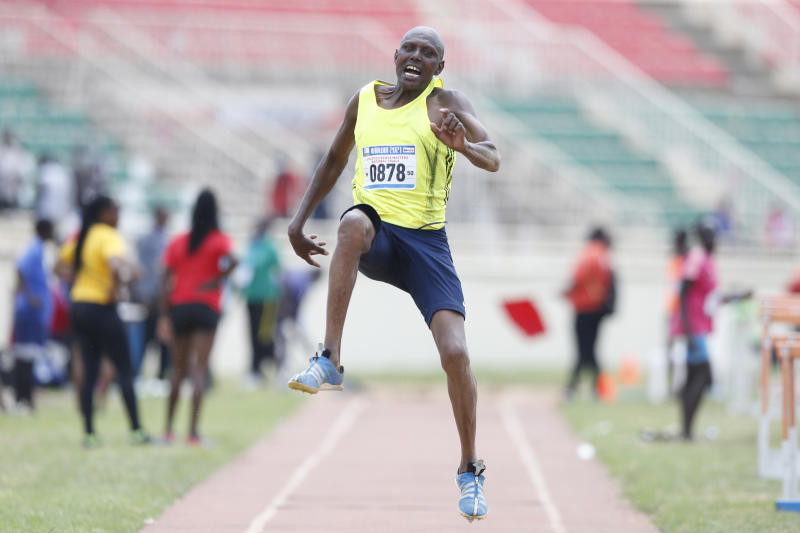 At Taach Asis village in Moiben, Uasin Gishu County, Jacob Katonon passes for an ordinary maize farmer in an area known as Kenya's grain basket.
His house is in the middle of a maize plantation, barely two kilometres away from Garage trading centre.
It is a warm afternoon and Katonon admires his crop as he shares a light moment with his wife Prisca. He is looking forward to a bumper harvest later this year.
As a young boy growing up in Taach Asis, Katonon jumped over fences, rivers and streams, ditches, and logs in nearby thickets.
The childhood hops and jumps would propel Katonon to national record holder in the long, triple, and high jump in the 1990s.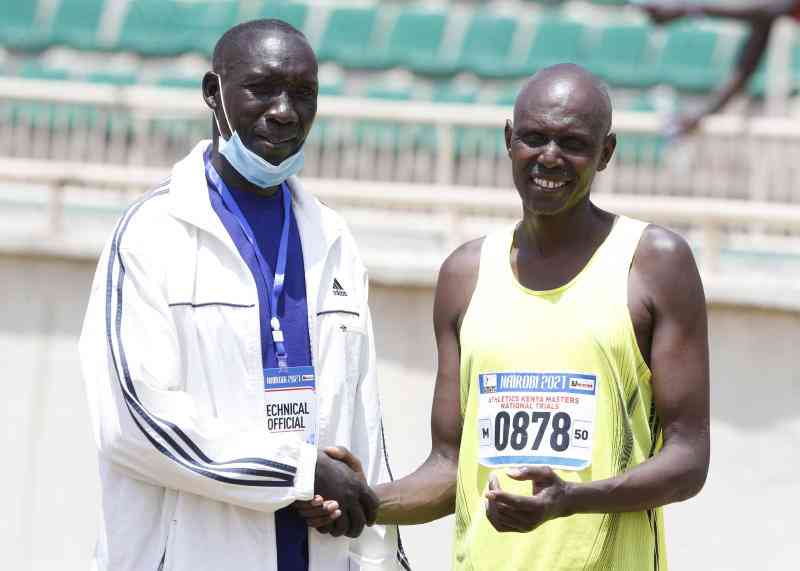 It would also become the stepping stone that catapulted the 'village boy' to the field events' high table at both the national and continental stages.
The unsung hero set the national long jump record on September 14, 1995, and a year later soared to the country's highest mark in triple jump.
With his tall, slim physique and baby face, one would think Katonon, 53, is a field events athlete at his peak, but he is retired.
He quickly displays his triple and long jump tactics at his lush green compound. Today, Katonon still holds two national records out of the three after Mathew Sawe bettered his 2.24m high jump record at the 2018 African Championships.
But maize farming in Taach Asisi is not the limit for Katonon, who was trained by inexhaustible athletics tactician Brother Colm O'Connell in Iten.
He wants to coach the next generation of high, long and triple jump athletes.
"My long-standing national records tell you that I have the secrets to the country's success in field events. I want to produce field event athletes who can compete at the Diamond Leagues and compete with world-class fields in global championships," he said.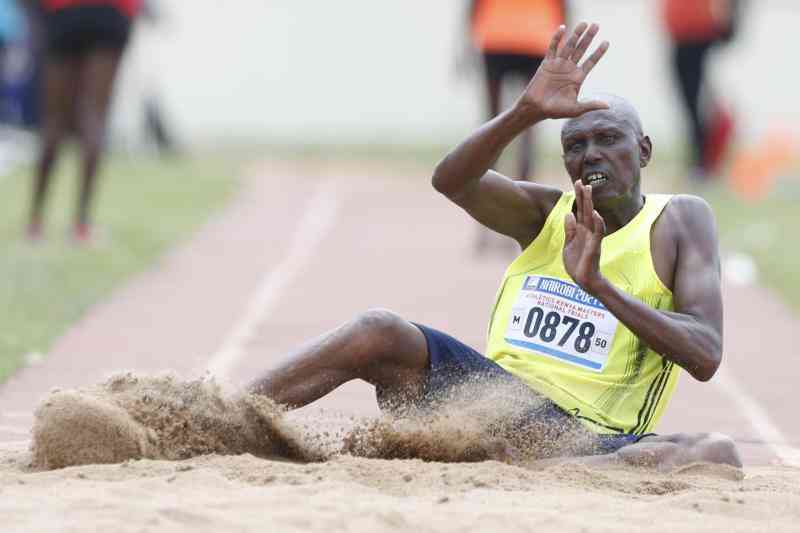 He reminisces how he effortlessly jumped across the swollen nearby river Arbabuch as they hunted down antelopes with his teenage friends, a feat that made it easy for him to compete in three field events at Tachasis Primary School.
The masters athlete was also thrust into field events after frequent long strides to and from Moiben trading centre, which is about 5km away from his parents' home.
Katonon trained as a field events coach in Senegal soon after retiring from the sport. He qualified to represent Kenya in the 2021 Africa Masters Athletics Championships (AFMA), but could not participate.
"When my high jump national record was bettered (in 2018) many Kenyans didn't know that I was still alive. What they did not know is that I balanced the three field events during a time when there were no facilities. Today, facilities can be accessed, but we don't have as many coaches as we would wish to. I see many talents in school competitions, but no one is sharpening their skills," he said.
His memorable competition was at the 1996 Atlanta Olympics. An injury would, however, derail his career after 1996, dashing his hopes of further conquering the world.
He says he prepared for the Atlanta showpiece in Mississippi, USA alongside Triple Jump World Record holder Jonathan Edwards.
"I was lucky to have trained with Jonathan Edwards ahead of the 1996 Olympics in Atlanta. During our prime, he became a world record holder and I held the African record."
"The fans were supportive during my prime, especially when I was competing at the Olympics. The World Athletics (then International Amateur Athletic Federation) was supportive. I was asked where I wanted to train ahead of the Atlanta Olympics and I chose Mississippi," Katonon added.
To shape his career before 1996, Katonon trained at the 12th Engineers Thika Barracks where he accessed facilities and technical training. Before training in Thika, Katonon watched several high, triple and long jump competitions on international television channels and repeated their tactics several times under the close watch of coach Bro Colm.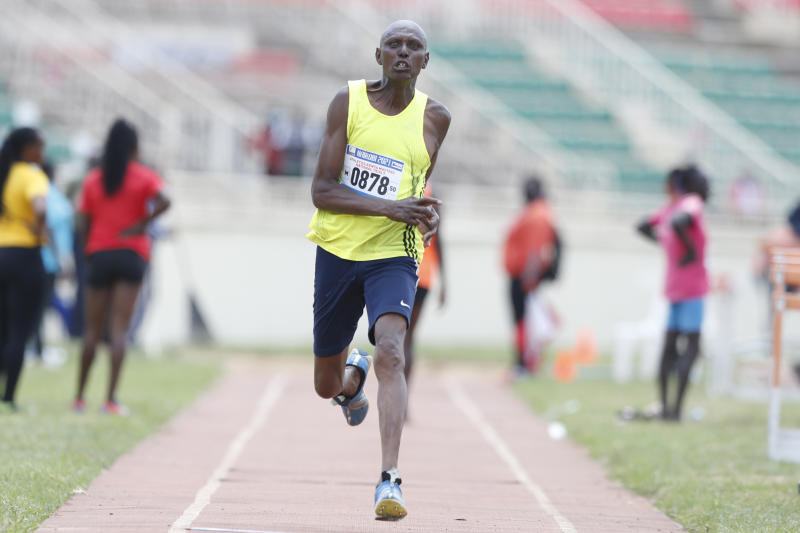 Bro Colm, an Irish missionary and teacher who became Kenya's father of athletics coaching, spotted Katonon during school games championships in the early 1990s where he was competing as a sprinter (100m, 200m and 400m) before later discovering his prowess in the field events.
"I now want to receive aspiring field events athletes to come here and learn. I want to share my skills and experiences with them. I want to share and expose them to essential tactics. I am urging my county (Uasin Gishu) to step in and help me nurture young talents. I am now a farmer, but my heart is in nurturing a strong field events team," Katonon told Standard Sport.
When asked how the field events changed his life, Katonon said his career took him to nearly 50 countries within five years in the 1990s.
"When we talk about achievements, field events took me to places I would not have reached had I not been an athlete. I am in a stable marriage. I am also working hard in agriculture and educating my children. All these are courtesy of my athletics career. The earnings from sport were not much but I gained discipline and focus," Katonon said.
He says he is still available to fly the country's flag in masters competitions and has set his eyes on setting a long jump record in his category.
"Field events are my passion. I am ready for the masters championships any time because I want to take part until that time that my legs can no longer move. The good thing is that an athlete is allowed to participate in masters events until one attains 105 years. If I will be lucky to be alive, you will see me competing in my 80s," he said.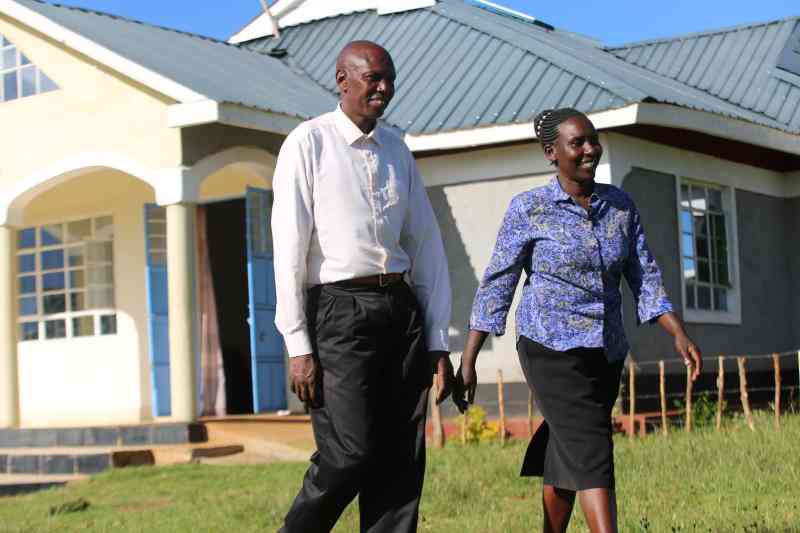 His son Milton Katonon – a student at Kapkoimur Secondary School in Nandi is an upcoming high jumper. His father says he will support him in his quest to follow in his (father's) steps.
Katonon's mother, Mary describes her son Jacob as a tireless yet uncelebrated field events legend.
Mary, also a celebrated farmer, says her son won the field events effortlessly as a schoolboy before going ahead to represent the country in major championships.
"Jacob never gave up. He loved and still loves sports. I am even more proud that he has a son who is following in his steps," Mary said.
Related Topics