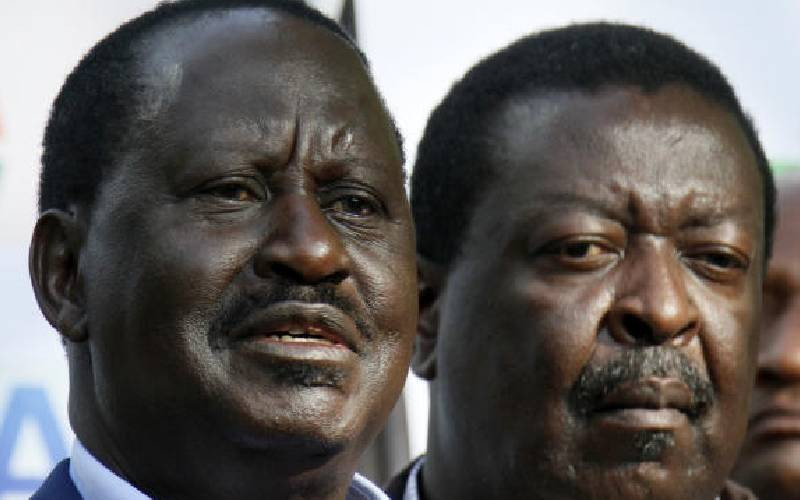 In February this year, Musalia Mudavadi told a political gathering in Embu that Raila Odinga was a "too heavy political burden to carry".
That is because in 2007, 2013 and 2017, he, Moses Wetangula and Kalonzo Musyoka supported Raila's presidential bids that failed.
No doubt, Mudavadi was unconsciously seeking validation after decamping from One Kenya Alliance to team up with William Ruto (United Democratic Alliance) and Wetangula (Ford-K) in Kenya Kwanza.
Wetangula, Mudavadi and Musyoka had earlier jointly formed One Kenya Alliance after a fallout with Raila (ODM). In 2017, the parties formed the National Super Alliance (NASA) but couldn't wrest the presidency from Uhuru Kenyatta even after the Supreme Court nullified the August 2017 presidential election.
NASA started disintegrating after Raila's mock swearing-in ceremony as the people's president on January 31, 2018 and the March 9, 2018 surprise handshake between hitherto nemeses Uhuru and Raila. Mudavadi would then sulk after Raila allegedly reneged on a hazy 2017 agreement about backing each other for the presidency.
Anyway, that is so much water under the bridge today. But talking of 'heavy burdens', one wonders; has Mudavadi ever considered that he could be jinxed, therefore, a bad-luck charm to colleagues?
He holds the record of being the shortest-serving vice president in Kenya (three months) whose appointment in 2002 was meant to bring the Western Kenya vote to the Kanu basket. He failed to deliver, and Kanu lost.
When Mudavadi teamed up with Uhuru as his running mate in 2002, they were humiliated and Mudavadi lost his Sabatia parliamentary seat.
In 2007 when he was Raila's running mate, they flunked. In 2013, he shoved the Raila burden aside to contest the presidency and lost to Uhuru and Ruto. He managed to get a measly 483,981 votes.
Since Mudavadi teamed up with Ruto in Kenya Kwanza, the blitzkrieg that the latter had created in the last four years started losing steam. Today, it is tottering. Ruto is gradually losing the stranglehold he had on the Mt Kenya region.
Central Kenya leaders are unhappy that although there are 21 parties under Kenya Kwanza, only ANC and Ford-K hog the limelight and have a promise of 30 per cent share of government should Kenya Kwanza win.
That is the burden that Mudavadi took to Kenya Kwanza, and now the alliance stares at the prospects of losing both Western and Central Kenya going by the latest opinion polls by Infotrak. Lately, Central Kenya leaders have been boycotting Kenya Kwanza rallies.
William Kabogo of Tujibebe Wakenya party, Moses Kuria of Chama Cha Kazi party, Irungu Nyakera of Farmers Party and Mwangi Kiunjuri of The Service Party claim they are in the dark regarding the contents of the agreement they signed with Kenya Kwanza.
Even though Mudavadi hopes to succeed where he failed in 2002 by delivering 70 per cent of the Luhya vote to Kenya Kwanza, it is increasingly becoming clear that he bit more than he can comfortably chew, and rebellion inside ANC and Kenya Kwanza is nigh.
Jackline Okanya, Mumias West parliamentary seat aspirant gave the principals a taste of rebellion recently. She told them to their faces that she will not be browbeaten into giving up her ambition in favour of UDA's Rashid Echesa.
In a country where sycophancy is an armour that most politicians wear with pride, it is good to know there are some leaders who have principles; leaders who can say hatupangwingwi.
Related Topics