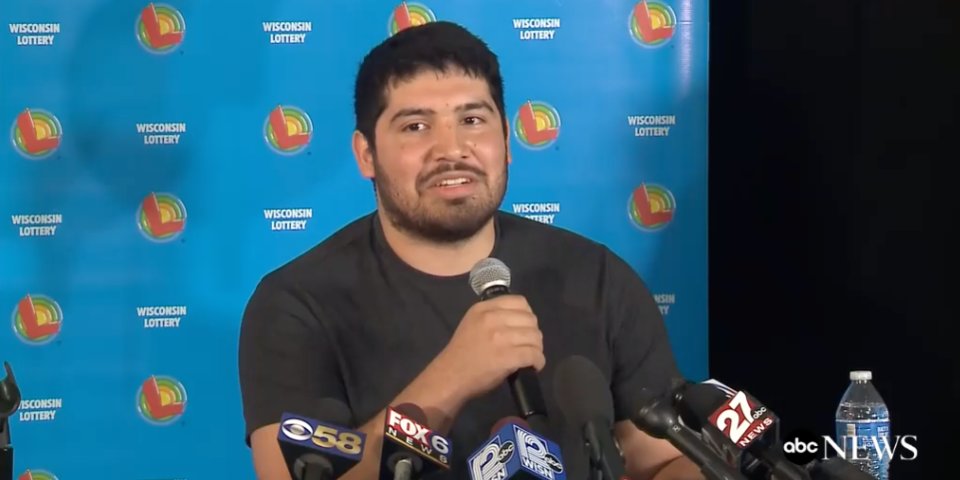 A 24-year-old Wisconsin man was revealed on Tuesday as the winner of the $768.4 million Powerball jackpot.
Manuel Franco from West Allis claimed his winnings at the state lottery headquarters in Madison.
Franco, who declined to reveal much about himself at a news conference conducted by Wisconsin Lottery officials, said his financial goal before winning the jackpot was getting his bank account to the $1,000 mark.
Addressing reporters at a press conference, Franco said that he spent $10 on five tickets at a gas station the day before the March 28 draw for the $768 million Powerball jackpot.
"I walked into the Speedway and I purchased $10 worth of individual Powerball tickets," Franco said. "I honestly felt so lucky that I did look up at the camera and I wanted to wink at it because I just had that lucky feeling."
When Franco got home, he grabbed the 10 tickets he purchased after work the day.
The first four tickets that he had had no winning numbers. It was the last ticket in his hand that ended up being the big winner.
"It feels like a dream," Franco said.
"It was amazing, my heart started racing, blood pumping," he said. "I screamed for about 5 or 10 minutes."
"My dad cried a lot, my mom, she thought I was in trouble. And she's like, 'You need to tell me the truth. Is that what happened?' I said, 'Yes, Mom, that is true,' he added.
Under Wisconsin law, winners cannot remain anonymous.
Franco said he is accepting the lump sum where the state will keep $36.4 million in taxes and the federal government will keep $114.6 million in taxes, leaving him with $326 million according to lottery officials.
"I'm sure you'll never see me as like one of the people who went bankrupt or broke or anything like that. I plan to live my life normal as much as possible," he said.
Franco added that he doesn't know what his future holds but that he wants to make some charitable contributions and was prepared for people who might come asking for money.
"I'm ready and I know how to say no," Franco said. "I'm just going to take off somewhere and, honestly, just take my time with it, think it over, talk to my family and make sure I spent it in the right way."
The prize is the largest jackpot in the Wisconsin Lottery's history and the third-largest lottery prize in U.S. history.