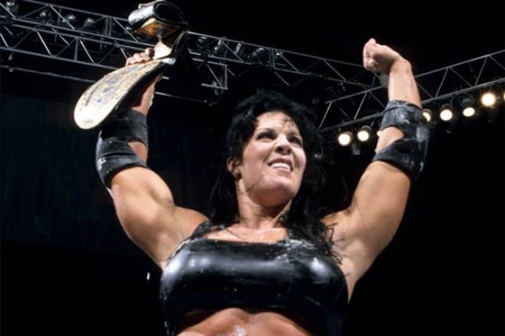 Chyna, who was billed as the Ninth Wonder of The World, passed away on Wednesday
WWE legend Joanie 'Chyna' Laurer has died aged 45.
"It is with deep sadness to inform you today that we lost a true icon, a real life superhero," a statement posted on her social media accounts on Wednesday evening read.
"Joanie Laurer aka Chyna, the 9th wonder of the world has passed away. She will live forever in the memories of her millions of fans and all of us that loved her."
Anthony Anzaldo, her manager, said she was found in the afternoon and that no cause of death had been determined, though TMZ reports that she died from a possible overdose and police are investigating.
"The Redondo Beach Police received a 911 call from a friend of the apartment unit resident that the female inside was not breathing," a statement from Redondo Beach police said.
"The friend told Redondo Beach Police that the female had not answered her phone in a few days, and went to the location to check on her welfare. Officers arrived on scene and discovered a deceased female inside the location."
She first rose to fame in WWF in 1997 and was soon billed as the Ninth Wonder of The World.
Chyna was the first woman to take part in the Royal Rumble and King of Ring Events and became the number one contender to the WWF Championship.
Outside of the wrestling ring, she posed for Playboy and made several appearances on reality TV shows, including VH1's The Surreal Life.
The star struggled with addiction for years and appeared on Celebrity Rehab with Dr Drew in 2008.
Between 2004 and 2014 she also released six porn films.
In 2010 she moved to Japan to teach English.
Speaking to Vice last year, Chyna shared: "There's a misconception out there in the media that I've become this monster. In the meantime, I'm just trying to get a job and live my life."