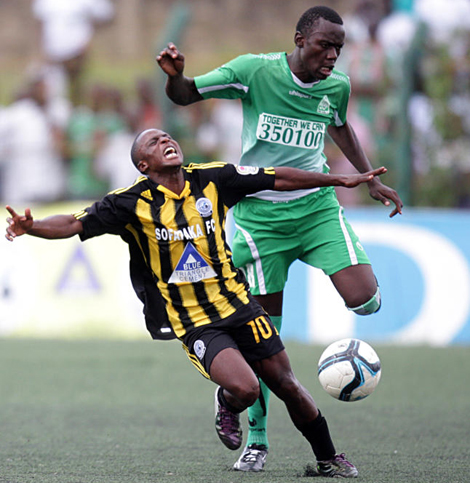 I just have the feeling that Gor Mahia will end Sofapaka 2014 campaign. Reason, Sofapaka will be Gor's biggest test since the start of the season and Gor Players will love to prove to the KPL teams that they are more than ready to win title.
More reasons:
*Timothy and Emuge are expected to be fully fully fit by Sunday.
*Dan and Blackberry have a good record against Sofapaka and will terrorise thier defence for 90 minutes.
*Geoffrey Kizito will want to prove that he's better than Maurice Odipo and will want to boss the midfield.
*David Owino will love to silent Timbe.
*Musa Muhammed will want to prove to Bobby Williamson that he deserves a place in the national team by trying to stop the tricky Danson Kago and Enock Agwanda
*Dan Sserunkuma will unleash the beast in him and prove not only to fans but the whole of Kenya that he truly deserves Gor jersey.
*Frank will love to prove to every football fan that he can stop any coach. – BY PURITY NDUNGE
Your say
Mzee Barrack HeadSurgery —Sofapaka vs Gor Mahia......Hapo tunakuangaa SURE na 3points. Hii si Mathare wala Citystars or Sony yenye tunaogopa??? LEAGUE IMENYANYULIWA WAKUBWA!!!
Kalee Collins — Congratulations jerry jagoal and your family for the bouncing baby boy# GINIWASENUOYO
Hamza Wa Tottenham — If there is any one Kogalo fan who deserve's a huge reward is that drum man who entertains us at the game and after the game..I tell you after the game we all follow him to Tao..singing and dancing and he is the key man just shout(that's how we request) for a song and without hesitation he starts beating his round shaped drum playing ur tune from Baricho road towards uhuru highway up to our final destination Tom-mboya
Achieng AchimoahGyan LuisnazariodeLima Matuidi — If we can buy and rock Machakos and Kisumu in joma we will not only be appearing as a unit but also supporting the club in a big way especially now that we do not have a sponsor.
Haggai Daktari — try and cause any kind of chaos in Machakos on Sunday during our game against SOFAPAKA and you are as good as DEAD! IT'S NOT A WARNING!