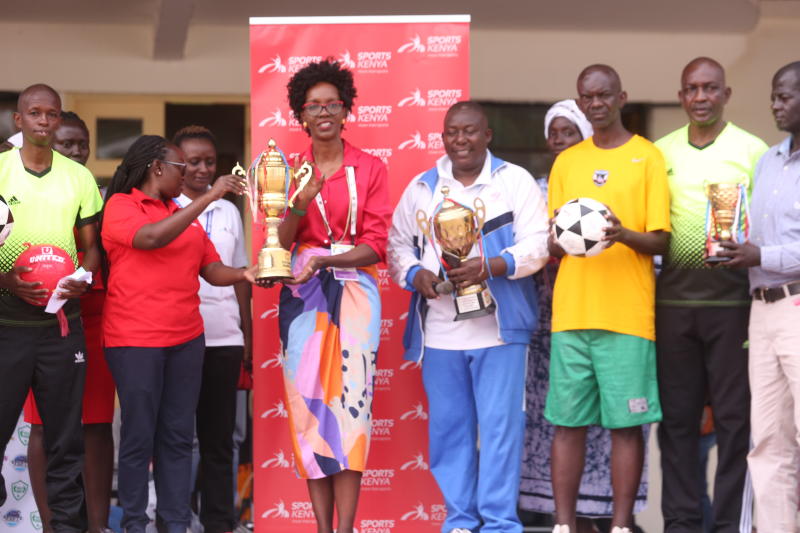 The Africities Sports Challenge will kick off on Friday with corporate and school football matches lined up to take place at Moi Stadium, Kisumu Polytechnic Grounds and Kisumu Day grounds.
Speaking on Wednesday during the pooling of the matches, tournament coordinator George Nyakundi said their goal is to develop the talent of young players and promote football.
"We want to give young footballers who are still in school hope. We want them to know that talent pays and they can get to be the next Victor Wanyamas and Michael Olungas through hard work," explained Nyakundi.
The Africities Sports Challenge will replace the annual YY Ambassadors Cup normally organised by Nyakundi who is passionate about grassroots sports development.
It will be supported by the Kisumu County Government, Sports Tourism, Sports Kenya and YY Ambassadors Academy.
Kisumu County Sports CEC Achi Alai urged many to turn up on Friday and Saturday as she promised to continue working hard to improve sports infrastructure in the county.
"We are happy with the progress of the Africities and looking forward to being entertained even more when the sports challenge kicks off on Friday. Kisumu has many talents andI am proud to be working with such a talented generation as we strive to improve our standards every day," Alai said.
Ali further called upon stakeholders in various industries to take part through sponsorships and partnerships in order to support the success of the initiative.
Paul Mutua, Marketing Director of Sports Tourism Limited, said the main objective is to offer a thrilling sporting experience for the participants and the local residents.
Nyakundi and Ali proceeded to conduct the draw for the football matches set for Friday where Kisumu County football giants Kisumu Day were pooled in Group B alongside Otieno Oyoo, Kasagam and Ebwali.
YY Ambassadors Cup defending champions St Joseph Kisumu will face Ambassadors Academy from Kisii, Kapsengere from Vihiga and Kisumu Boys in Group C
Group A has Wera, Gekano, Ebwali and Awasi as St Igantious Magadi tackle Sigalame, Lela and Prof. Anyang Nyongo Mixed Secondary School in Group D.
Winners will be awarded balls, certificates and uniforms.
Africities conference began on Tuesday and ends on Saturday.