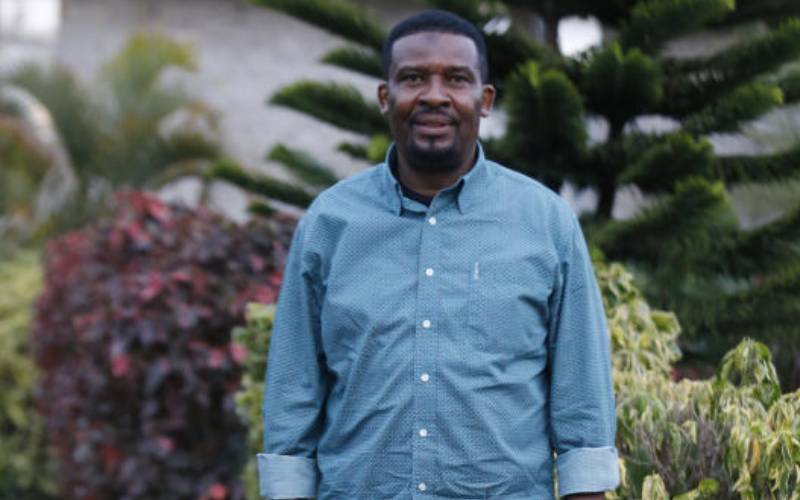 There will be at least a trophy and prize money for FKF Premier League winners at the end of the 2021/2022 season, FKF Caretaker Committee head of leagues and competitions Ali Amour has said.
This comes barely a month before the term of the Justice (Rtd) Aaron Ringera-led Committee expires on May 11.
Though the league champions are likely not to feature in next season's CAF Champions league due to the recent ratification of Kenya's indefinite suspension by the world football governing body, Fifa, Amour says they have recommended the incentives to the incoming office.
Kenya had initially been suspended on February 24, 2022 after Fifa termed the Sports Cabinet Secretary Amina Mohamed's act to disband FKF as government interference.
The Sports CS disbanded FKF on November 11, 2021 over allegations of misappropriation of funds and installed a Caretaker Committee to manage football affairs for a period of six months.
Currently, Kakamega Homeboyz, who host Sofapaka at Bukhungu Stadium tomorrow, are at the top of the FKF PL standings with 53 points, ten more than second placed and defending champions Tusker.
But Amour insists there is no need to panic as the government is doing everything possible to resolve the impasse and ensure the league runs to its conclusion on June 11.
He says the league winners will get a better package than what the brewers got (Sh5M) when they won the title last campaign. But that's only if the incoming office implements the proposed recommendations.
"As a Caretaker Committee we had a prize money and trophy for FKF Premier League and other league winners in our plans. We had budgeted for it, it's only that we could not unveil it because the plan had not been fully solidified. Unfortunately, we will be leaving office before the league ends and that's why we are non-committal on the amount," Amour told Standard Sports.
"The clubs are not playing for free, as a former footballer a trophy or an incentive drives you and that's key to a healthy competition. I can't tell you the figure, but just know it was more than what the league winners used to get. It's a substantial figure that we had discussed, we will recommend it to the incoming office."
He continued: "For us, everybody is a winner. And according to our recommendations each club should at least get something because without other clubs there will be no champion. We wanted to do things completely differently. We feel this is the best way to motivate other participating teams. But it's up to the incoming office to implement it or drop it.
"By the way, there will be no vacuum when we leave the office. The ministry is planning everything, there will be somebody to hand over the management of the leagues when our term expires. That person will soon be unveiled. If some people think there will be a vacuum, they are in for a rude shock. We are already preparing a handover report to the next officer holders.
"People have been talking about the leagues not being recognised by Fifa, no, it doesn't start and end there. Can you imagine what an idle youth will do? Just imagine 4,500 clubs, all of them being idle. What will happen to society? So, we should be proud of ourselves as Kenyans because we have running leagues and structures are coming into place. If the Fifa suspension is lifted today and we don't have running leagues, what will happen to those clubs that are not concentrating?"
Asked what will happen with the delayed referees' payment and monthly grants to clubs after their term elapses, Amour said: "I know there's been a lot of questions coming in regards to delays in payments. Yes, we take that responsibility but that's because of the process involved in disbursing the funds. But as we speak, the referees have started receiving their pay and I can promise they'll get all their money before we leave office.
"Just like the referees have some grant arrears for clubs but I can assure them they will get all their money soon. We disbursed the funds in the first and second month, but the Finance Committee is trying to work on the balances and they will be disbursed in one or two months' time. Our plan is to settle the balance but that depends on the funds we are going to receive from the ministry. It's not our money, but the clubs' funds."
Reacting on Kenya's chances to participate in the upcoming 2023 AFCON Qualifiers after the continental body placed Harambee Stars in Pot two ahead of the draws on Tuesday in Ivory Coast, Amour said: "I will tell Kenyans to remain positive because I know some people are working hard somewhere to ensure that we are back in Fifa fold and even play in the qualifiers. We need to put structures in place and ensure we achieve our goals as Kenyans because football belongs to Kenyans."
According to CAF, Kenya will only be allowed to compete in the qualifiers if their suspension is lifted by Fifa two weeks to match day one in July.