Five counties explore coffee production success in climate-smart venture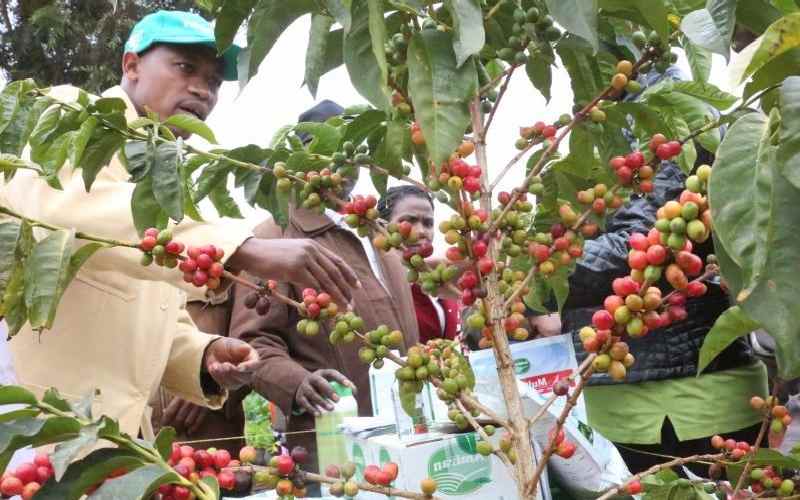 Five coffee growing counties have started mainstreaming climate-smart agriculture in a move to enhance adaptation and boost production of coffee.
Through the initiative piloted in 2018 by Nature Kenya and Rainforest Alliance, the five coffee growing counties were selected to pilot the climate smart agriculture to boost production while mitigating climate change effects. The five counties are Meru, Embu, Kirinyaga, Nyeri and Murang'a.
The counties, according to Mary Nzomo, the chair of Kenya's Agriculture County Executive Committee, have been faced with adverse effects of climate change that has resulting in reduced production.
"The agriculture sector is vulnerable to climate change and this has really affected the coffee industry where production has been dwindling in coffee growing areas. This has also resulted in increasing pests and diseases while farmers continue to count losses as a result," Nzomo said.
She added that the initiative helped farmers adopt to the changing climate while also helping in interventions.
"We realised farmers had challenges and production was going down. We teamed up with Rainforest Alliance to mainstream climate smart agriculture in these counties to increase resilience and enhance adaptation," said Nature Kenya director Dr Paul Matiku.
He said mainstreaming programme is meant to customise some of the strategies applied in climate-smart farming to suit the needs in the coffee sector while ensuring farming practices adapt and mitigate to meet the prevailing changing climatic conditions while improving productivity.
East Africa Rainforest Alliance director Julius Nganga said there is a need for more support to farmers to address the challenges in the sector.
"Farmers alone cannot address the challenges and that is why we teamed up to help counties mainstream the climate smart agriculture," Ng'ang'a said.
Take a quick survey and help us improve our website
Take a survey
Nyeri Agriculture executive James Muturi said farmers have been hardest hit by climate change which has hurt production. Unlike previous years when it was easier to predict weather, he said the changing phenomenon has seen farmers incurring losses.
"Farmers can no longer tell weather so they can plan activities for the entire year. It is not easy to tell flowering season because of heavy rains," he said.
However, besides developing a directorate for mainstreaming climate change, he said Nyeri County has started an initiative of helping farmers test the soil to tell suitable fertiliser to use on their farms.
Embu Agriculture executive Jamleck Muturi said mainstreaming climate change initiative came at the right time when farmers were feeling the impact of increasing coffee diseases and pests and dwindling production.
"Climate change is no longer foreign. Farmers are already feeling it and it is affecting the flowering and fuiting patterns in coffee plants. There has also been increased pests like stem borers which were not very common before."
Muturi, however, added that there is a need to invest in more research on mitigation.
Muranga Agriculture executive Albert Mwaniki says mainstreaming climate smart agriculture has seen the formation of a coffee directorate in the county where several interventions have been put in place.
In the pilot programme, 125 extension officers and 1,250 small holder farmers from the five counties have since been trained.