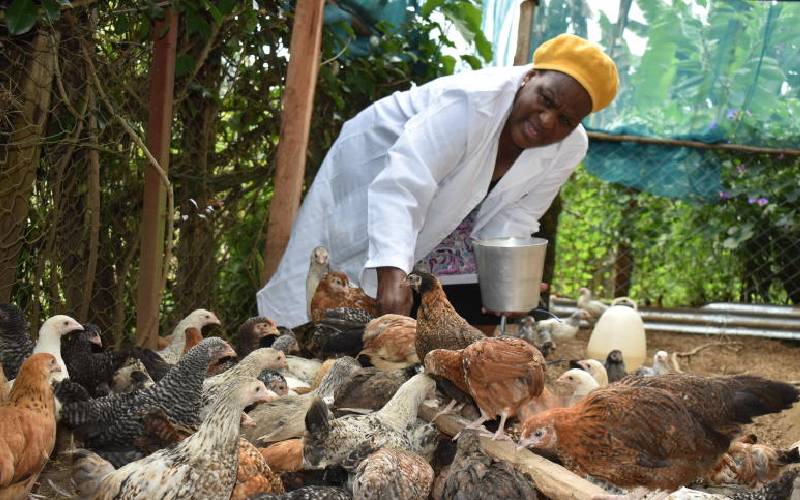 In 2011, Jane Meja was convinced by a workmate to venture into poultry farming. One Easter holidays, she paid her friend a visit and was impressed by what she saw from the records.
"When I went back home, I bought 300 day-old Kenbro chicks at Sh100 each. I followed all the procedures given to me and after three months, the chicks had grown. This was the start of my downfall," says Meja, an accountant from Shamiloli village, Kakamega County.
Kenbro is a red feathered bird ideal for free range production. It is disease resistant and after brooding for three weeks it can be managed on free range with minimum supplementary feeding. It is ready for consumption or sale after 10 to 14 weeks.
False starts
Despite its strong attributes, the farmer says the breed was not popular with villagers. They preferred indigenous breeds, which they said were more tasty.
"To avoid further losses, I slaughtered 80 per cent of the birds for my family and sold the remaining making a paltry Sh12,000. To mimimise my losses, I started to grow indigenous vegetables as I moved away from kenbro rearing," says Ms Meja.
In 2008, her husband, Adrian Mambili Meja once again convinced her to try another shot at chicken but this time round, to rear pure Kienyeji chicken.
To set the ball rolling, Meja bought 200-day-old pure Kienyeji chicks and with the help of a link from Kenya Agricultural Livestock and Research Organisation in Naivasha, she started her new journey.
"At the beginning, I used to give the chicks glucose but later changed it to milk for seven days. The milk works like liquid paraffin (not kerosene) and helps to clear and soften the digestive system to boost digestion," says Meja.
According to her, giving chicks milk also prevents constipation, which can be fatal to them.
On feeding, for the first 14 days, she fed the chicks on chick starter since it is rich in proteins and vitamins. The chick starter also helps the birds grow faster. After two months, she changed the feeds to growers mash and the substituted with grains.
The downside
Much as the current breed have a ready market, she says they have a downside.
"It's expensive to rear pure Kienyeji chicken in terms of production costs. They eat a lot of food and the growth rate is slow compared to improved breeds. If you are not keen, you may end up making huge losses from the venture," says Meja.
To boost her profit margins, when the birds started laying eggs at seven months, she immediately bought three incubators with a holding capacity of 528 eggs each.
With that investment, she dived into chick hatching business.
"Between August 2018 - June 2020, her birds laid more than 48,000 eggs and 80 per cent hatched. We sold the chicks in weeks. By that time they are strong enough to survive when moved to a new environment. We sold a piece at Sh150 and made a tidy sum," says Meja.
The fact that she works in Nairobi and runs a farm in the village has come with its share of challenges.
"I used to be in Nairobi most of the times and when the birds laid eggs, my workers used to sell them but they did not submit the cash, which was frustrating."
"I used to send money to buy feeds and vaccines but they were diverted to other uses. I decided to install CCTV cameras on my farm to monitor what is going on from my phone when in Nairobi. None of the workers knew I had installed the cameras until recently."
With the monitoring and surveillance technology, the workers are now at their best behaviour and this has translated to improved profits.
While local farmers prefer live birds, customers in distant markets like Nairobi, Mombasa and Nakuru want them slaughtered, smoked and packed and ferried as a parcel.
When she transports a slaughtered bird as a parcel, the client pays Sh1,000 and an extra fee for courier services.
She now has 600 pure Kienyeji layers and over 3,000 one-month-old chicks that are ready for sale. She plans to invest in at least 2,000 layers to tap into the upcoming the festive season.