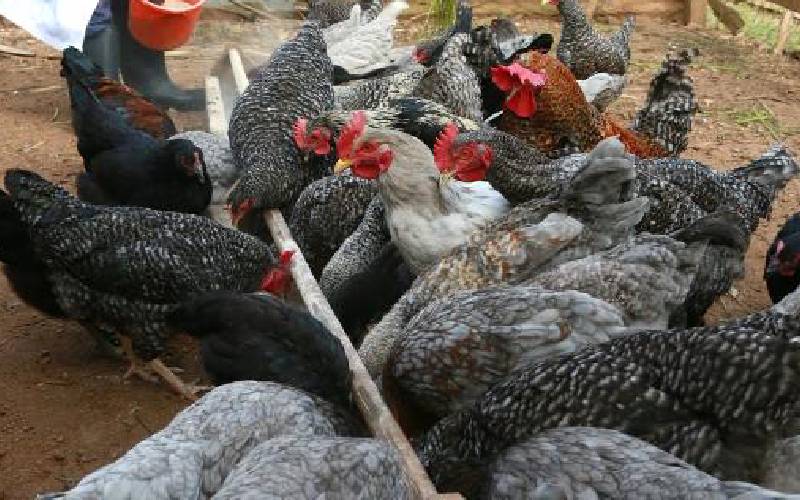 After retiring as a taxi driver in Kakamega town where he had worked for 26 years, Mzee Pius Shiundu, 74, realised he had wasted his life. Despite the many years he had invested in the business, Shiundu's employer sent him away empty handed.
But the beauty of life is that it has second chances. In 1997, he attended the annual Agricultural Show of Kenya show in Kakamega town and saw light. He then developed an interest in poultry farming. He started with 20 pure Kienyeji chicken and after three months they started laying eggs.
"From the show, I bought two cocks and 18 hens and that is how we started. After three months they started laying eggs."
Slowly, the brood grew and became his main source of income.
Big blow
To sharpen his craft, along the way he has attended several trainings. In, 2014 when he attended a poultry farmer's workshop in Kakamega town organised by KenChic who enlightened them on improved Kienyeji chicken.
"I bought 100 one-day chics but they all died after three days. Having learnt from the previous mistakes, I bought again another batch of 200 one month old chicks and after five months they started laying eggs," recalls Shiundu.
With time, the business picked up.
On average, per season, he makes, Sh200,000 from selling eggs only and Sh350,000 from selling improved Kienyeji chickens in events like weddings, funerals, church functions and within hotels in Kakamega town.
Seeing how profitable improved Kienyeji chicken business is, Shiundu bought 1,000 chicken that were one month old in 2015.
"I used to collect between 1,500 – 3,000 eggs every week. From this, I used to keep 500 every week for hatching. I had a friend who had an incubator with a capacity of 2,400 eggs who used to help me in hatching chicks and then sell them when they are one day at Sh100 and when one month at Sh200," Shiundu says. Like all business, there are storms.
Sometime in 2017, there was an influx of cheap eggs from Uganda that flooded the Kenyan market.
Disease management
"They were selling a tray at Sh240 meaning one egg was Sh8 at a time we were selling a tray of eggs from improved chicken at Sh400. (one egg at Sh15). If you were to sell at that price, you will make losses in the long run," recalls Shiundu. To stay in business, Mr Shiundu stopped selling eggs. He also practises best practices.
For healthy stock and more yields, feeding is key. For chicks between 1 day and 4 weeks, he feeds them on chick mash and then growers and layers mash when they are six weeks and above. He does not give them any supplements like greens and grains. A month ago, a strange disease attacked his two months old chicken. About 150 died and another 100 have developed similar symptoms.
"I called veterinary officers and told me it was gumboro. They told me the remaining stock can't be treated since they will also die."
Gumboro is an infectious bursal disease that mainly affects young chickens characterised by immunosuppression and mortality at 3 to 6 weeks of age.
Shiundu says the vets told him he might have missed vaccinating them before attaining 4 weeks after being hatched.
Expert take
Kenya Agricultural Research and Livestock Development Organisation – Kakamega Non Ruminant Research Centre director Ludovicus Okitoi says poultry farmers should use as little anti-biotics as possible to ensure the birds do not develop resistance.
Dr Okitoi says a poultry farmer should use wood shavings where the birds are housed and that they should avoid water spillage in the room to avoid creating a breeding ground for bacteria.
"Common poultry diseases are Newcastle, infectious bronchitis and gumboro, foul pox, foul typhoid and salmonella. Hygiene is a key factor to keep diseases at bay. When birds are confined in one place, a farmer should be careful as one of these diseases may break out leading to losses," says Dr Okitoi.
From poultry business, he has done a lot.
"I have bought a 10-acre shamba where my sons have built their houses." He has also educated 10 of his children up to university level. He is now investing in fish farming and has a fish pond.