Kirinyaga farmers keep off coffee, turn attention to eggs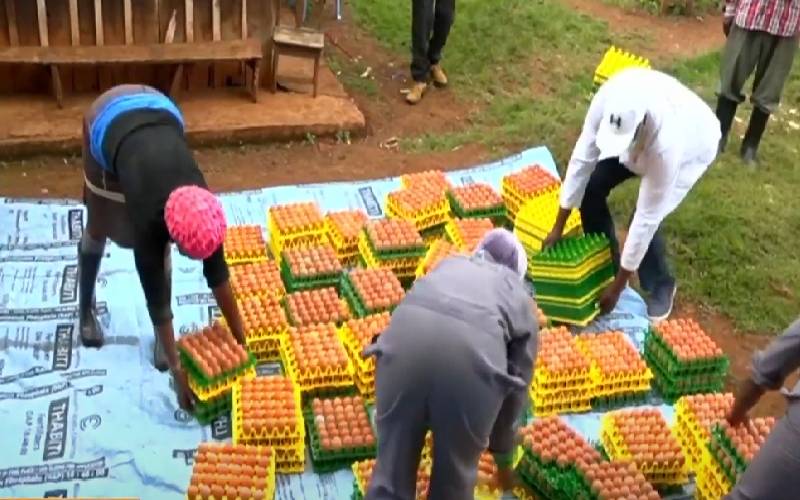 Farmers in Kutus, Kirinyaga county, are now turning their attention from coffee and tea and focusing on chicken and eggs.
They say the tea and coffee proceeds are not as lucrative as they were before. The farmers have formed groups such as the Mukulima Bora Self Help Group, to help them market their product.
They formed 40 such self-help groups in 2018 to rear kienyeji chicken. Some of the farmers admitted that the project has been successful and "will go far".
One farmer who spoke on a local television station said they collect up to 30 trays a day, a situation which has boosted the members' income.
The project has attracted sponsorship from the Kirinyaga county government, which promised to support such self-help initiatives to boost residents' income.
Kiaga factory manager Jackson Wachira said the groups have formed the Kirinyaga County Poultry Farmers Cooperative Society, which helps them save their money.
Kirinyaga Governor Anne Waiguru lauded the farmers, saying diversification is the sure way to help them meet their needs.
"If coffee prices go down, there is another source of income from tomato or from avocado."
The county has also set up a factory for processing chicken feed and a cooling plant for the eggs before they are ferried to the market.
Take a quick survey and help us improve our website
Take a survey
The group aims to pack three million eggs each month but asked the government to stop the importation of eggs from other countries.
"As we speak we are not looking for the market for the eggs, the demand is so high," Governor Waiguru said, adding that the cheap imports are hurting local businesses.
In March last year, egg prices at Wangige market, one of the largest egg markets in East Africa, were starting to pick up as traders attest.
Then kapput... They started to drop again as Smart Harvest discovered on a visit.
This followed the announcement that Uganda will resume exporting eggs to Kenya.
Ugandan President Yoweri Museveni was in Kenya for a two-day State visit then. During the visit, and after trade talks with President Uhuru Kenyatta, Museveni declared Uganda would continue exporting eggs to Kenya in the spirit of East African Community.
It was a shocker to poultry farmers at Wangige, who were just recovering from losses after selling eggs for as low as Sh150 per tray in the past few months following competition from cheap supplies from Uganda. They were worried about what would happen next.
Smart Harvest toured the market and found poultry farmers seething with rage following the announcement.
"Much as those regional relations matter, sometimes the government should put the interests of small scale traders first," Ms Anne Wangare, a trader, complained.
Wangare said the prices of eggs had just started to stabilise after the influx of eggs from Uganda stopped. A tray of eggs was trading at Sh250.