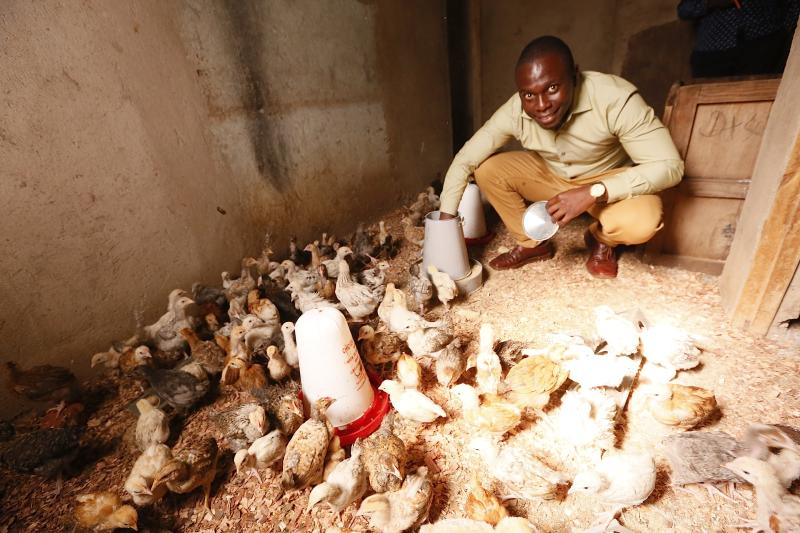 After graduating from the university, eight graduates from Lutonyi village in Kakamega Central Sub County found themselves in a tight corner. They tarmacked for three years without any meaningful employment.
Tired of being seen as a burden by their friends and relatives, they combined forces and formed the Fiab Self Help Group and started table banking in July 2017.
"We would contribute Sh500 every week from the menial jobs we did. After six months, we had saved Sh96,000," says Kelly Kadivira, the team leader. They started lending out the money among members attracting a 5 percent interest.
Having saved Sh220,000 by April 2018, they got into the poultry business. They would buy indigenous chicken aged between two and three months and resell them to local hotels in Kakamega town.
They sold some birds to locals who had events like weddings, funerals and birthday parties though this attracted low profit margins.
Agribusiness training
"We attended a youth workshop in Kisumu where we were taught on opportunities in agribusiness. From the training, we figured that getting into poultry farming was a good idea," said Kadivira. So they did.
They bought 200 day-old chicks, the Kalro Kienyeji Improved breed and another 200 from KenChic at Sh100 each totaling to Sh40,000.
"When the chicks were seven days old we administered gumboro vaccine and repeated it at day 14. At three weeks we administered Newcastle disease vaccine and at four weeks we vaccinated them against bronchitis disease," said Kadivira. They also administered fowl pox vaccine at six weeks and repeated the same after 12 weeks.
Feeding program
For the first seven days, they fed the chicks on starter mash and changed to chick mash then to growers mash when they were two months. They changed to layers mash when they started seeing the first eggs in October last year.
"Besides the normal feeding regime, we allow the birds to move around the compound under the free range system to get more nutrients. We also feed them on pumpkin leaves, ripe pawpaw and sukuma wiki," said Dennis Nyongesa, another group member.
"We would collect between 300 and 350 eggs daily for six days a week totaling to about 7440 eggs a month. By January this year, we had collected 29,760 eggs which we sold at Sh450 per tray totaling to Sh446,400," said Kadivira. He said the birds will continue laying eggs for eighteen months when they will sell off the old stock and bring a new one.
Ploughing back into the business
With the money from the sales, they imported two incubators from China; one at a cost of Sh100,000 that has a capacity of 1,056 eggs, the other at Sh140,000 with a capacity of 2,112 eggs. With the Sh206,400 balance they bought chicken feeds.
Diana Ambogo, a member of Fiab Self Help Group told Smart Harvest that after acquiring the incubators that have a hatchability rate of 93 per cent, they started hatching their own chicks and selling them when they are between 1 and 30 days old.
High chick mortality
But after selling the first hatched chicks to farmers they encountered a high mortality rate, forcing them to replace all the chicks that had died.
"We went back to the drawing board and decided that we will be selling the chicks to farmers when they are one month old. At this point, the chicks will have undergone the entire vaccination regime," said Ambogo. With the new plan, mortality reduced and their customers regained confidence in them.
They sell a one-month old chick at Sh250 and Sh350 for a two-month old. The eggs they use for hatching are laid by their own birds since they are fertilised.
"We are now earning a living by selling chicks, eggs and the birds for meat to locals. Every month, we pay ourselves a salary of Sh40,000 each," says Ambogo.
Nyongesa said since February this year, they have sold at least 8,000 chicks which saw them make a profit of Sh2 million.