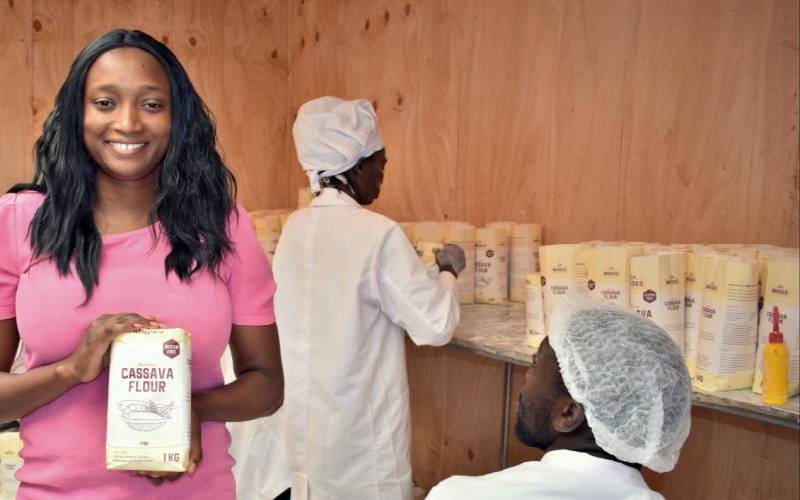 Two Kenyans have been feted by Generation Africa, an initiative set up to support youth agripreneurship in Africa.
Elizabeth Gikebe and Dysmus Kisilu were awarded Sh250,000 each as an impact award when Generation Africa announced the winners on Tuesday.
Generation Africa brings together key like-minded institutions, organizations and youth-focused entities to strengthen the collaborative ecosystem in the agrifood sector across Africa.
The top 12 finalist ventures and entrepreneurs this year hailed from Ghana, Kenya, Malawi, Morocco, Nigeria, Rwanda, Sierra Leone, South Africa, Tanzania and Uganda.
Gikebe is the co-founder and CEO of Mhogo Foods. Mhogo Foods is a socially conscious cassava processor making gluten-free flour, crisps, starch and animal feeds while also training and supporting women smallholder farmers.
Kisilu, on the other hand, is the founder and CEO of Solar Freeze, which helps battles post-harvest losses for smallholder farmers of perishable goods through portable solar-powered cold storage units and "sharing economy" cold-chain logistics.
Other impact award winners were Millicent Agidipo (Ghana) and Paul Matovu (Uganda).
"Throughout all the COVID challenges of 2020, the GoGettaz agripreneurs remained focused and driven, caring not only for their businesses and employees but their countries and fellow citizens as well. In the face of the global crisis, they adapted their business models to new demands and challenges," said Dickson Naftali, Head of the Generation Africa initiative based in Nairobi.
"Our Top 12 young finalists this year are already driving forces for growth and transformation in their own communities. Their agribusinesses are each so different, but they are all steering Africa to become a continental superpower in agriculture".
The 2020 Gogettaz US$50,000 agripreneur prize winners were Daniella Kwayu, co-founder and CEO of Phema Agri in Tanzania and Moses Katala, co-founder and CEO of Magofarm Limited in Rwanda.
Phema Agri is a digital agriculture platform connecting investors looking to grow their money with smallholder farmers looking for working capital solutions.
It aims to achieve its goal of financing 1m farmers and controlling five value chains in the East African market.
Katala's Magofarm Limited aims to solve the problem of rising costs of animal feeds and the increasing demand for sustainable, eco-friendly and nutrient rich protein ingredients.
According to the UN Food and Agriculture organization (FAO), commercial poultry farmers in Africa have experienced a 20% increase in the price of animal feeds containing soybeans and fishmeal as protein ingredients.
"The current protein ingredients in the market are not only expensive to produce, but their production cycles can have a strong negative impact on the environment," noted Katala.
"We are also on a mission to reduce food losses in the developing world," Katala said. "Food losses represent a waste of resources in terms of land, energy, water and inputs, and leads to unnecessary CO2 emissions."
According to the FAO, if food wastage were a country, it would be the third-largest CO2 emitting country in the world after China and the USA.
Katala said the world urgently needs a sustainable solution to tackle food waste. The yearly cost of global food waste is estimated to be $990 billion.