My goal is to create markets for cassava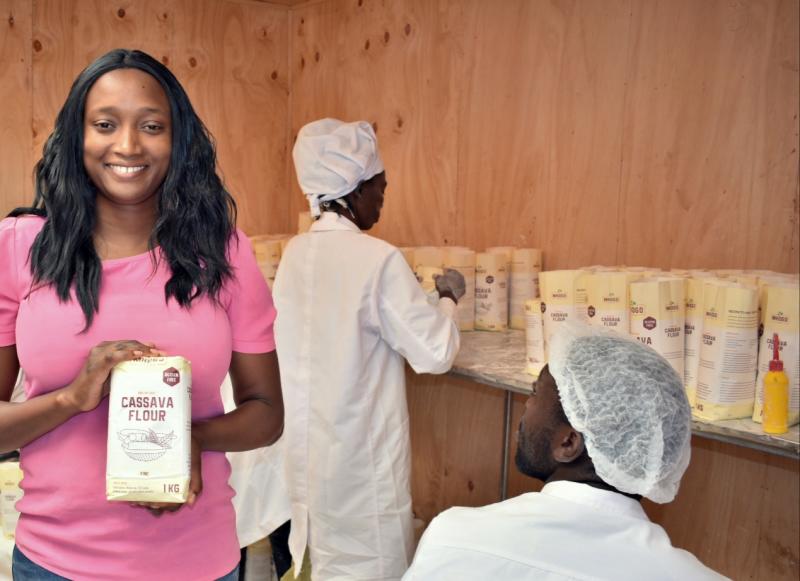 Elizabeth Gikebe grew up in a neighbourhood where more than 70 per cent of residents were small-holder farmers struggling to make ends meet.
The main problem was the middlemen who exploited the farmers.
This reality inspired Ms Gikebe to start Mhogo Foods two years ago to help small scale farmers reap from their sweat.
Mhogo Foods processes gluten-free and grain free cassava flour that can be used to bake cakes, make ugali, porridge, brownies and cookies among other healthy meals. The flour is packed in 500gms or 1kg.
"We also have 500g fortified which we started with the support of 2Scale. We can also customize the sizes depending on the client's needs. We can do up to 50kg gunny bags," Ms Gikebe says.
Before she rolled out the project, she did research on a drought-resistant crop that could be processed into various healthy foods.
"That is how I narrowed down to cassava. Cassava is easy to farm and since I had experience in milling from our family business, it was easy for me to start with cassava tubers," she tells Smart Harvest.
Before she went full throttle, Ms Gikebe took up a short course at the Kenya Industrial Research and Development Institute in Nairobi to equip herself on how to process cassava and learn best varieties.
Starting capital
Armed with Sh20,000, she opened the firm for business in Banana, Kiambu County. She began by getting samples from a close friend from Migori who specialised in quality.
Take a quick survey and help us improve our website
Take a survey
"From this, I had an idea of what dried cassava tubers look like. Afterwards, I gathered some farmers from Embu who sold me fresh cassava and dried it from home," she explains.
"I then bought some packaging bags which I branded and packaged the flour to test the market. I took some photos and shared them on Facebook," says Ms Gikebe.
The photos attracted a lot of attention from people online and that is how she landed her first orders. With time, more orders started trickling in.
Then she landed a lucrative deal with the owner of a convenient store, Vijay General Supplies in Nairobi's South C.
"Vijay General Supplies asked us if we could stock the flour in their supermarket. We stocked about 30 kgs. To our surprise, the flour was out of stock within two weeks! That is when I realised I was sitting on a goldmine," she says.
With that kind of interest, Ms Gikebe was convinced that this was a promising venture. She did all necessary legal registrations for the product to kick-off.
The challenges
Much as things are looking up, it was not a walk in the park.
"When I started, I encountered many challenges. One of them was the fluctuating prices of cassava tubers where some farmers would increase prices from time to time. To counter this, I contracted farmers and formed farmer groups where I offer them a consistent market for their produce at a fair price," she explains.
She also had to deal with unavailability of quality cassava. "Quality would sometimes deteriorate, and this would cost the company huge losses. We however mitigated this by training farmers that we contracted on how to grow quality tubers. We also gave them a specific variety which guarantees good quality," she says.
Like any other startups, access to financing was also a big deal and this affected her marketing and expansion plans.
Market penetration was also an issue at the beginning.
"This is because many retail outlets and supermarkets are not open to new categories of products," Gikebe says.
But all that is now behind her. She has now contracted over 2,500 small scale farmers in Busia.
These farmers belong to farmer groups which makes it easier for Mhogo Foods to aggregate the tubers in a central location. The firm processes and sells seven to eight metric tonnes in a month.
Quality is everything
For them, quality is non-negotiable.
"From the farm, we ensure farmers have one specific variety and that they do not use any pesticides or fertilisers on the crop. We do routine inspection on the farms to ensure they are following set standards and regulations," she explains.
Further, Mhogo Foods undertake quality control measures where they inspect the tubers right from the farm throughout to the packaging and shipping process. After collection from farmers, the cassava is cleaned, ground and dried in an environment free from dust and other contaminators.