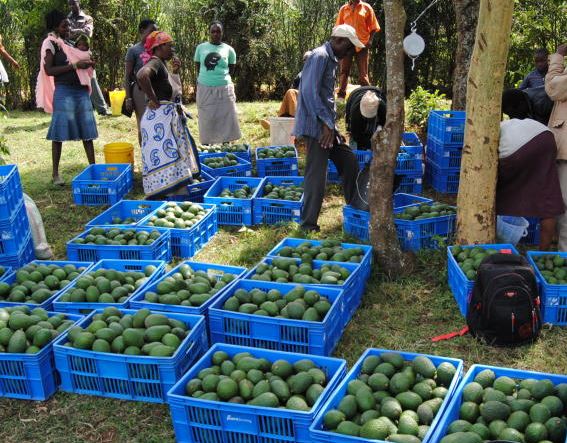 Few things have been as exciting in agricultural circles as the scramble for growth of Hass avocado in Kenya.
Preferred in Europe where Kenya exports it, Hass avocado might as well be the new gold.
So much so that even the Kenya Prisons started an ambitious agricultural plan to boost the production of avocado with an eye on the export market by multiplying and distributing seedlings to agricultural communities.
On target is the Hass variety which is exclusively for export market and whose prices in the international market are higher compared to most fruits.
It has been presented as the panacea to many a Kenyan farmer's problem, with markets promised. There has been a need to feed the Americas, with Canada a big consumer of the fruit, and with Mexico exporting a lot into Canada.
And Kenyan farmers jumped on the bandwagon.
At the local mama mboga, a piece will set you back Sh10, or Sh20, depending on the size. Also seasons, where when there is an oversupply, the prices could hit Sh5 for an avocado.
Patrick Kariri, the Director of Prison Farms said the institution had earmarked 18 flagship rehabilitation centres across the country that would be involved in spearheading the campaign as well as production of agricultural products.
Headache of brokers
"Of the 133 prisons across the country, we have set aside 80 whose main involvement is purely in agricultural production. And of the 80, we have set up 18 rehabilitation centres to be centres of excellence in promoting the Government's Big Four Agenda of attaining total food security," Kariri said when launching project.
But for people like John Maingi, the director of Food Africa, they have raked in some good money by exporting avocado to Norway, Dubai, Bahrain,Hong Kong.
"But European market is the best as prices are good and they pay without difficulty," Maingi said.
Some of the challenges they have faced include delayed payments or non-payment. They have also had problems with change in prices due to brokers who control most farmers.
"But we are developing our own farms and contracting our own farmers," he said.
When you are just starting, you have to share packing facilities which you will have to go through before you set up your own. This is also a big challenges to them
"Another challenge is the high amounts of cash required to establish cold storage facilities like temporary grading sheds, charcoal coolers, cold stores," Maingi said.
As a youth in this business, Maingi would wish for government to assist them with trainings, market linkages and access to financing.
Big 5 exporters
This, he says, will help to setup structures that will ensure proper handling of fresh products, maintaining cold chain hence better quality products to the markets.
Other challenges include difficulty in accessing new markets because of the strict demand by importing companies who insist on GG certification
Mitchell Cotts, a logistics and warehousing company, is keen on building cold rooms with an aim of preserving produce prior to sale for farmers like Maingi. Avocado is among the key targets.
The avocado export market in Kenya is dominated by Kakuzi, Vegpro, Sunripe, Kenya Horticultural Exporters, and East African Growers.
Kakuzi, an agricultural company which produces, packs and exports a variety of green and black skin cultivars, was involved in a tiff that almost put avocado production in the country in serious jeopardy.
British law firm, Leigh Day, filed a lawsuit against Camellia – the company with 50.7 per cent shareholding in Kakuzi – over alleged human rights abuses (79 claims).
Tesco, one of UK's largest retail stores, responded to the suit by removing avocados supplied by Kakuzi from its shelves until the matter was solved. That was a blow to avocado production in Kenya.
In 2019, Kenya exported 60,000 tonnes of avocados. Holland was the chief importer with 13,306 tonnes.
The other significant markets for the fruits were France (8,793 tonnes), UAE (7,190 tonnes), Saudi Arabia (5,127 tonnes), UK (3,704 tonnes) and Russia (3,041 tonnes).
The country also emerged as the third fastest growing exporters of avocado in the globe.
Dr Simon Kibet, the acting managing director at Kenya Plant Health Inspectorate Service (Kephis), said that the export market for avocados is still large and farmers need not to worry.
"We export avocados to many destinations. The UK is just one of them," he said reacting to the tiff that saw Tesco, one of UK's largest retail stores, suspend avocados supplied by Kakuzi from its shelves.
Benjamin Tito, the head of directorate at Horticultural Crops Development Authority (HCDA), says the local market for avocados is also big "as Kenyans have embraced eating of avocados due to their health benefits."
Latest data from the Ministry of Agriculture, Livestock, Fisheries and Cooperatives show that a 90 kg bag of avocado is retailing at Sh3,600 in Kajiado, but goes for Sh432 in Nyamira. The market average is Sh2084.
According to the Food and Agriculture Organisation (FAO) Corporate Statistical Database, there were some 14,500 hectares under avocado in Kenya in 2018 which produced 234,000 tonnes of the fruit.
Official data shows that avocado is the most grown permanent crop in Kenya, with close to 966,976 families in Kenya growing it by end of August last year, according to Census data. Those families are spread in 34 counties.
Most of these avocado trees can be found in Kisii county where 88,326 families grow the fruit. It is followed by Bungoma (73,765), Kakamega (63,886) and Murang'a (52,839).
The fifth one is Machakos where 45,243 households grow the fruit, followed by Bomet where 44,903 families grow avocados.
According to the Fresh Produce Exporters Association of Kenya (FPEAK), the country's avocado exports jumped 15 per cent to 68,000 tonnes over the 12 months to October, fetching the country Sh14 billion.
This is compared to Sh10 billion that the country netted last year from 59,000 tonnes of the fruit exported over a similar period of last year.
Hosea Machuki, the FPEAK chief executive, attributed the performance to adoption of higher international quality standards.
The large companies that export avocados source them primarily from smallholder farmers, although some firms also source from larger growers or own plantations.
Unfortunately, the share of Kenya's total avocado production that is exported is the lowest among the major avocado exporters. Only about 10 per cent of its total production is exported, while South Africa exports about 60 per cent of its avocado production; and Chile, 55 per cent.
Moreover, the share of Kenya's total avocado production that is destined for export has been declining.
older experienced farmer
A study that reviewed the impact of smallholder farmers' participation in avocado export markets on the labour market, farm yields, sales prices, and incomes in Kenya done by three authors — Mulubrhan Amarea, Jane Mariara, Remco Oostendorp, and Menno Pradhand — found that majority of small-scale avocado farmers did not participate in the trade.
It found that farmers who participate in export markets are generally older, have somewhat larger farms, have received more training, and grow more avocado trees of the Hass variety, the favoured type in the European Union market.
"Living near a well-functioning avocado farmers' group is also strongly associated with participation in export markets.
And we found that participation in export market results in increased labour inputs in terms of both hired and family labour," read part of the report.
A 2019 study which was published in Land Use Journal last year also found that the difficulty of increasing the export share is often attributed to poor quality; high regulatory standards in export markets; the weak institutional capacity of small-scale producers; and inadequate capacity for, and coordination of, fruit exportation.
"The poor quality of Kenyan avocados is mainly due to the inadequate knowledge of modern production practices on the part of small-scale producers, who have traditionally grown their trees for domestic markets or for noncommercial purposes, and to the limited dissemination of market-preferred varieties," said the authors.
Fortunately, the government, upon realising the underexploited export opportunities offered by the country's sizeable production, has been supporting smallholder farmers by linking them to exporters through grower schemes.