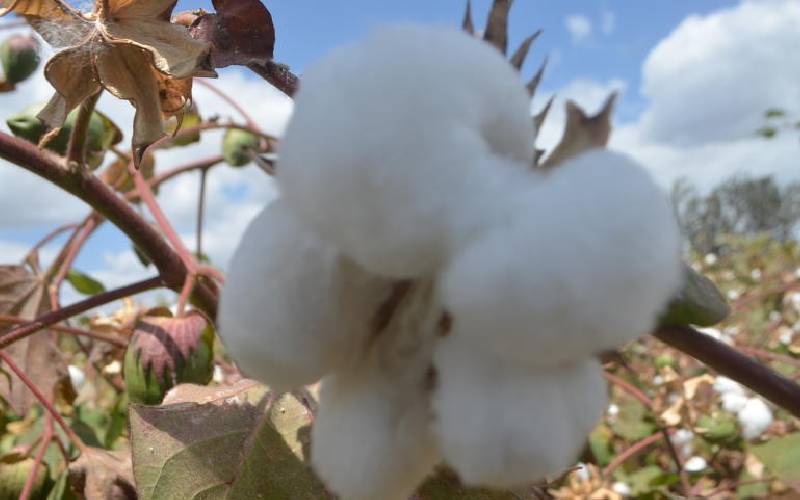 Farmers in cotton producing regions are benefiting from a new initiative from Rivatex aimed at enhancing local cotton production.
Cotton farmers who had for long been disillusioned following the collapse of the sector in the 1990s are now receiving support through distribution of seeds and pesticide to promote production.
Eldoret-based Rivatex East Africa targets to reach out to 43,000 small-holder cotton farmers in distribution of pesticides for the control of bollworms and for the improvement of the yields.
According to the company, the strategy makes a follow up on farmers who received free cotton seeds in view of improving local production of raw materials for the textile.
Over the past two weeks, Rivatex East Africa has been engaging farmers from Elgeyo Marakwet, Baringo, Bungoma, Kisumu and Homa Bay counties in the distribution of pesticide and other crop extension services.
Managing Director Prof. Thomas Kipkurgat said the fabric producing company has been giving out free seeds and pesticides as part of sensitisation efforts to fully revive cotton farming.
Rivatex in Eldoret currently produces 40,000 metres of fabric per day and consumes 100 bales of cotton.
Most of its raw product is imported from Tanzania and Uganda and the company, according to Kipkurgat, aims at promoting local production to boost farmers' earnings and ease availability of raw products.
"When most institutions collapsed following the introduction of the Structural Adjustment Programme (SAP) and liberalisation of markets in the world, regions that used to produce cotton were most affected," said Kipkurgat.
He added: "As a fabric processing company, we are getting back to the farmers through the provision of free seeds and pesticide to promote production of cotton."
The initiative, he said, has been expanded to 22 counties where farmers have been assisted to revive cotton farming and have been assured of ready market for their produce.
The MD noted that a good number of farmers have registered in cooperatives making it easy for them to receive input and get listed to avail their cotton lint to the ginnery.
Kipkurgat noted that farmers are currently reaping good fortunes from the hybrid seeds that were distributed to them early this year.
Charles Lagat, the company's cotton programs manager said there is remarkable improvement in cotton productivity with the hybrid seeds.
"Compared to conventional seeds, there is a huge difference in cotton productivity. We urge farmers to increase their production acreages," said Lagat.
He also asked farmers to prepare for the BT cotton whose production is set to be rolled out soon saying it will be a game changer since the variety is high yielding and resistant to pests.
Farmers who received the pesticides expressed optimism that their crops will perform well in the current season.
"Pests have been a nuisance in the past, but we are grateful we have a solution, we have also been trained by Rivatex on the best practices so that we can improve on yields and better our livelihoods," said Patrick Kibet a farmer from Chegilet in Elgeyo Marakwet County.
Samuel Liker, another cotton farmer from Salawa area, Baringo County noted that with improved yields, a number of youths will gain employment.