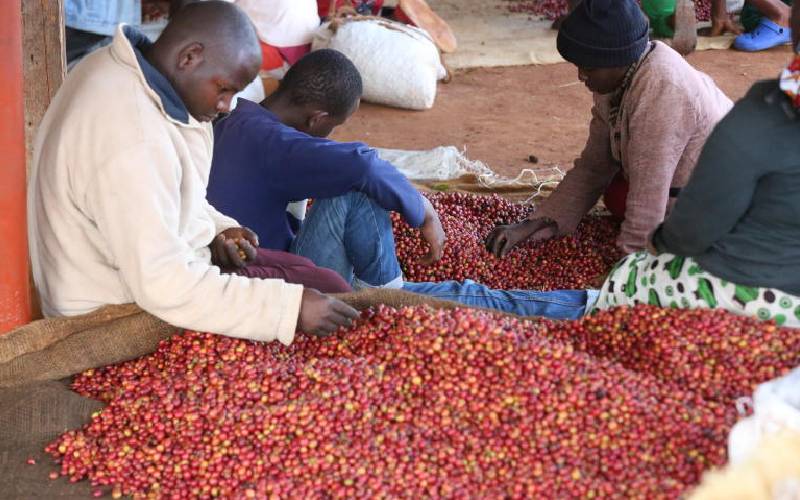 A coffee farmers' agency has taken a dealer to court for failing to pay more than Sh183 million for tonnes of berries supplied six years ago.
Kenya Cooperatives Coffee Exporters (KCCE) Ltd claims the marketing company, Servicoff Ltd, had gone against their agreement worth more than Sh900 million.
In a case filed before the commercial court in Nairobi, KCCE says farmers delivered 32,769 bags of coffee to Servicoff between 2013 and 2014 worth Sh972 million. The marketing firm allegedly rejected 1,768 bags.
Servicoff is allegedly owned by Peter Kimathi, a son of former Kenya Planters Co-operative Union (KPCU) Managing Director Henry Kinyua. "The defendant (Servicoff) thus took ownership of 30,053 bags for which it became contractually bound to immediately collect and effect payment thereof within a period of 30 days in line with the practice of parties, trade, usage and custom in the industry," reads court papers filed by lawyer Waweru Gatonye.
"The defendant in complete breach of its contractual obligations and the undertaking in the heads of terms aforesaid, failed and, or refused to effect payment of the amount mentioned above and to give payment plans as undertaken."
KCCE claims it is now handicapped as the money belongs to the farmers who are now demanding for their pay. It claims that it had to take a bank loan of close to Sh159 million to pay the growers.
Mr Gatonye says in the suit that Serviceoff has been making piecemeal payments with Sh17 million having been paid in February this year. "The plaintiff pleads that the defendant was fully aware of the fact that the coffee supplied to it was sourced from farmers who expected prompt payment or payment within reasonable period of time," he says.
"However, the defendant declined to effect payment and engaged in delay tactics."
According to KCCE Business Development Officer Jane Kathuku, the marketing firm had initially paid Sh168 million and had committed to pay an additional Sh87 million by the close of that year. It undertook to pay another Sh55 million upon which KCCE agreed to waive storage fees.
"Notwithstanding the plaintiff's indulgence, the defendant in complete breach of its contractual obligations and undertaking failed and, or refused to effect payment of the amount mentioned above and to give a payment undertaken," claimed Kathuku in an affidavit filed in court.
KCCE now wants the court to force Servicoff to pay Sh59.1 million as the interest which has accrued on the loan it took to sort out the farmers. In the alternative, Serviceoff should be forced to pay close to Sh183 million which it has allegedly defaulted and pay interest from the date of default.
"Had the defendant paid for the goods promptly or within reasonable timelines agreed between the parties herein, the taking of the loan would not have been necessary," the agency says.
"The loan has since accrued interest of Sh54 million. Despite numerous attempts to settle the matter and numerous followups, the defendant has without any justification failed, refused and or neglected to settle its contractual obligations."