Sorghum is gold for Kenyan rural farmers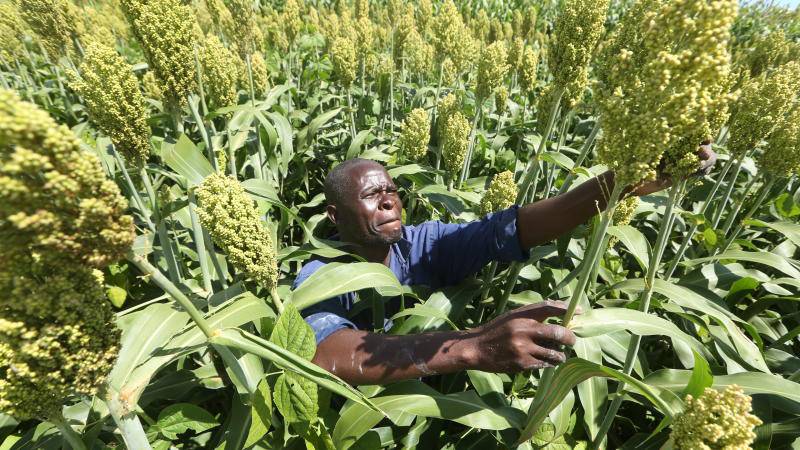 For many years in Kenya, sorghum was cultivated for subsistence by few farmers, especially in arid areas.
They would then harvest the crop and consume it themselves since it lacked commercial value due to low demand.
But fortunes have changed for the better for farmers, with ready market from beer manufacturers turning the crop into gold in rural Kenya. From central to western, Rift Valley and eastern Kenya, the drought-tolerant crop is putting money in farmers' pockets.
The crop has brought a new economic wave in the east African nation's villages, with farmers now finding it easy to take their children to school, build new houses and make merry from sorghum money.
On the other side of the value chain, sorghum beer consumers, transporters, distributors and non-state organizations offering extension services are among the happy lot.
Stephen Onditi, a sorghum farmer in Siaya County, western Kenya told Xinhua on Friday that the crop has changed his life.
"I started growing sorghum about three years ago after being recruited by East African Malting Ltd. It rains minimally in this area but the climatic conditions are favorable for the crop," he said, adding he initially grew the crop for subsistence.
Most farms in the county are dotted with the crop, and so are those in Makueni County, eastern Kenya, and Tharaka Nithi County, central Kenya. Joseph Mutegi, a farmer in Nkondi Tharaka is among large-scale growers of the crop in the county, farming it on 100 acres.
"I farm and sell the crop to East African Malting Ltd. It has helped me make my land productive since besides sorghum and green grams, no any other crop grows well in this area," he says.
Joseph Opiyo, a senior research associate at Tegemeo Institute of Agricultural Policy and Development, noted that sorghum has improved incomes for smallholder farmers in rural Kenya.
"Farmers have managed to increase their net household incomes by about 47 percent, which cannot be compared to maize that failed in the arid areas," he said.
Using income from sorghum, Opiyo said farmers are able to purchase other food items, pay for schools and medical services which in turn have improved the living standards of the sorghum producing households.
A study conducted in eastern Kenya by Tegemeo Institute showed that 82 percent of sorghum farmers have access to agricultural extension services.
Some 95 percent of them received the services from the government for free, while receiving instructions from NGOs, research institutes or universities.
However, according to Opiyo, about 93 percent of sorghum farmers do not grow improved sorghum seeds since they are unavailable in local agro-dealer shops.
"Improved sorghum varieties perform better with application of fertilizer. But even without using fertilizer, farmers who cultivate improved sorghum varieties harvest on average 640 kilos per acre against the potential yield on over 1,500 kilos," said Opiyo.
Farmers sell sorghum at between 25 Kenyan shillings (0.25 U.S. dollar) per kilo to 0.30 dollars per kilo. The average profit per acre for the farmers who grow improved varieties is 98 dollars per acre, he noted.
"Cultivation of well-adapted improved sorghum varieties has the potential to increase and sustain sorghum productivity, the crop's commercialization and household welfare for sorghum farmers," Opiyo added.
According to him, the challenge of improved seeds can be addressed through tax rebates to seed merchants to invest in the sorghum seed value-chain in order to boost smallholder farmers' incomes.
Want to get latest farming tips and videos?
Join Us