Hope for pyrethrum farmers as State and county pump in funds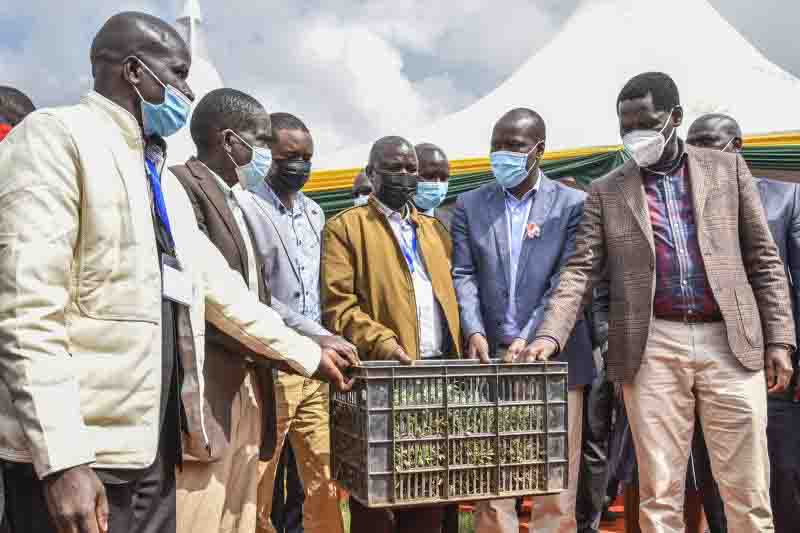 National and county governments have pledged to continue investing more resources towards the revival of the pyrethrum sub-sector.
Agriculture Cabinet Secretary (CS) Peter Munya, who met Nakuru county farmers in Molo said the national government was committed to recouping Kenya's global market share for the produce.
"The global market for pyrethrum is growing by the day. We are taking deliberate measures to get back to the world's leading pyrethrum producing country," said Munya.
Yesterday, the CS announced that the Ministry has released Sh40 million to the Pyrethrum Processing Company of Kenya (PPCK) for the distribution of seedlings to farmers.
"This is just the beginning. PPCK will soon start distributing the seedlings for free to farmers to increase the acreage under pyrethrum cultivation," said Munya as he flagged four new pickup trucks that will be used by the PPCK to reach out to farmers in pyrethrum growing counties.
Nakuru Governor Lee Kinyanjui announced that in the current financial year they have allocated Sh50 million for the purchase and distribution of pyrethrum seedlings.
Kinyanjui said that efforts to revive the sector, which was among his flagship projects, have greatly paid off.
"There is no better economics than seeing an initiative putting money in the pockets of ordinary Kenyans. We have made strides but still have a long way to go. Next year, pyrethrum will be seen on farms without much of a search," said Kinyanjui.
Farmers raised concerns over the quality of seedlings available in the market noting that they were not good for making splits after several harvests, a common way of propagating the crop.
Munya, however, assured the farmers that various government agencies were on their toes to address the concern raised in the 18 pyrethrum growing counties.
"Researchers at the Kenya Agricultural and Livestock Organization (KALRO) are in the process of developing high-yielding and disease-resistant seedlings to be distributed to farmers by April next year," said Munya.
Wilson Mwangi, who chairs the County Assembly Agriculture Committee said that this was the only opportunity to revive the sector.
"Farmers have regained confidence in the crop and if we fail them now, they will never trust us again. Timely payment is what farmers want and was the main challenge that saw the sector collapse," said Mwangi.
Want to get latest farming tips and videos?
Join Us