Hope for pyrethrum farmers as government lines up revival plans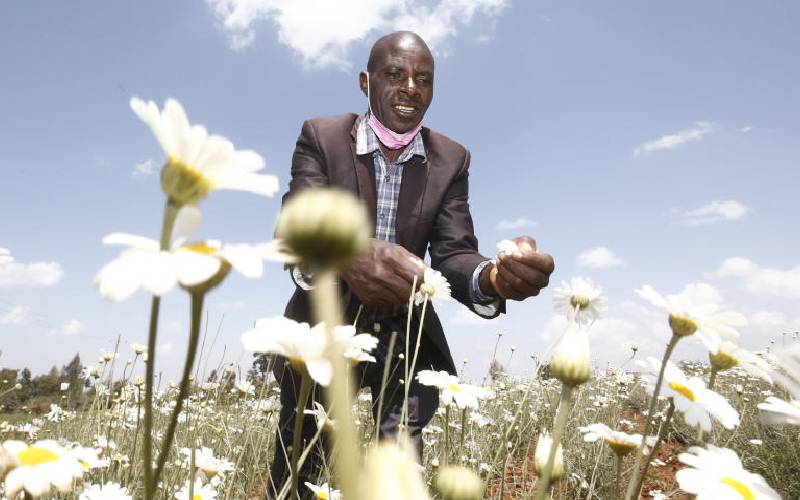 Pyrethrum growers in the Rift Valley are optimistic about the government's revival plans.
Besides support from the Treasury, the government has introduced a Miraa and Pyrethrum Bill, which is in Parliament.
David Karumba, a pyrethrum grower in Molo, reminisces the heydays when pyrethrum was lucrative and fetched more income for farmers in the region.
Karumba, now in his 60s, says he started growing the crop in 1979.
He, however, says in 2000, the sector started to decline as the once vibrant Pyrethrum Board of Kenya (PBK) struggled to pay farmers.
Late payments
"Some of us opted for other cash crops, including potatoes," says Karumba.
At its production peak, there were more than 220,000 pyrethrum farmers who were harvesting between 7,000 and 12,000 tonnes of the crop per year.
Karumba is hopeful about the government revival plan end has liberalised the sector.
"I am back and have prepared two acres for pyrethrum. What motivated me is the price offered by private processors," he says.
Farmers have started embracing pyrethrum as the crop fetches them up to Sh220 per kilogramme.
In West Pokot, Daniel Lomuk, who has a half an acre under pyrethrum where he harvests every two weeks, says he sells a kilo of pyrethrum at Sh200.
"I get about Sh10,000 per harvest. The crop is easy to maintain," he says.
He notes that harvesting is done throughout the year and the crop can stay in the farm for close to four years.
Geoffrey Longeletoro, another farmer, says he has been growing pyrethrum for close to 10 years and he has no plans of shifting focus.
"Some farmers abandoned the crop in early 2000 when Pyrethrum Board of Kenya started delaying payments. I didn't uproot my pyrethrum. I stuck by it when the county government boosted us by giving as free clones in 2018," he says.
He says pyrethrum, unlike other crops, can be picked throughout the year.
"I have neighbours who have planted Irish potatoes but they have to put in a lot of effort and spray their farms regularly before they get to harvest. My pyrethrum farm only requires minimal labour and little fertiliser," he says.
Nakuru Governor Lee Kinyanjui, who has been at the forefront championing for the revival of the sector, admits that the crop earned farmers a lot of money between 1970s and 1990s.
"It was a very profitable crop. There was a bit of mismanagement, farmers were not paid and they lost hope. Because the buyer was only one, they had no choice," he said.
Countries like Rwanda, he said, poached investors to go set up industry there, leaving the Kenyan industry a shell for years.
On around 2010, Parliament liberalised the sector, allowing for private processors to enter into the market and break the PBK monopoly.
He said the take-off was a bit slow due to lack of raw materials as nobody actively propagated the crop. But in the past two years, he said there has been a speed-up of propagation.
Kinyanjui said that with the revival, there have been good success stories from farmers, with one acre fetching up to Sh20,000 a month. He believes Kenya will be able to capture and command the world market in the next five years.
The governor says his administration has pumped at least Sh100 million into the sector to support farmers.
Mary Moraa, the managing director of Pyrethrum Processing Company of Kenya (PPCK), said the presence of a board is an assurance that there will be proper governance.
Moraa said with the board, they will work closely with the stakeholders in pyrethrum growing counties to revive the sector fully. She said they have also doubled the price, as initially they purchased a kilograme at Sh100.
PPCK, she said, has come up with value addition instead of selling raw products to international markets.
She PPCK targets to process close to 100 tonnes by the end of this year.
"From March when farmers heard that there is a board, flower started flowing in and we are almost through with processing of 50 tonnes within three months. Between now and December, being the peak period, we will get more than 100 tonnes," she said.
The MD said the Sh305 million extraction plant bought and installed in 2006 is still intact and added that for it to run optimally, they will require 50 tonnes of flowers every day.
Want to get latest farming tips and videos?
Join Us