Irrigation proves dryland can produce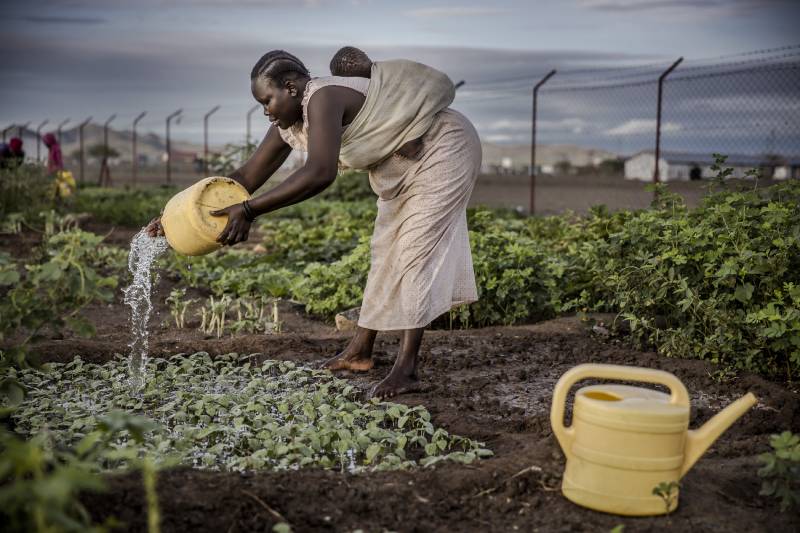 At exactly 0600hrs, the sun begins to peak from the east, its yellow rays reflected over the 30,000 cubic meters water pan. Riziki Sinzobakwira walks with a determined gait, holding two watering cans. She has several plots of land to water before it gets uncomfortably hot.
Riziki, born of Burundian and Congolese parents, fled from war-torn Congo and settled in Kalobeyei, Turkana in 2016. In 2017, she became one of the 150 refugee community who started farming in small plots of land near the water pan. This was a trial project executed in partnership with World Food Programme (WFP), with funds from the European Union. WFP engineers designed the water pan, which receives water from Esikiriayit - a seasonal stream.
An additional 150 host community members were trained alongside the refugees, and each one given four plots of 200x100 to farm different types of crops that they could eat to supplement the traditional foods of milk and eggs as well as the food rations given respectively.
Initially, the 300 members planted onions, tomatoes, cowpeas and pumpkin. Traditionally, Turkana community are not farmers. But when we trained them, and with everyday interaction with the refugee community from different countries, more crops were introduced. Now they also grow okra, sorghum, collard greens, sweet potatoes, water melon, amaranth, egg plant, spinach, as well as capsicum.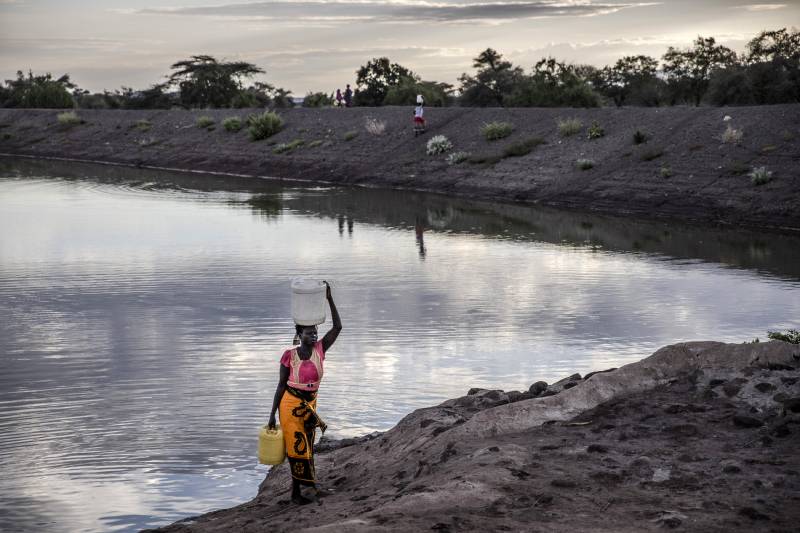 Riziki has become a proficient farmer, making Sh3,500 per week from selling her vegetable surplus. Three quarter of the total 300 plot owners are women, and Riziki has become the go to 'farmhand' when one has just had a baby.
"Before I was uprooted from my country by the unfortunate turn of events in my country, I was a farmer. Now I feel very comfortable here. My five children and husband have access to good organic food and I make decent money to live by. I like it here," said Riziki.
Everyday, the gates to the water pan and the vegetable plots is opened at 0600-1000hrs, and 1600-1800hrs. The community have learned how to manage themselves, and handle emerging disputes amicably.
This joint farming initiative has also fostered understanding and peaceful co-existence between the refugee and host community. The vegetables grown are fully organic and they use organic pesticides like neem leaves, ash, as well as intercropping to keep pests at bay.
Before this trial, it was believed that Turkana could not produce any food due to inadequate rainfall. The success has triggered action towards activating the second phase; to set up green houses. This will not only ensure access to food security and nutrition for the host and refugee community, it will also guarantee a source of income for them and subsequently improve their livelihoods.
Want to get latest farming tips and videos?
Join Us