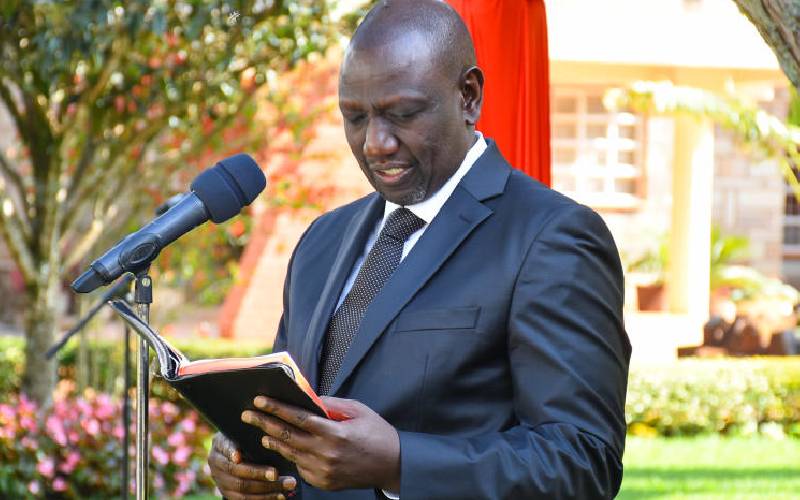 Deputy President William Ruto in his political journey has resorted to citing biblical verses, aptly chosen to send the message that he will overcome the challenges that have turned him into an outsider in a government he helped form.
From King James Version to the New Revised Standard Version, bible versions are many. And they keep expanding. But then there is the version that DP Ruto reads and quotes.
The DP loves bible verses and this has become the signature flavor in his speeches. He justifies this by saying he was in Christian Union back in the days he was in school.
Mr Ruto once quipped that he would retire into evangelism. But lately, he has normalised misquoting the Bible, sometimes referencing non-existing verses.
Here are select incidences DP Ruto has quoted wrong or non-existent bible verses:
June 12, 2022 Prime time interview on NTV
The deputy president quoted a non-existent verse and it rubbed netizens the wrong way, making the bible a trending topic.
Ruto: …… "Let me tell you Joe, Even Jesus Christ…. If I can, I know you are a good Christian ……In Mathew, I think 17:29…His disciples when they were following him…they asked him, we have left our families, we have left our businesses, we used to be fishermen, we have come to follow you…what is in it for us?"
According to the New International Version, the book of Matthew Chapter 17 has 27 verses only. So in an attempt to be too accurate, Mr Ruto's mastery of the holy book was put into question.
The text DP Ruto was referring to is found in the book of Mathew 19:27, which reads …. Peter answered him, "We have left everything to follow you! What then will there be for us?"
Mr Ruto's attempt to quote the bible verbatim saw Kenyans erupt online, with many asking where the DP gets his Bible quotes
May 26, 2022 National Prayer Breakfast
DP Ruto quoted the wrong Bible verse again, while attending the national prayer breakfast last month.
Mr Ruto misquoted Isaiah 1:18 while asking for forgiveness from President Uhuru Kenyatta for any wrong doings he may have committed during their tenure.
Ruto…. "The Bible says in Isaiah 1:18, We have fallen short of His glory. To all I may have wronged, I ask for your forgiveness, and all those who have wronged me, I forgive them with a clean heart"
A check in the bible reveals that the DP was referring to the book of Romans 3:23 and not Isaiah
The Bible (New International Version) in Romans 3:23 reads: "For all have sinned and fallen short of the glory of God"
April 15, 2019
When addressing faithful at the salvation Army citadel in Kakamega, the DP quoted Mathew 6:35: "Watafute kwanza ufalme wa Mungu"
But this verse is found in Mathew 6:33, which Says "But seek first his kingdom and his righteousness, and all these things will be given to you as well"
The book of Mathew Chapter 6 has 34 Verses only
Other politicians have avoided verses
Several other politicians who have referenced the bible have opted not to attempt to give the verses.
For instance, Azimio la Umoja Kenya One Kenya running mate Martha Karua avoided verses during the prayer breakfast when she quoted the bible.
"I just want you to remember that somewhere in the Bible, I am not good with quoting, so do not expect the verse. It is said that prayers without action is not real," she said.
Karua was making reference to the book of James 2:26, which states that faith without action is dead.
And the church, leaders, while faring better on quoting verses, have also found it difficult on political podiums.
A Pastor who was presiding over the Kenya Kwanza Women Charter conference at the Nyayo National Stadium on Friday, June 10 had a slip of the tongue when she referred to the coalition as "Kenya Kwisha".
Kenya Kwisha is a term that has been used by the coalition's opponents to deride the Ruto-led outfit.
Compiled by The Standard Checkpoint