How IED tragedies have been an endless tale in Mandera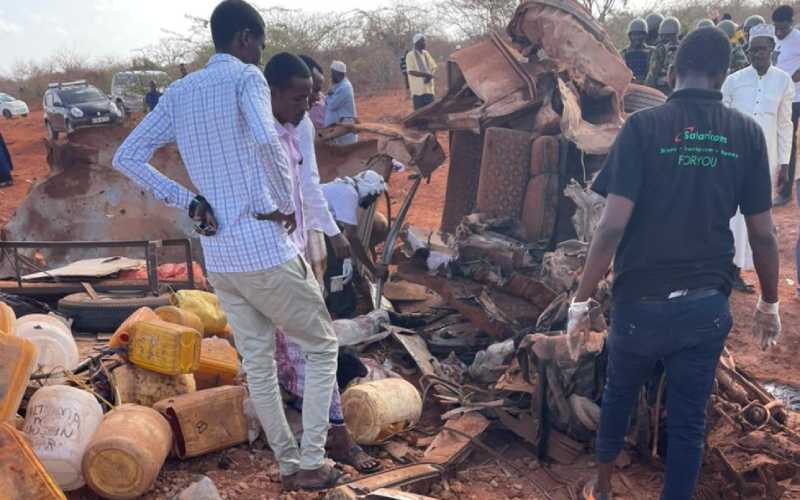 As of today morning, over 20 innocent Kenyan lives had been lost as a result of Improvised Explosive Devices (IED) in Mandera County alone.
In the wee hours, a 14-seater vehicle travelling to Mandera town from a place called Arabia ran over an improvised landmine, killing 13 people and injuring scores of others now admitted in Mandera Hospital.
Barely a week before this morning's incident, the US, French and British embassies had issued a terror alert in Kenya, urging vigilance in public places hours after the government announced heightened security to forestall possible terror attacks.
On March 24, 2021, three people died and ten were wounded after their bus triggered off a suspected IED planted in the road in Mandera County.
The incident occurred along a busy highway, and four of the ten injured were in critical condition, Nicholas Ndalana, the government coordinator for the region told Reuters.
The bus had departed from Lafey and was en route Mandera town.
"An attack of a bus took place this morning, sad enough we lost three passengers, the bus was completely damaged by an explosive device that was planted on the ground" Ndalana said.
Two months later in May 18, several Kenya Defense Forces (KDF) soldiers were injured almost ten others died after their vehicle hit an IED at Baure in Lamu West.
Multiple sources told The Standard that the soldiers were travelling from the Baure Camp in a Land cruiser to the Kenya-Somali border where construction of a wall is going on.
On September 13, 2019, five security officers were killed when their armoured vehicles were hit by a suspected rocket-propelled grenade in Elwak, Mandera County.
About 20 other personnel from the Kenya Defence Forces and Anti-Stock Theft Unit (ASTU) Unit were injured during the 1pm incident that Tuesday.
The teams were travelling between Farhama and Elram when their two armoured vehicles and a lorry were hit by the rocket fired by suspected Al Shabaab militants.
About four years ago, four people among them a chief, died and 11 were injured when a passenger vehicle they were in ran over an IED at Sheikh Barrow on the Lafey-Elwak road, Mandera County.
Police said the dead were part of 15 passengers travelling in a Toyota Land Cruiser.
They said those injured were rushed to Lafey Sub-County Hospital, adding the IED was suspected to have been planted by Al Shabab militants from Somalia.
On January 21, 2018, some four children were killed when an IED they were playing with exploded at an open field in Banisa, Mandera County.
Two others were seriously injured in the incident.
The children died when the landmine that officials said had been abandoned in Eymole Location exploded as the children played with it.
Mandera governor Ali Roba said the incident was the second one in less than a month and urged authorities to move there and harvest the explosives that seem to be buried on grazing fields.
"We grief with the victims of the families of the four children killed by landmine buried during the colonial period in Eymole location, Banisa Sub-county. This is the second in less than two months," he said.
The children who were said to be aged between 8 and 17 years, were playing at the field while grazing animals when they stumbled on the landmine.
Then on August 28 2017, two KDF soldiers were killed when their Armoured Personnel Carrier (APC) triggered off a roadside bomb explosion in Damasa Lafey Sub County, Mandera.
Three others were injured in the explosion that badly damaged the APC.
Security personnel in the area said the Improvised Explosive Device had been set up by Al-Shabaab militants.
The injured were evacuated in a military chopper that landed in the area minutes later.
North Eastern regional coordinator Mohamud Saleh said he had not received full details of the incident.
How CBC assessment works
The assessment, which will account for 20 per cent of their final scores, will be administered and marked by their teachers.