FALSE: Transporting gas cylinder on motorbike will not cause explosion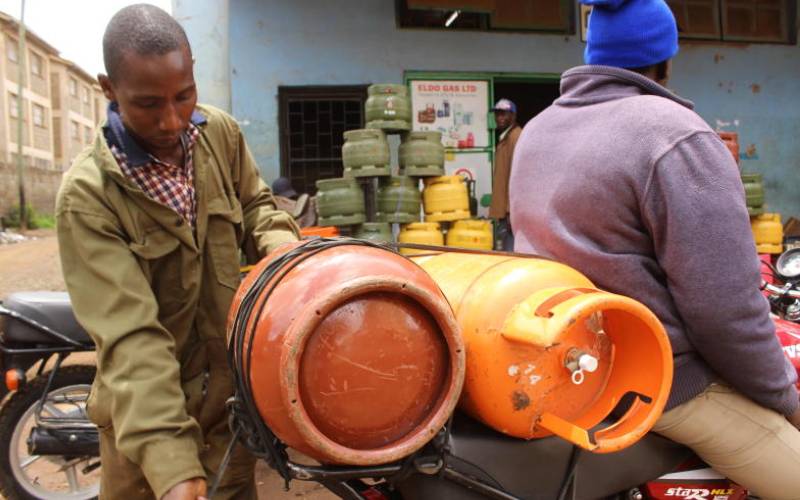 An online post claiming that if a gas cylinder is transported on a motorbike it will explode upon usage is false.
The viral post largely shared on WhatsApp groups claimed that if the gas is transported on a motorbike, it should be allowed to settle before it is fixed for domestic use.
Part of the post claimed that someone had died after the cylinder exploded on them while fixing it.
"Hi Neighbours, for guys ordering gas via boda boda riders, kindly take time to let the gas settle before connecting and using it. It's like a shaken bottle of soda before opening. Be careful to check seals and sources of gas cylinder refills," the post read in part.
It went on, "It's been 2 days since a friend cum jirani in Senior Staff Estate had an accident at home. The wife ordered a gas cylinder via a rider and when it arrived, she immediately connected it and it exploded on her face. She had 25% burns and was rushed to the hospital for treatment. She didn't make it. Hope sharing is caring and this helps."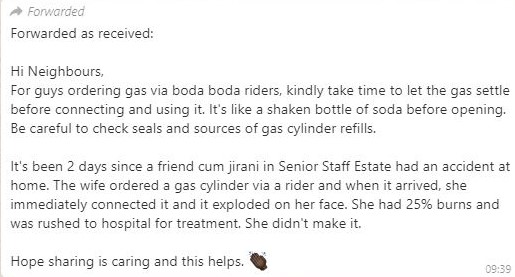 In the response to the post, one of the members said the explosion of LPG is normally due to mishandling.
"This post is total misinformation! An explosion of Liquefied Petroleum Gas (LPG) occurs in the event of a BLEVE - Boiling Liquid Expanding Vapor Explosion reaction which may only happen when the cylinder is subjected to external heat and the liquid-gas has reached temperatures above its boiling point. LPG working pressure is 8 bars but the cylinder can withstand up to 30 bars of pressure so explosion due to shaking is near impossible. One of the properties of LPG is that it's very cold and only causes cold burns," read the response.

The Standard's Checkpoint desk reached out to several experts who further dismissed the claim saying there was no evidence to back it up.
Engineer Michael Kamau, the Chair of the Institution of Engineers of Kenya Southrift branch and an oil and gas expert said this claim is not true.
Kamau said the biggest danger in gas handling is transporting it while in a horizontal position.
"That claim is baseless. Even when you transport the cylinder in a car, it will still shake when you hit a pothole," he said.
Kamau said the pressure that is contained in the gas cylinder is constant and does not change despite how it is transported.
He said when the cylinder is transported horizontally, it will have two phases with gas settling down and semi vapour content settling on top.
Kamau said it is advised to allow the gas to settle at the top because connecting it immediately might choke the cooker but does not explode.
"The only risk is that when you carry the cylinder in a horizontal position and has leakage or its faulty. If it explodes the damage is lethal because it flies like a rocket-propelled grenade. The best way to carry the cylinder is in a vertical position so that in case it is faulty, then the pressure forces it down," he said.
Kamau said the explosion of a cylinder happens in case of reduced pressure or increased temperature.
His sentiments are echoed by Dr Alloys Mosima Osano, a senior Chemistry lecturer and the Director of Research and Innovation at Maasai Mara University who said the mode of transport does not have any effect on a normal cylinder.
He said explosions have been reported in instances where the cylinders are faulty and have been exposed to the sun.
This is because the cylinders absorb heat forcing the gas to expand, when such a cylinder is opened, it explodes because the contents are already in gaseous form.
"The normal cylinder has a gas bag that holds the liquefied gas, when opened it meets the normal temperature. But in cases where the gas storage might have had some defects then such a claim can be valid," Osano said.
Osano said the change from gas to liquid form depends on pressure and volume change.
He said just like the case of kerosene contaminated with petrol exploding cooking stove, gas contaminated with other impurities it would explode.
"In some cases, illegal refilling points add impurities to increase the compression of these gases where petrol is passed through water and mixed with normal gas to cut down on cost. This is clearly evident when you see some of these gases producing smoke," he said.
Based on these explanations, The Checkpoint desk concludes the claim is FALSE.