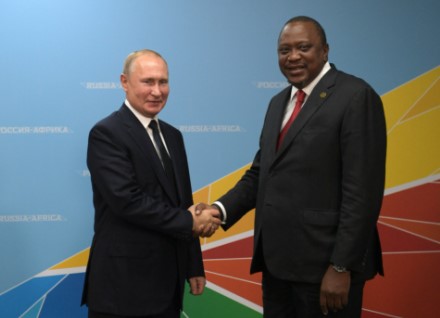 Kenya is bound to be affected by the ongoing conflict between Russia and Ukraine.
Russian President Vladimir Putin Thursday launched a full-scale invasion of Ukraine by land, air and sea, defying pleas from the international community.
Reuters reported the attack as the biggest by one state against another in Europe since World War Two and confirmation of the worst fears of the West.
Leaders worldwide have called on Putin to put a stop to the military attacks, but to no avail. Hours after Russia fired missiles at Ukrainian cities the EU called the development the " darkest hour for Europe since World War 2."
As of 11 am EAT, we reported that some eight people had been killed and nine injured by Russian shelling in Ukraine.
Agencies reported that Brent hit $100 (Sh11,385) for the first time since 2014, with concerns that a war in Europe could disrupt global energy supplies.
What does this mean for Kenya?
Observers agree Kenya's bilateral relations with both Russia and Ukraine will not be mightily affected.
International Relations lecturer Prof Macharia Munene opines that there won't be serious repercussions on diplomatic ties between Kenya-Russia and Ukraine.
"This is a global problem more than it is Kenya-Ukraine or Kenya-Russia," Macharia told The Standard.
Munene, who hopes that the conflict will not escalate further, heaped praise on the part of Kenyan ambassador to the United Nations Security Council (UNSC) Martin Kimani's strong sentiments on the breach of international law by powerful states.
"Ambassador Kimani's statement was in order. He was doing so as a member of the UNSC. Had Kenya not been a member, we wouldn't have received this much spotlight," he said.
On Tuesday, Amb Kimani, condemned the actions by Russia to recognise Donetsk and Luhansk as independent states.
"Today, the threat or use of force against the territorial integrity or political independence of Ukraine has been effected. Kenya is gravely concerned by the announcement made by the Russian Federation to recognising Donetsk and Luhansk regions of Ukraine as independent states."
Economic implications
Economic analysts on the other hand avow that Kenya may not be greatly affected on the basis of its proximity to Europe.
Abel Oyieyo, an analyst told KTN News on Thursday that the implication of the invasion on the economy will be more global.
"Kenya will only be affected indirectly. Directly, we will not be affected in any significant way because Ukrainian and Russian investments in Kenya are very minimal," he said.
But, if the conflict persists, uncertainty remains over the flow of imports and exports.
Kenya mainly exports coffee, tea, fruits, vegetables, cereals, paper and fertilizer to Russia.
Russia is Kenya's fourth-biggest tea buyer.
According to the United Nations COMTRADE database on international trade, Kenya exported goods worth $75.25 million to Russia in 2020.
Russian Export Centre indicated that Kenya's exports to Russia in 2018 were worth Sh12.85 billion ($124 million), while Russia exported goods worth Sh22.4billion ($216 million) to Kenya in the same year.