Why Jomo Kenyatta International Stadium has no walls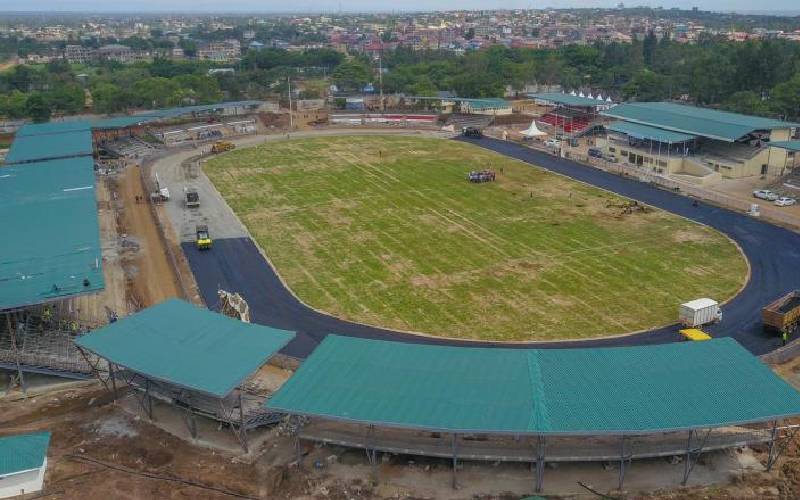 The Jomo Kenyatta International Stadium in Kisumu has been the talk of many Kenyans for a while due to its design.
The stadium that is a game-changer in terms of sports in the region caused a buzz online because of its design.
According to officials at the stadium, the design was done in consideration of the climate in Kisumu County.
"We cannot build a stadium like those in Nairobi because Kisumu is hot. Stadiums are built in consideration of many things and the climate of the region is one of them, and stadiums are judged based on the surface. For this stadium, there is a change of concept. We used steel structures but the surface is made to international standards," said Tom Alila, former Nyanza NEC member and 2020 FKF Presidential candidate.
The steel is much harder and stronger and is also quicker to do. The reason for this is because there has to be free flow of air in the stadium.
Alila explained that the stadium has a grass surface as opposed to an artificial one and can accommodate up to 28,000 people on a normal day but with Covid-19 containment measures taken into consideration, it holds about 15,000 people as opposed to Moi stadium that can only hold 10,000 people.
The stadium that is one of many promised to Kenyans by the Jubilee Government has been built to the Confederation of African Football-CAF standards and is able to host international matches.
"Last time the game was moved to Uganda because we didn't have a stadium that can host both the Council for East and Central Africa Football Associations-CECAFA and CAF matches," said Alila.
According to him, the first stadium that was built was at the dumpsite but FIFA gave some money through Football Kenya Federation-FKF and the surface was done.
"When we went to see the Governor after Moi stadium was done the idea of this new stadium came up because there are about six teams that play football from this side including Kisumu All-Stars, Chemilil Sugar, Sony Sugar and Muhoroni Youths among others. This now means that both the stadiums can be used concurrently. The stadium also has a modern design and can accommodate many people," said Alila.