Explainer: How Form One selection will be done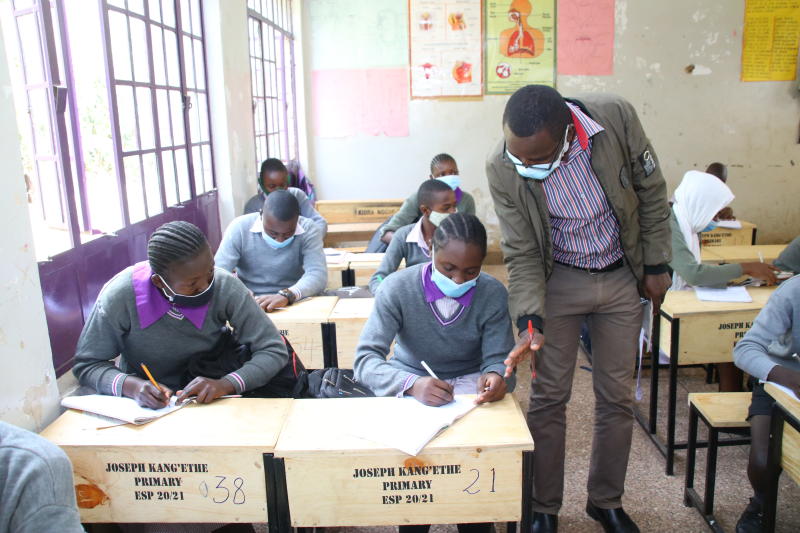 All candidates are advised to apply for secondary schools before sitting their KCPE examinations.
Candidates chose four national, three extra-county and two county and sub-county schools. Candidates to Special Needs Education (SNE) schools are pre-selected based on specific set criteria that prioritise needy children.
These include Starehe Boys and Starehe Girls, Moi Forces Academy (Nairobi and Lanet), Utumishi Academy and Moi Tea Girls. Their selection is done separately.
After the release of the Kenya Certificate of Primary Education (KCPE) exam results, the Ministry of Education conducts Form One selection for the rest of candidates based on their school choices, performance and affirmative action.
1. National schools
These are centres of excellence established for purposes of stimulating education standards and fostering national unity and social cohesion. They are boarding schools whose catchment is 100 per cent national.
Under this category, the ministry employs a quota system, which picks top performers per county.
In some cases, it can be top two boys and top two girls, depending on the quota.
Merit also applies, where all candidates with 400 marks and above are guaranteed slots in national schools.
Affirmative action is also employed where vulnerable candidates are fronted and gender gaps addressed.
2. Extra-county schools
These are boarding schools that are the second-tier national centres of education excellence. These schools complement national schools in promoting integration and bench-marking education standards in their regions.
Selection to these schools is based on a 20:40:40 ratio, to be shared across the host sub-county, the host county and other counties, respectively.
For this year's selection, parents whose children will miss out on national schools slots will resort to the 531 extra-county schools, which has a total capacity of 123,399 spaces.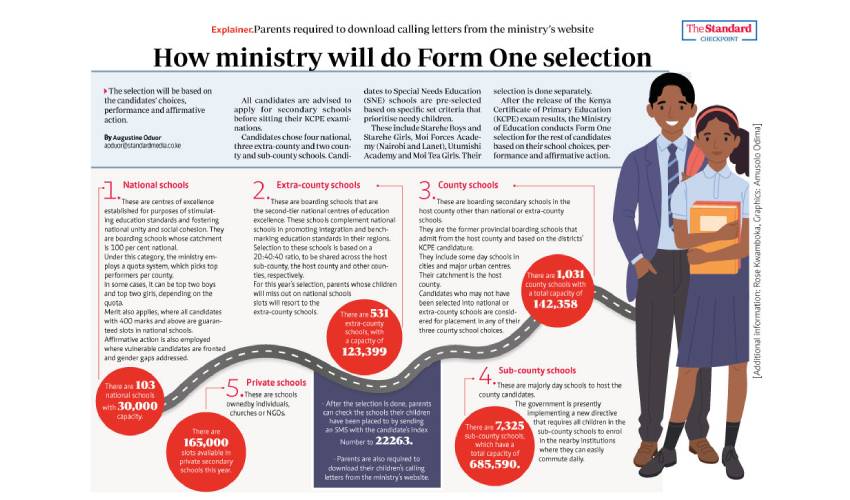 3. County schools
These are boarding secondary schools in the host county other than national or extra-county schools.
They are the former provincial boarding schools that admit from the host county and based on the districts' KCPE candidature.
They include some day schools in cities and major urban centres. Their catchment is the host county.
Candidates who may not have been selected into national or extra-county schools are considered for placement in any of their three county school choices.
This year, the 1,031 county schools have a total capacity of 142,358.
4. Sub-county schools
These are majorly day schools. Their catchment is the host county.
This year, a majority of the candidates will be admitted to the 7,325 sub-county schools, which have a total capacity of 685,590.
The government is presently implementing a new directive that requires all children in the sub-county schools to enrol in the nearby institutions where they can easily commute daily.
5. Private schools
These are schools owned by individuals, churches or NGOs. There are 165,000 slots available in private secondary schools this year.
· After the selection is done, parents can check the schools their children have been placed to by sending an SMS with the candidate's Index Number to 22263.
· Parents are also required to download their children's calling letters from the ministry's website.