Explainer: A simple guide to social distancing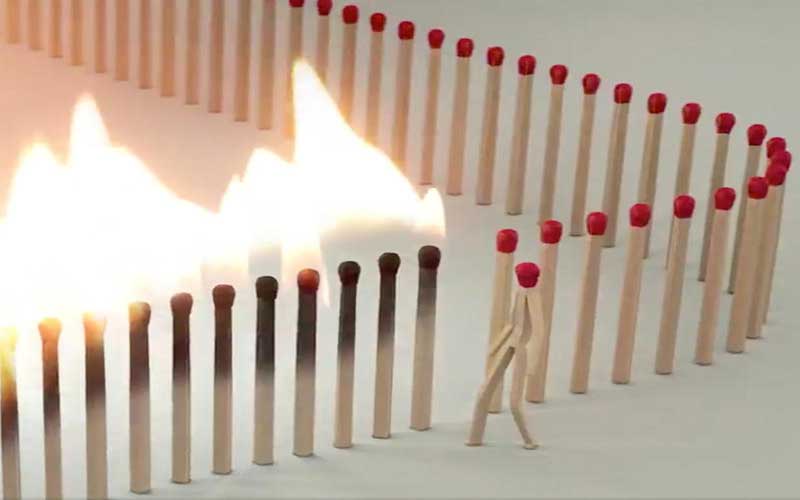 On Sunday, President Uhuru Kenyatta, while announcing the confirmation of the second and third coronavirus cases in Kenya, outlined nine tough measures to contain the spread of the virus.
Learning in all education institutions was suspended with immediate effect and schools ordered to close. Libraries, places of worship, cultural institutions, recreation joints and sporting facilities were shut down.
Government offices, businesses and companies were encouraged to allow employees to work from home in a string of measures that set off a domino-effect.
The overriding message was -- avoid crowded places.
These measures are an attempt to enforce distance between people, a proven way to stem the tide of the coronavirus pandemic. This is known as social distancing.
It is a strategy that saved thousands of lives in past pandemics including the 2009 swine flu outbreak in Mexico. It did this by slowing the spread of infection over a longer period of time.
But how do you social distance in a society known for crowded public transport? How do you avoid contact with people when you are probably living with someone who throws caution to the winds?
Here are the ABC of social distancing.
What is the ideal distance?
Experts, including the United Nations' World Health Organization, recommend that you minimise contact with people and maintain a distance of at least 1 metre (3 feet) between you and others.
"When someone coughs or sneezes they spray small liquid droplets from their nose or mouth which may contain a virus. If you are too close, you can breathe in the droplets, including the COVID-19 virus if the person coughing has the disease," WHO advises.
The risk, however, is not limited to only those who cough or sneeze. A recent study estimates that at least one in four transmissions of the coronavirus may have occurred at in pre-symptomatic stages (it was transferred by those who didn't know yet that they have the virus).
According to the US Centres for Disease Control and Prevention (CDC), the distance should be about 1.8 metres (6 feet).
Can I leave the house?
Yes. The idea is not to lock you indoors but to avoid being in contact with others as much as possible.
In the instance you leave your home, your best bet of staying safe is in avoiding touching your face and washing your hands regularly in line with WHO recommendations. You should also cover your cough or sneeze with a tissue, then throw the tissue in the trash.
Minimise going to restaurants, food courts and bars. You are instead advised to opt for takeout or order online for required necessities.
Can I have friends over?
Experts say it is OK. But that depends on the number of people you are allowing into your home and their age composition.
If they are young and healthy, then it fine for careful interactions in small groups. Elderly people should be spared the unnecessary in-person contact as they are more susceptible to the highly-contagious virus.
According to the CDC, you should avoid social visits, inconvenient as it may seem, for now. Think virtual, this is the time to learn how to make a video call.
What if my housemate is not practising social distancing?
Medics who spoke to the Guardian say you should still follow the guidelines of social distancing as the goal is to break the circle of transmission.
According to the doctors, if you maintain your distance from the roommate respectably, you may not catch the virus. They advise that you minimise sexual contact and practice proper hygiene, including constantly cleaning and disinfecting surfaces in the house.
And in the case you are infected, social distancing will help you prevent further spread to your friends and family.
I'm young and healthy, is it necessary?
Yes.
Statistics have shown that the young and healthy people below the age of 50 are at a lower risk of dying from the virus. But they can still contract it, show mild symptoms and infect the higher-risk population.
Studies have suggested that it could be the mild and asymptomatic cases that may be driving the pandemic. The young should social distance to protect their elders.
How do I social distance at work?
The Society for Human Resource Management (SHRM) in its guidelines of social distancing call for one to avoid in-person meetings. Even if you are in the same building, you should use online conferencing, email or the phone when possible.
If you must meet in person: Keep the interaction short and in large rooms where people can sit at least one metre from each other.
Workers are encouraged to avoid shaking hands, congregating in common rooms and limit recreational or leisure activities where close contact is likely at work.
Should you stop all human interaction?
Staying physically separated should not extend to emotional separation, experts say. During social distancing, you should maintain constant communication with your friends and family.
A common recommendation is that you embrace virtual interactions. Spend time on social media and interact with people.
How long will social distancing last?
This is dependent on the effort of all of us in social distancing. If we are all strict to the provided guidelines, we will slow the pandemic down, giving space for medics to quickly contain its spread.
Please note
Social distance is not the same as self-quarantine or self-isolating.
Self-quarantine is a precautionary measure for individuals who may have been exposed to the virus and last through the two weeks incubation of the virus.
Social-isolation, on the other hand, is a safety measure for people who either have tested positive for the virus or suspect they have it and are awaiting test results.