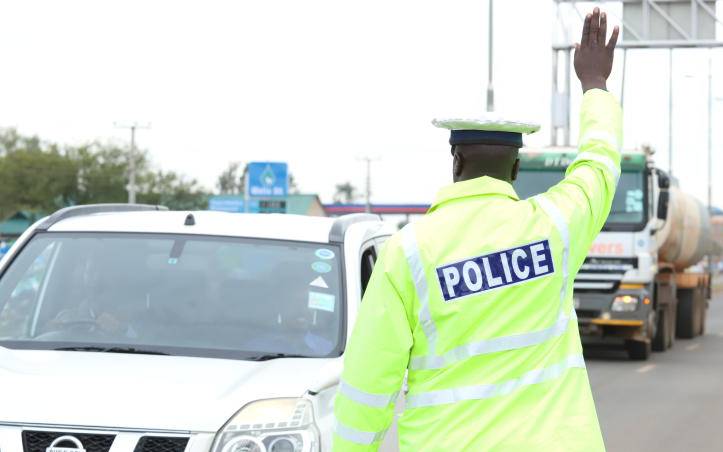 Social media activist and blogger Mildred 'Atty' Owiso was Saturday arrested after police raided her home over alleged traffic offence along Jogoo Road, Nairobi.
Owiso was accused of ejecting a police officer who had entered her car to arrest her over an alleged offence.
She was later on the same day released on Sh15,000 cash bail as the police vowed to charge her with incitement to violence on Monday.
The controversial activist removed the officer from her vehicle, accusing him of overstepping his mandate and infringing on her rights by entering her car forcibly. All this she broadcasted live on FaceBook.
Read More
The ruckus set off a debate on social media. Kenyans were divided and failed to agree on who broke the law during the scuffle. Critics of the activist argued that she overreacted and should have let the officer to order her to drive to the station and possibly explain her offence to her.
Those who sided with Owiso, on the other hand, opined that she was right to expel the officer because the latter failed to introduce himself in the first place, making his intention and authority suspect.
Traffic laws and procedures
Kenyans pressed the Kenya Police Service to provide an explanation pertaining to the actions of the traffic of officer.
The KPS on its Twitter page posted Traffic Act 2015 section (12) which explains circumstances under which an officer can enter a private vehicle.
The Standard Digital has verified that indeed the police officers are allowed by law to enter private cars but under certain conditions.
Titled 'Inspection of vehicles', the excerpt reads: "It shall be lawful for any police officer in uniform to stop any vehicle, and for any police officer, licensing officer or inspector—
(a)
to enter any vehicle;
(b)
to drive any vehicle or cause any vehicle to be driven;
(c) upon reasonable suspicion of any offence under this Act, to order and
require the owner of any vehicle to bring the vehicle to him, for the purpose of carrying out any examination and test of the vehicle with a view to ascertaining whether the provisions of this Act are being complied with or with a view to ascertaining whether the vehicle is being used in contravention of
this Act."
The law further stipulates penalties for those not co-operative with the officers during such duties.
Part two of the section states: "Any person who fails to comply with any instruction or order given under this section shall be guilty of an offence and liable on a first conviction, to a fine not exceeding thirty thousand shillings, and for a second or subsequent conviction, to a fine not exceeding fifty thousand shillings or to imprisonment for a term of one year."
Corroborating these traffic laws, justifying police officers' entry into private vehicles are the laws of National Police Service Commission.
For example, under section 57 titled "Power to enter premises and stop vehicles" parts (1,2 and 3) state:
"A police officer may stop, search and detain any vehicle or vessel which the police officer has reasonable cause to suspect is being used in the commission of, or to facilitate the commission of, an offence (1).
A person who fails to obey a reasonable signal given by a police officer in uniform requiring the person to stop any vehicle or vessel commits an offence and is liable on conviction to imprisonment for a term not exceeding twelve months or to a fine not exceeding one hundred thousand shillings, or to both (2).
The law however requires the police officer to identify himself and document the events of the operation to submit to his superiors for follow-up and probable action.
Part five of section 57 states: "(5) A police officer who exercises the powers conferred under this section shall— (a) identify himself beforehand; (b) record the action; (c) record the items taken; (d) make a report regarding such exercise and make it available for the superior."
Also, where a motorist deemed to have committed an offence is supportive to the police officer, and has provided personal details, he or she can be advised to drive to the police station or any location in accordance with the instruction of the officer, and not under duress.
Part three of section 57 reads: "A police officer may arrest a person under subsection without a warrant unless the person gives his name and address and otherwise satisfies the police officer that the person will duly answer any summons or other proceedings which may issue or be taken against that person."
Conflict
The traffic laws and procedures appear to be causing confusion among Kenyans, who feel that the Constitution guarantees their rights to privacy, including when riding in their cars.
According to Chris Waithaka, a legal officer at the Standard Media Group, motorists are expected to co-operate when they enter their cars but the law also requires that the police display their service numbers.
"They must be able to show their service numbers and also the reason why they are arresting you," he said.
Nonetheless, he agrees that the traffic laws and procedures tend to conflict with article 31 of the Constitution. It says: "Every person has the right to privacy, which includes the right not to have--
(a)..home or property searched; (b) their possessions seized."