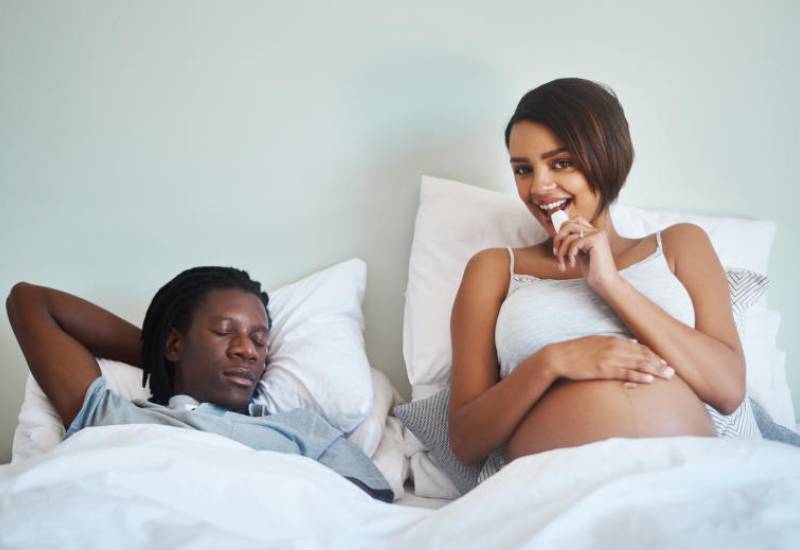 First-time pregnant women and their spouses are often confused about having sex after a pregnancy is confirmed. Men have a sense of guilt in touching expectant women, who also wonder whether if intercourse will interfere with their pregnancies.
Some women think a man's disinterest means he is getting it elsewhere.
One local radio journalist, who had to muse up creative positions as the wife's belly ballooned, says he continued having sex until she was almost due. He still thinks the act speeded up breaking her waters.
"I was the catalyst," he says, chuckling.
Other women, especially during their first pregnancy, suffer depression and have no time for gymnastics. Like Margaret* whose then boyfriend denied the pregnancy.
"I was alone, young and frightened. I thought of terminating it. So there was no room for sex. But therapy helped," she says, adding that libido levels skyrocketed during her second pregnancy seven years later.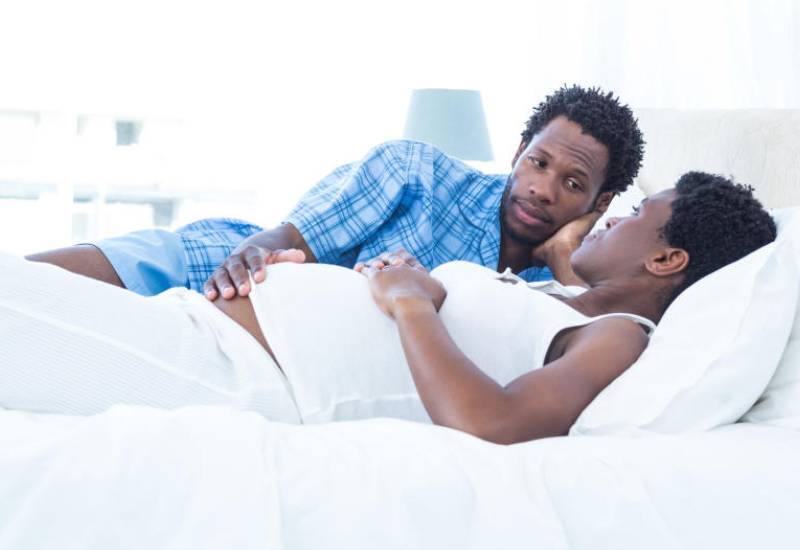 "I think I was horny during my whole pregnancy. I even felt sorry for my hubby. I felt like I was overusing him until the last day. I gave birth that evening," recalls Margaret.
Indeed, there are countless myths about sex during pregnancy. Dr Fredrick Kairithia, an obstetrician and gynaecologist, says there are two types of pregnancies: normal and high risk, which include low lying placentas and multiple pregnancies.
"When it is a high-risk pregnancy we always recommend abstinence so as not to compromise the outcome, but for a normal pregnancy a woman can have sex," says Dr Kairithia.
Junior F Mukudi, a health system specialist and women's health advocate, says sex during pregnancy is a secure way of bonding with a partner as for both "pregnancy is an emotional roller coaster. Intimacy with one another is an excellent method to keep connected during this exciting period."
Mukudi adds that sex during pregnancy is also beneficial to one's physical wellbeing. A 30-minute sex session can burn up to 50 calories while also lowering blood pressure.
He also confirms that sex might speed up labour when a woman is almost due as the uterus contracts when a woman has an orgasm.
These contractions aren't strong enough to induce labour until the woman reaches the end of her pregnancy and the body is ready to start the birthing process.
Mukudi clarifies that speeding up labour does not happen to every woman, "so don't be discouraged if nothing occurs. However, if you're ready for sex at 40 weeks, there's no reason not to indulge."
Other benefits of sex during pregnancy include enhancing the quality of sleep and aiding in relaxation as sex produces feel-good hormones.
"The oxytocin hormones released after an orgasm isn't just good for relieving pain; it can also help you experience more love and joy, bringing you closer to your spouse," explains Mukudi.
The hormones are thus ideal for countering the worry and pregnancy blues that come with expecting a baby even when one is overjoyed about the expectation.
"It can help to relieve pain and discomfort. Orgasms can aid with backaches and other pregnancy-related problems by signalling the release of oxytocin, a hormone that can raise your pain tolerance," he adds.
Though many couples confess to experiencing difficulties in having sex during pregnancy, Mukudi says some challenges can be tackled such that "when the pregnancy progresses, couples can adjust to positions that are more comfortable for both."
Related Topics