Narok's iron lady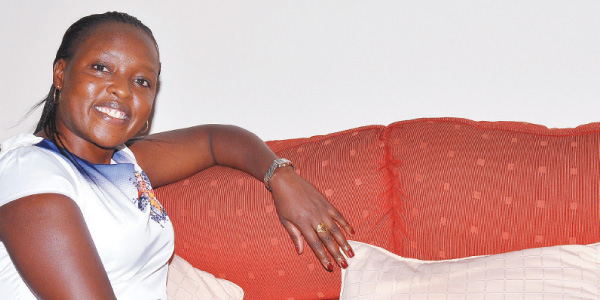 Evalyn Chepkirui PHOTO: JOSEPH KIPTARUS/STANDARD
By CHARLES NG'ENO
She describes herself as focused, courageous, determined and never gives up on a path she has set her eyes on. This perhaps explains why at 30, she is the youngest deputy governor in one of the richest counties —Narok.
And that is not all; Evalyn Chepkirui is also the chairperson of the deputy governors' council mandated to keep the governors on their toes. None of the 47 governors is female and she can be aptly be described as the 48th governor.
Chepkirui who says she likes reading inspirational books, says the need to speak out on issues affecting common people and being part of a solution to such issues pulled her to politics.
"As I grew up, I was passionate about gender issues particularly those touching on women and girl child empowerment. My dream has always been working towards a just society where women and girls would fully participate in decision making processes on issues affecting both the society and to them as individuals," says Chepkirui who is the only daughter in a family of five boys.
RETROGRESSIVE CULTURE
The soft spoken leader says elimination of all forms of discrimination against women and retrogressive cultural practices that impede women to achieve their full potential are issues close her heart.
But to be where she is, Chepkirui has not had it easy. She has tested defeat, faced ridicule from friends and even has had to sacrifice-abandoning her studies at some point to pursue her passion.
In October 2007, then 24, she suspended her studies at Kenya School of Law to contest the Narok South parliamentary seat, which she lost.
"My friends branded me reckless, especially after I lost," she recalls.
She says her parents and friends tried to convince her to complete her studies but she could hear none of that. They reasoned that many odds were against her.
"Indeed it was true, I was the first woman to contest for that seat," she says.
"But I was determined to prove to my patriarchal society that a woman could lead. I gave the men in the race a run for their money. She says at least the loss by mere 2,000 votes to Nkoidila Ole Lankas made her more determined.
Perhaps that is what prepared her for the post she is holding today. She says the idea that youth are the leaders of tomorrow has been used for a long time by the older politicians for their own self-preservation.
POLITICAL ARENA
"When I made my first move in the political arena, many told me I was still young and unmarried. Some even had the temerity to tell me that my candidature would antagonise the Maasai and Kipsigis communities," says Chepkirui in retrospect, adding that the youth encouraged her to soldier on.
To her, the youth have no tribe but are bogged down by unemployment. She adds that her contest in 2007 opened up the political space in Narok for women. In the last election, many women came out to contest the several seats created by the devolved governance.
"Women had always believed that leadership was a preserve of men. In the last election, things were different," she says adding that though there is no elected woman leader from the entire Narok County, the future is promising.
Chepkirui who holds a masters degree in International Human Rights and Human Law from Indiana University, USA is happy that the society is embracing women leaders.
"We have seen great women beating the odds. It is time we increased the number of great women achievers. It is possible if we change our attitude and aim at achieving the best," she says.
She, however, regrets that the girl-child in Narok still cannot compete favourably with the boy child because of the community's retrogressive cultures.
EARLY MARRIAGES
"Sixty per cent of our children do not transit to secondary schools. Majority of them are girls who end up in early marriages and to reverse this, I'm initiating boarding schools for girls where they will be sponsored by the county government from Class Four till they complete Form Four," she says.
She says chiefs will be responsible for the safety of these girls when they break for holidays.
"My training in International Human Rights and Human Law has opened my eyes to the injustices women continue to face," she says.
She describes Martha Karua as her role model. To her, the decision by Karua to go it alone in spite of pressure of forging alliances with other parties during the last election, shows her as a woman of great strength.
"Her strength, resolve and tenacity in her quest to be Kenya's fourth president was admirable. I respect her because she has firmly stood by her principles. This is what all Kenyan women out there should do," she says.
She says Karua is a true representation of all rural girls who can blossom in a crowded and stiffly competitive male world.