A military affair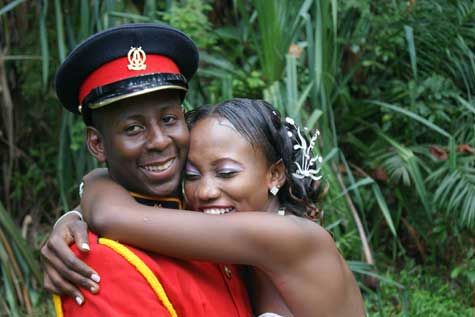 The happy couple : Maureen and Eric
Couple: Eric Baraka and Maureen Otwenyo
Wedding date: August 11, 2012
Venue: Butterfly Pavillion, Bamburi, Mombasa
Budget: Sh350,000
Guests: 150
Interview and pictures: Allan Olingo
EVE BRIDAL: How did you meet and what attracted you to each other?
Mauren: We met at a social event in a rugby match after party. Erick came out as a loving, caring, understanding person and to top it all, he is good in the kitchen. Not every woman gets all that in one package so, I count myself lucky.
Erick: Maureen's sense of humour capped it all. She is open-hearted and supportive of the things that I do.
EB: How long did you two date and what was your experience?
Maureen: We dated for four years. The dating experience was awesome because we started out as friends since 2007 till 2009, when we actually started dating
EB: How was meeting each of your parents like?
Maureen: Meeting his parents was great. Actually, I met the entire family in one sitting?and they are a wonderful and loving family: I just love them.
Erick: I first met her family when I went to ask for her hand in marriage. I was accompanied by two of my friends and I was well received.
EB: What did you like about it?
Erick: The warm reception blew me off. They were kind, loving and made me feel at ease in despite being tensed.
EB: Did he meet your dream proposal?
Maureen: No, his proposal was not what I expected. He actually did it via a text message because he was?away at work, but it is the thought that counts
EB: What was the most interesting part of the wedding?
Erick: When it started raining just as the bride was walking down the aisle
Maureen: My memorable moment was when I was walking down the aisle to be joined to the man I love.
EB: What were the challenges you encountered during the planning?
Maureen: Service providers did let us down the last minute, but thank God we had family and friends to help us out.
EB: Where was the honeymoon?
Maureen: It was here in Mombasa because he had to go back to work shortly after the wedding.