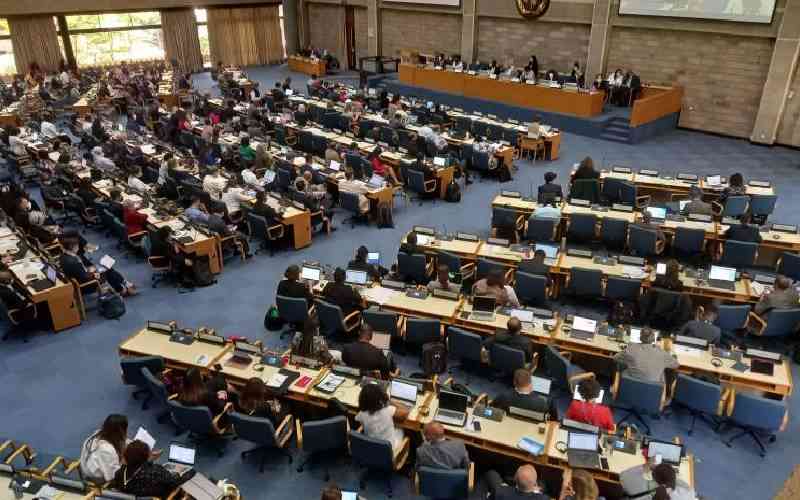 Delegates from 195 countries have failed to agree on a roadmap to end biodiversity loss.
The parties to the UN Convention on Biological Diversity held talks in Nairobi from June 21 to 27, concluding that the ambition was "nowhere near what is needed."
The Post-2020 Global Biodiversity Framework (GBF) made of 22 targets is an opportunity to halt and reverse nature loss by 2030 to have more forests, pollinators and biodiversity by end of decade. The Nairobi meeting was a precursor to the CoP15 in Montreal, Canada, in December.
The meeting was to resolve up to 80 per cent of framework text that had been put in brackets, signalling disagreement among parties. However, the parties ended up adding more phrases and terminologies that bogged down negotiations.
Weak elements, they said, were introduced in the draft text while others, such as the drivers of biodiversity loss, were deleted from the text. They said anything short of a strong framework risks a secure and safe future for all species.
"World leaders must be put on the spot just like in the climate agenda. They must take responsibility for what is happening to biodiversity. If things go the way they are, the global economy will be worse, since most are nature-based. We are dealing with a higher level of risk than it was 10 years ago, and inching towards a tipping point," said Ken Mwathe, Policy and Communications Coordinator at BirdLife International.
A joint statement from participating conservationists said they were appalled by the lack of progress, interest, momentum and political drive in the process, with an appeal to political leaders and the UN to rally around this once-in-a-decade opportunity to halt and reverse biodiversity loss by 2030. "It's baffling that the most important issue we are grappling with as humanity, life's existence on earth, is continually sidelined," read the statement.
The contentious issues include an unclear implementation process of the framework, how to mobilise $700 billion needed to plug biodiversity financing gap, and a strategy to make rich nations pay for use of biodiversity extractives from developing nations such as raw materials used in the manufacture of medical drugs.
"A history of failure is what CBD parties have been good at. No global commitment for nature. Conservation costs money, but parties only take from nature without giving enough. Africa has requested the parties to fill the $700 billion gap and increase international flows to developing countries from $10 billion to $100 billion," said Paul Matiku, Nature Kenya Executive Director.
He added: "The Africa Negotiating Group says 50 per cent of biodiversity loss in developing countries is due to consumption in developed nations. If the world adopts a sustainable path line post-Montreal in December, only $200 billion will be needed annually. Will Montreal agree on this financial target? Africa is watching."
In addition, the proposal to protect 30 per cent of both land and sea by 2030 was met with scepticism from several African countries that felt the target will give governments a license to evict indigenous people from conservation areas or push boundaries of conserved areas.
"In the face of catastrophic nature loss and the tragic consequences this is having on humanity, countries are failing to show the necessary urgency... with all the crucial decisions being kicked down the road," said Marco Lambertini, the WWF International Director-General.
"We need leaders to counter the influence of a small number of countries, Brazil first and foremost, that are actively working to undermine the talks. Heads of state who have endorsed the Leaders' Pledge for Nature committing to reverse biodiversity loss by 2030 must now drive forward ambition to secure a transformative, nature-positive agreement in Montreal, otherwise, the prospect of a failure at CoP15 is incredibly real."
Lambertini said a more urgent concern is the removal of harmful farming subsidies, now totalling $500 billion, as unsustainable agricultural practices are driving 70 per cent of biodiversity loss on land.
Linda Krueger, Director of Biodiversity and Infrastructure policy at The Nature Conservancy, said only governmental heads can unlock the impasse, first through the upcoming climate talks in Egypt and the CoP15.
"We still don't see the urgency and drive to ensure this process produces what it is intended to, a global, UN-wide roadmap for humanity's relationship with nature," she said.
The convention's secretariat played down the disagreements, saying the Nairobi meeting had "rationalised parts of (the draft), achieved consensus on several targets, and proposed diverse options for large parts of the framework.
"I call upon the Parties, in the next months, to vigorously engage with the text, to listen to each other and seek consensus, and to prepare the final text for adoption at COP15," said Elizabeth Mrema, executive secretary of the Convention on Biological Diversity.
Earlier at the opening plenary session, tension between Russia and Ukraine played out as the Russian representative berated the secretariat for giving the floor to Ukraine's delegate who then accused Russia of destroying his country's natural heritage despite "Russia being a signatory to the CBD."
"We do not understand why CBD has not discussed other conflicts such as Yugoslavia, and Afghanistan. Why is Ukraine so special? Stop the delivery of weapons, it is a military crime. What about the illegal development of weapons in Ukraine? We are here to do our best in the negotiations," said the Russian representative.