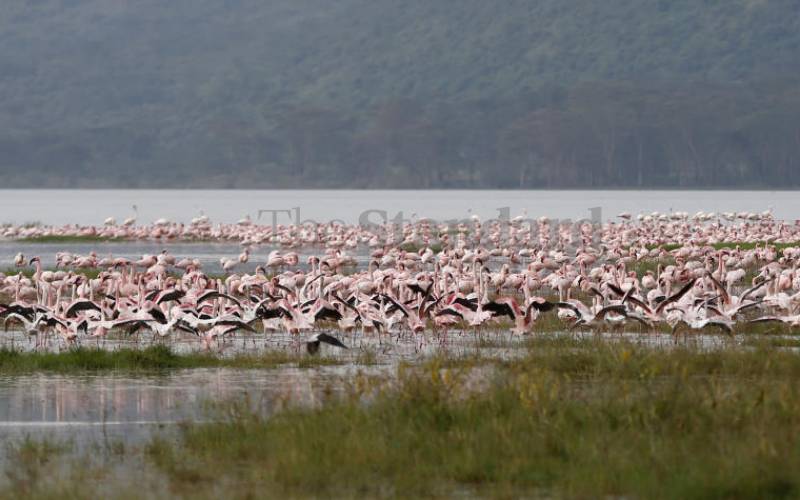 Rising water levels at Lake Nakuru and Bogoria in the Rift Valley has interfered with the habitat of flamingos leading to a decline in their numbers.
Bird experts and conservationists say the increase in water levels reduce the alkalinity of the lakes, and consequently their ability to support blue-green algae and Lesser flamingos.
The experts said population trends have seen a decline in breeding sites in Tanzania and feeding grounds in Kenya.
At the two major habitats, the population has been reducing since 2011, when water levels started to rise sharply.
In January 2021, figures indicated that there were 6,000 flamingos in Lake Nakuru. 4,000 birds were recorded within sewerage treatment ponds nearby and another 2,000 in the lake - a sharp decline from an estimate of 850,000 in the year 2000.
BirdLife International data show that populations at Lake Natron, the largest breeding site in East Africa, registered a dramatic decline in numbers between 2018 and 2021.
In 2020 and 2021, no breeding was recorded in Lake Natron, as a result of increasing water levels, a phenomenon also recorded in the Kenyan lakes.
In 2018, the lake, located in northern Tanzania, hosted 760,000 Lesser flamingos and 120, 000 chicks. A decline of 250 flamingos and 35 chicks was registered in 2020. 1,900 were recorded in 2021.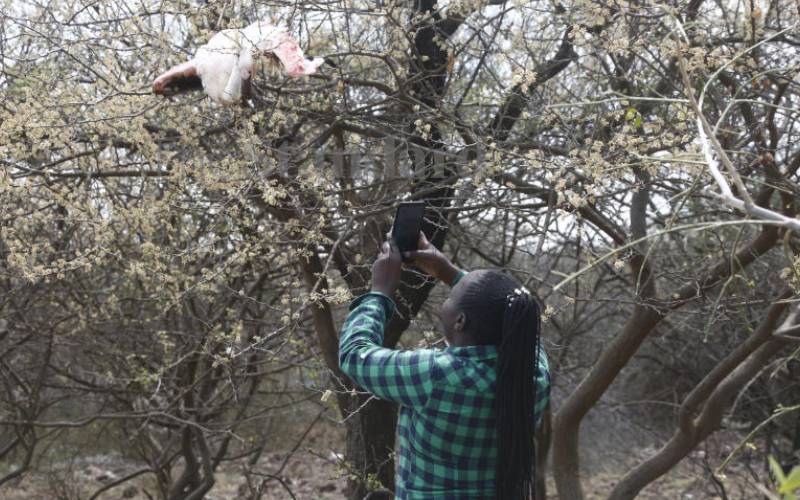 "The rising water volumes in the lakes affect the production of blue-green algae which is fed on by the Lesser flamingos," said Paul Gacheru, a bird expert at Nature Kenya.
This, Gacheru said, has forced flamingos to move to other places where there is an abundance of food.
"Declines, however, does not mean the disappearance of the birds, this means flamingos are looking for suitable places where they can get food," Mr Gacheru said.
According to Emmanuel Mgimwa, the director for Nature Tanzania, the natural dynamics and change in climate at the lake basin, and beyond, appear to be the main reason for the fluctuation in Lesser flamingo numbers in the past two years.
"Torrential rains at the end of 2019 and early 2020 resulted in water levels rise at Lake Natron. Flamingos are not able to feed in waters beyond 80cm of depth, furthermore, the increased water diluted the waters disrupting the balanced physical-chemical variables," Mr Mgimwa said.
Twice every year in January and July, National Museums of Kenya, Kenya Wildlife Service, Nature Kenya, Site Support Groups and volunteers collaborate in conducting water bird counts.
Between 2008 and 2015, data from the counts, specifically in Lakes Nakuru and Bogoria, revealed a declining trend on Lesser flamingos, while the population of Greater flamingos remained stable.
While Lesser Flamingos entirely depend on blue-green algae, Greater flamingos depend on a wider variety of food within the alkaline lakes.
"In 2010, more than one million Lesser flamingos were recorded in total in the water bird counts and in 2014, only 5,000 were recorded," the report noted.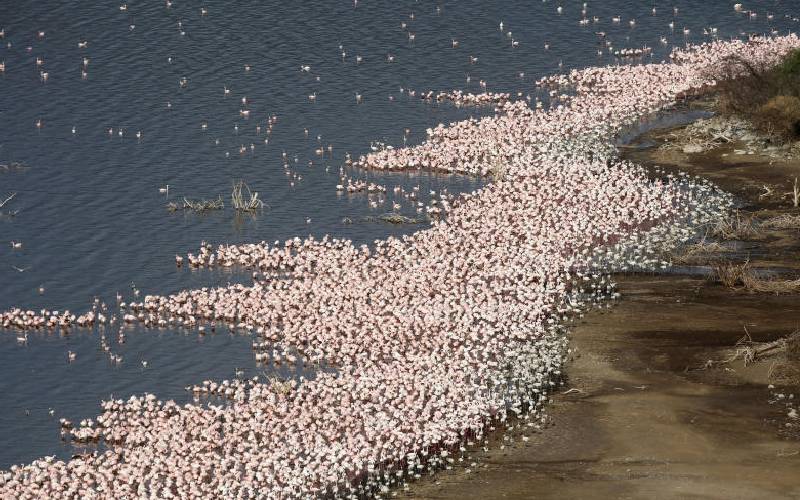 In 2017, the Status of Key Biodiversity Areas report observed that the overall status of the sites, which included major flamingo feeding sites, were unfavourable. Lakes Nakuru and Bogoria were among the 38 sites that recorded unfavourable status during the monitoring period.
Kenya Wildlife Service senior researcher Joseph Edebe says that increasing water levels has spilt over, affecting some of the flamingo's most preferred habitats.
"Flamingos do not stand in deep water and when volumes increase, they are forced to move to shallow ends, which sometimes are too bushy, or seek alternative spots," Mr Edebe said.
This was experienced first hand at Lake Bogoria in 2021 when flamingos got trapped in thorny Mathenge weeds that grow on part of the shores of the lake. The flamingo population in Lake Bogoria was estimated at 300,000 in January.
"Flamingo food thrives in brackish or saline water and that is why they prefer the lagoons which exhibit the same features. Over time, the lake waters have reduced in salinity as a result of a large inflow of water," Mr Edebe said.
BirdLife International Africa Policy and Communications Coordinator Ken Mwathe said floods have affected the breeding of the birds in Lake Natron.
"The case of flooding lakes experienced in Rift Valley lakes also affected breeding in Lake Natron where flamingos could not sustain their nests. If numbers are low in Lake Natron, it affects the population of those in Kenya," Mr Mwathe said.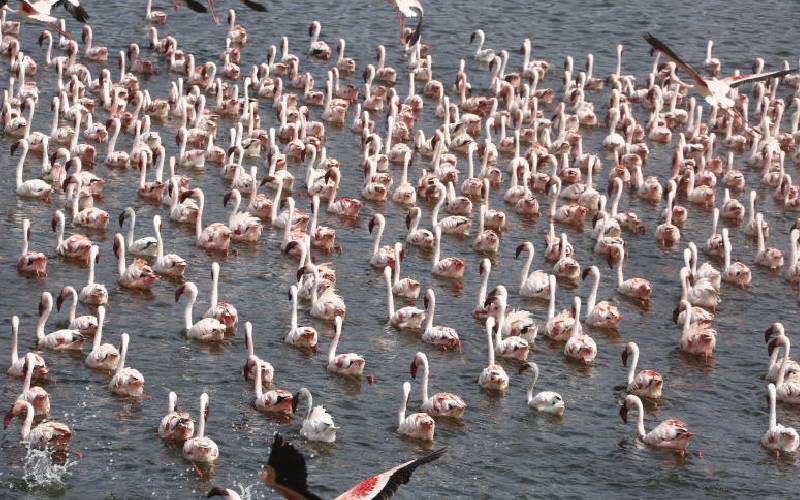 Mwathe called for regional collaboration to address the challenges noting that there have not been comprehensive data to tell the exact population of the birds in the region.
"There is a need for regional cooperation to address challenges flamingos face in East Africa from Kenya, Tanzania and Ethiopia. There is a need for East Africa Flamingo Action Plan to guide on the needed intervention. Currently, every country is doing their own things yet these challenges can be handled as a region," Mwathe said.
And while the reduction of salinity in lakes has been implicated as a major reason for the dwindling numbers, power lines and the killing of the birds along their migratory routes, is among the biggest threats.
"These birds either die from impact with the cables, subsequent impact with the ground or resulting injuries. Most at risk are migratory birds which fly at night in large flocks," said Nature Kenya Director Paul Matiku.